Chiles toreados are a dish that you'll commonly find in taquerías in Mexico.
They're usually made with serrano or jalapeño chiles that are sautéed in oil until the chiles are blistered. There are many different ways to make chiles toreados—some people use the chiles alone, but I like to cook onions with them too. There are also a variety of ways to make the sauce, which is part of the beauty of this recipe. There's no wrong way to make them; it's just a matter of personal taste.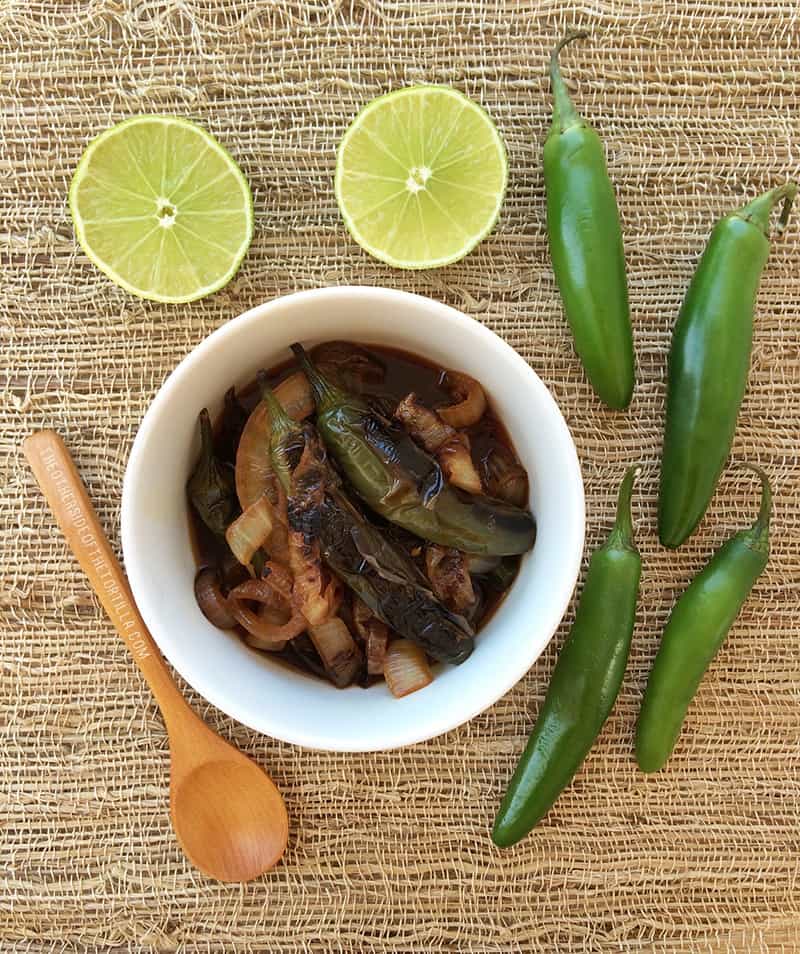 This post and recipe are part of a compensated campaign in collaboration with Kikkoman and Latina Bloggers Connect.
Rather than cook the chiles in vegetable oil, I've opted for a slightly healthier method by using coconut oil spray to cut down on the amount of oil used. No need to worry about your chiles tasting like coconut, though—the taste won't infuse into the chiles.
This dish can be served as an appetizer or as an accompaniment to tacos of your choice. Chiles toreados are also naturally vegan-friendly!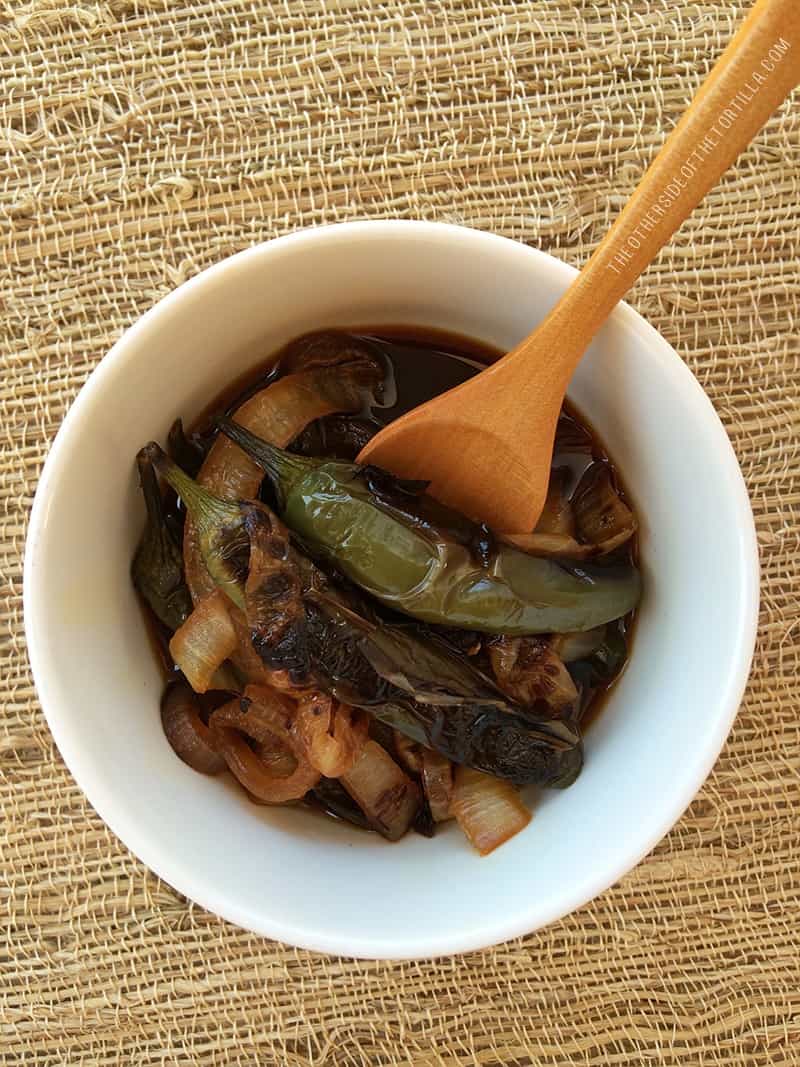 I've eaten this spicy, salty side dish in both hole in the wall and upscale taco joints and the taste varies slightly from place to place. Some cooks like to add oyster sauce for a little umami flavor, but I prefer to keep mine classic with just lime juice and soy sauce. Kikkoman soy sauce is a versatile ingredient that can be used to cook many different types of cuisines. In Mexico, you'll also often see chiles toreados served in sushi bars and restaurants, as it's a perfect pairing for dipping rolls, similar to the spicy mixture of soy sauce and wasabi paste that is traditionally used in Japanese cuisine.
This particular dish is most commonly made with regular soy sauce, but if you're trying to keep your sodium intake down, you can substitute Kikkoman low-sodium soy sauce or even the lime ponzu for a lighter, less salty flavor. I typically use the low-sodium Kikkoman soy sauce in my kitchen. If you want to make the dish spicy, use serrano chiles (and if you like it REALLY spicy, add another chile or two); if you want to make it less spicy, substitute jalapeño chiles for the serrano chiles.
Print
Chiles toreados
Yield 2-3 servings
A classic Mexican taquería dish, chiles toreados are roasted serrano or jalapeño chiles, blister cooked with onion and marinated in a soy sauce and lime juice mixture.
Ingredients
Three 1/4 inch slices of white onion, cut in half moons and rings separated
7 serrano chiles, stems trimmed or cut off as close to the top as possible (I like to leave a little stem because they look nicer)
1/4 cup Kikkoman low sodium soy sauce
Juice of one lime
Instructions
Spray pan with non-stick cooking spray or coconut oil spray and preheat the pan over medium heat for two minutes.
Add chiles and onions to the pan and cover with a lid. Cook for about 5 minutes, remove the lid and stir. Replace the lid and cook for another 5 minutes.
While the onions and chiles are cooking, in a measuring cup, mix 1/4 cup soy sauce and the fresh-squeezed juice of one lime. Stir to incorporate.
At this point your chiles should be blistering and charring nicely in the pan and splitting open slightly. Keep cooking them until they're as blistered and charred as you like, but remove the onions if necessary so they don't blacken completely and burn.
When the chiles are blistered and charred to your liking, add the onions back into the pan and pour the soy sauce and lime juice mixture into the pan. Cook for 2-3 minutes, stirring to coat the onion and chiles.
Remove from heat and transfer to a glass or ceramic bowl and allow to come to room temperature before serving. 
Notes
Store leftovers in an airtight container in the refrigerator for up to 5 days.
Cuisine Mexican
Here's a video I made of this recipe at the Kikkoman test kitchen after I won a contest and was invited to Kikkoman headquarters in San Francisco in September 2014: