I often get asked how to make pico de gallo by my non-Mexican friends and, sometimes, new readers here. If you're a regular reader or you know me personally, you probably know where this is going. In our house, pico de gallo is not the typical fresh salsa you may be familiar with, made of tomato, onion and cilantro. Instead, pico de gallo is a snack made with jicama, red onion, cucumber, orange, serrano chile, lime juice and sprinkled with Tajín. So, if you come to my house and ask for some pico de gallo, now you know what to expect.
What a lot of people call pico de gallo, though, we call salsa mexicana. And it's extremely easy to make! To be clear, in most places if you ask for pico de gallo, the recipe below is what you'll get. Since I've been asked several times in the last week how to make this easy, fresh salsa, I decided I might as well share it here for anyone who doesn't already know how to make it. It's easy to assemble in a big batch because you can play with the amounts of each ingredient to taste, but it's a little more difficult to get it right when making a very small batch for only one or two people for a single meal, so I've provided directions below for the portions that I use.
A note, first: The chile is optional. I always put it in my salsa mexicana, but you don't have to if you're averse to spicy food. Or, if you want to go kind of half-way with it, you can cut a serrano chile open, remove the seeds and veins and chop it very finely. If you do that, you may still want to use half of the suggested portion and add more to taste as you can tolerate. But if you leave it out all together, just increase the amount of cilantro to taste. You'll still have a nice salsa and no one will know anything is missing.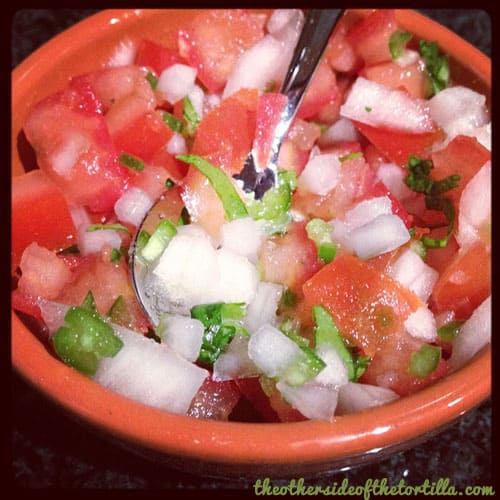 RECETA | RECIPE
Salsa mexicana
1 roma tomato, diced
1 slice of white onion, diced
1 tablespoon of cilantro, finely chopped
1/2 a serrano chile, finely chopped
1/2 of a lime, juiced
1 pinch of kosher salt (1/8 to 1/4 of a teaspoon, to your own taste)
Dice the tomato and onion and mix in a small bowl. Chop cilantro and chile; add to the tomato and onion mixture. Squeeze the juice of half a lime over the mixture and sprinkle with a pinch of kosher salt. Stir to mix well.
Yields 2 servings (a total of about 1/2 cup of salsa). If you don't eat it all immediately, it will keep in the refrigerator in an airtight container for up to 2 days.
How do you make your salsa mexicana? What's your favorite thing to put it on?
3