Paletas made with pineapple, cucumber and lime juice are a refreshing, healthy treat you can enjoy without any guilt! This all-natural, no sugar added popsicle recipe is one of my favorite ways to cool off from the summer heat, without consuming lots of empty calories or sugar. The lime zest gives these paletas a bright zip of color and a citrusy aroma that lime juice alone just can't provide. I also love how the lime zest sinks to the bottom of the popsicle mold as it freezes, embedded in the pineapple juice and some of the cucumber juice naturally floats to the top of the mold. It makes for a pretty layered look with zero effort for it to turn out that way!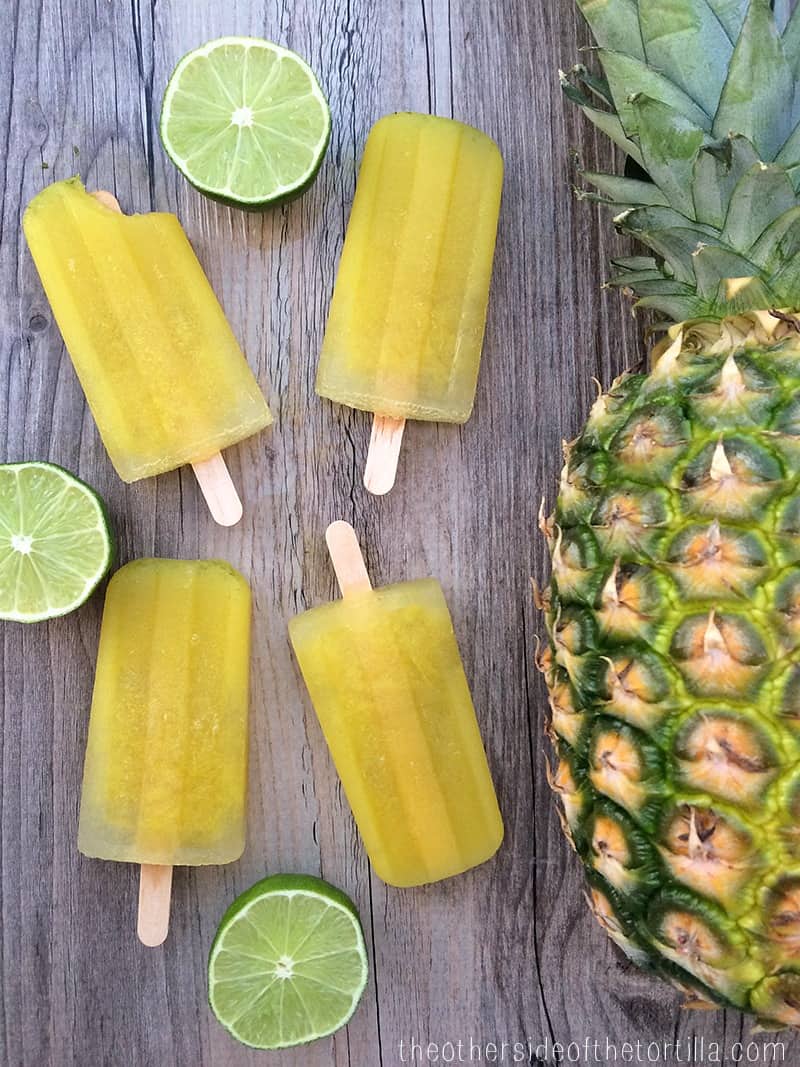 After going 10 days without eating sugar last month, I began thinking a lot about how much added sugar we actually consume in our household. Although we won't completely cut all added sugar out of our diet, there are definitely some places we can easily cut back to make healthier choices. And although it's true that pineapple has a moderately high amount of natural sugar, the juice, when cut by cucumber  and lime juice and divided into 10 popsicles, still has way less sugar per serving than almost any store-bought popsicle, and absolutely no preservatives, chemicals, sugar substitutes or artificial color dyes.
RELATED RECIPE: Mango cantaloupe paletas with chile powder
If your family consumes a lot of popsicles in the summer like mine does, then you probably already know that making your own ice pops can be both cost effective and healthier. Especially if you've got little kids  you don't want eating lots of sugar, this recipe is a great, tasty option. Be sure to cut the skin off the cucumber so that the flavor is mild and blends in well to mellow the sweetness of the pineapple. Leaving the skin on the cucumber often results in a bitter flavor that throws off the balance.
This pineapple, cucumber and lime popsicle recipe is vegan-friendly, dairy-free and gluten-free….