Xochimilco is both the name of a delegation in Mexico City as well as the famous canals that are remnants of a vast water transport system built by the Aztecs.
Colorful boats, called trajineras, take visitors on cruises down the canals while food vendors, artisans and mariachi bands float past hoping you'll buy a snack, a souvenir or a song. The atmosphere is fun and festive, especially on weekends, and although this activity is definitely touristy, lots of locals still frequent the canals.
When we were visiting Mexico in December 2010, it turned out that my dear friend Ana and her family were also visiting at the same time. We were determined to see each other, and after some previously derailed plans thanks to illnesses we finally settled on a date and an activity. We'd check out the Museo Dolores Olmedo, the floating gardens of Xochimilco and then have lunch together on the day after Christmas.
I was so excited when Ana and her family picked me up – first because I'd be exploring some places I'd never visited before, but also because I was so happy to be able to share in these experiences with someone who I knew cherished them as much as I did. Thank you, Ana, Alan, Camila and Patricia for sharing this special day with me.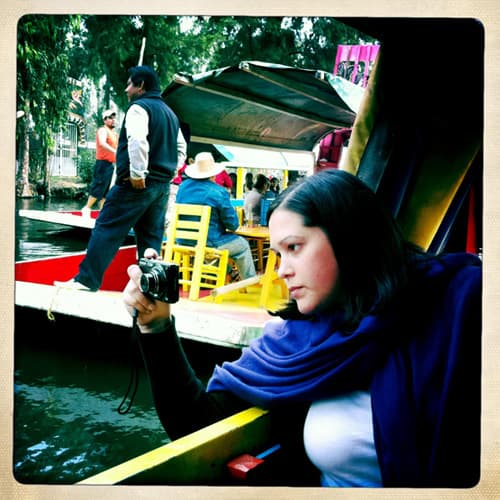 Xochilmilco has been a protected UNESCO World Heritage Site since 1987.
The following passage is from UNESCO's description of the area and why it's protected.
The lacustrine landscape of Xochimilco constitutes the only reminder of traditional ground occupation in the lagoons of the Mexico City basin before the Spanish conquest.
The zone of Xochimilco, 28 km to the south, is the only remaining reminder of the lacustrine landscape of the Aztec capital, where the conquistadores destroyed the monuments and drained the canals. On the edge of the residual lake of Xochimilco (the southern arm of the great dried-up lake of Texcoco where the Aztecs had settled on a group of islets linked to solid ground by footbridges), and in the midst of a network of small canals, are still some chinampas, the floating gardens that the Spanish so admired. This half-natural, half-artificial landscape is now an "ecological reserve."
–UNESCO