Quick and easy meals for weeknights are essential in most households, mine included. But if you're like me, you still want to put something at least semi-homemade on the table to please your family at dinnertime. Longaniza en salsa verde is one of my go-to dishes that's both easy and quick to make and can also use homemade or store-bought ingredients depending on how much time you've got to cook.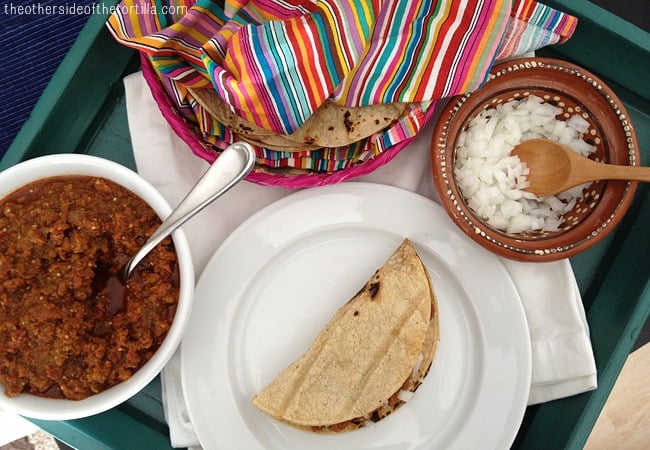 If you have the time, you can make my salsa verde recipe from scratch (but I suggest that you leave out the salt until after it's cooked; longaniza can be rather salty so you may find you don't need to add any salt in the salsa). If you don't have time to make the salsa, you can use your favorite brand of store-bought salsa verde. I often serve this dish with a side of black beans diced onion and chopped cilantro as garnish.
Tacos de longaniza en salsa verde
An easy semi-homemade taco recipe with loganiza and salsa verde, perfect for lunch or dinner when you're busy and short on time to put a meal on the table. Serve with warm corn tortillas, chopped white onion for garnish and a side of black beans (whole or refried) to complete a hearty meal everyone will love.
Ingredients
10-ounce package of longaniza
1 16-ounce bottle of salsa verde (I like Herdez or La Costeña brands)
Corn tortillas
Optional sides:
White onion, chopped
Black beans, whole or refried
Instructions
Cook the longaniza in a saute pan over medium heat until it's well done.
Drain the meat by lining a dish with paper towels and pouring the meat on top so the paper towels absorb the grease. Wipe the remaining grease out of the saute pan.
Add the meat back into the saute pan and add the entire 16-ounce bottle of salsa verde. Cook over medium heat, stirring frequently for 2-3 minutes, to warm the salsa through.
Remove from heat and transfer to a serving dish. Serve with warm corn tortillas, chopped white onion and black beans (optional).
https://theothersideofthetortilla.com/2013/10/tacos-longaniza-salsa-verde-recipe/
©2009-2015 theothersideofthetortilla.com
 Tell me in the comments below: What's one of your quick and easy Mexican weeknight meals?
14