Posadas navideñas are one of my favorite times of year, but they can also be a stressful time with relatives and friends dropping by with short notice. These chorizo and avocado cups with chipotle cream are sure to please your crowd, even if you don't have much time to prepare.
Since we typically head to Mexico for the holidays, it's not as stressful for me because I usually don't have to play hostess. But my family threw me a bit of a curve ball this year when they requested I bring a dish of some kind to the posada at my tía's house the same day that I arrive. I immediately began to think about what I could make that would be simple but authentic and satisfying, and that I could whip up with only a few hours in between the airport and heading to the posada. I decided on this easy appetizer because it has only six ingredients and one of them can be bought already prepared.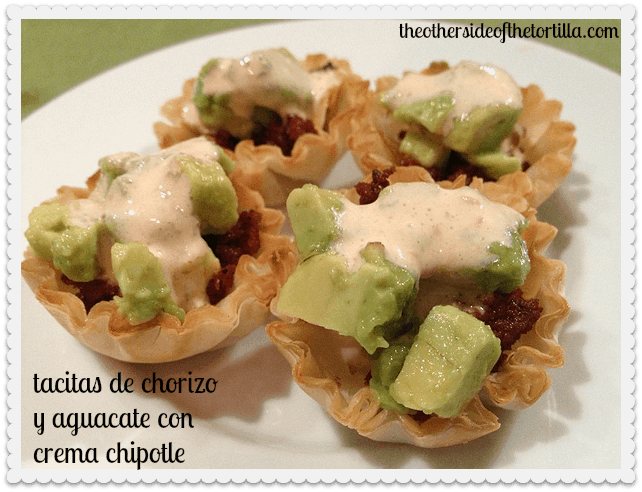 Many families celebrate posadas like potluck dinners where everybody is responsible for bringing a dish. But in this case, everyone in our family is assigned with tasks ranging from bringing food to a piñata, being in charge of taking photos and so on. Everybody does their part so that the party runs smoothly, even down to the end when someone is responsible for helping clean up the dishes.
While this recipe isn't a traditional one, like, say, an ensalada nochebuena, it's an excellent savory appetizer that you can incorporate into your holiday traditions. I usually have most of the ingredients on hand, and I bet you do too. You can easily make this appetizer a bit healthier and vegetarian-friendly by swapping the chorizo for soy chorizo.
Chorizo and avocado cups with chipotle cream
An easy appetizer for posadas and other holiday parties using Avocados from Mexico.
Ingredients
2 boxes of mini phyllo shells (or a total of 30 mini phyllo shells)
2 avocados
juice of 1 lime
4 ounces of cooked chorizo
1/2 cup crema Mexicana
1 chipotle en adobo plus 1 1/2 teaspoons adobo sauce
Instructions
Cook the chorizo, drain grease on paper towels and set aside.
Prepare the crema in a mini food processor or blender by adding the crema, chipotle chile and adobo sauce and blend until smooth. Refrigerate until ready to use.
Preheat the oven to 350º F, then bake the shells on a cookie sheet for 3-5 minutes.
Remove them from the oven, add 1/2 teaspoon or so of chorizo into each cup and put back in the oven for 3-5 more minutes.
Score the avocados two ways while still in the skin and scoop out into a bowl. Squeeze lime juice over the avocado and gently toss with a spoon to coat the avocados with the juice.
Once the chorizo cups are out of the oven, spoon a little avocado over each cup, followed by a little crema.
Transfer to a serving platter and serve.
https://theothersideofthetortilla.com/2012/12/chorizo-avocado-cups-chipotle-cream/
©2009-2015 theothersideofthetortilla.com
For more avocado recipes for posadas or avocado recipes for any time, visit Avocados from Mexico's website. And check out the blog hop below for holiday recipes using Avocados from Mexico from other bloggers.

Disclosure: This is a sponsored post through Latina Bloggers Connect to promote Avocados from Mexico. We received compensation for writing this post, but all opinions and recipes are our own.