Last month at my cooking show at the Kenmore Live Studio where I made chilaquiles, I talked about the versatility of salsa verde. I can think of about a dozen uses for this sauce just off the top of my head, so when I make it, I usually make extra so that I can get a few different meals out of it. One of my favorite things to make with salsa verde is enchiladas.
This recipe is so easy to make; great whether you need to feed just a few or a whole family. A few weeks ago, I made these enchiladas for my suegro and he ate three helpings! I laughed and asked him whether they were that good or if he was very hungry and as he was about to take another bite, he said "both!" These are also a favorite of José's.
If you want to make these vegetarian, you can substitute vegetable broth for the chicken broth in the salsa and fill them with cheese instead of chicken.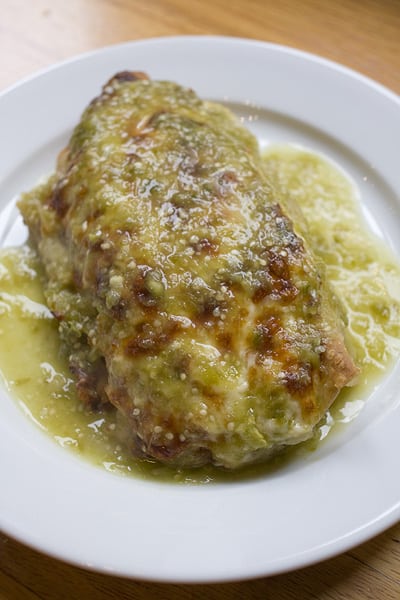 RECETA:
ENCHILADAS VERDES
FOR SALSA VERDE
A little over 1 pound of small tomatillos, husked & thoroughly washed
3-5 serrano chiles (depending how spicy you like it), stems cut off and roughly chopped
1-2 cloves of garlic
1-2 slices of white onion
A pinch or two of salt to taste
1-1 ¼ cup chicken broth or water
FOR THE ENCHILADAS
3 cups shredded chicken (2 chicken breasts and some dark meat)
6-7 oz (about ¾ cup) of shredded Chihuahua cheese
½ cup crema Mexicana
A dozen corn tortillas
Some canola oil for frying the tortillas
To make the salsa:
First, husk and wash the tomatillos. Rinse them well in cool water.
Fill a pot with water (large enough to fit all the tomatillos) and bring to a boil. Put the tomatillos in and cook in the boiling water until the tomatillo flesh begins to get transparent. Using a slotted spoon, transfer the tomatillos to a blender. Add the onion, garlic and salt. Cut the stems off the serrano chiles and cut each chile into a few pieces so they're easily chopped in the blender.
Start by adding 2 chiles to the blender with about ¾ of a cup of water or chicken broth and blend on high until smooth and the chiles and tomatillos are completely incorporated. Taste the salsa to see if it's too hot; if it needs more chile, add them one at a time, blending & tasting the result until you are happy with the level of heat from the chiles. If it seems the salsa is not quite liquid enough, add another ¼ cup of water or chicken broth. The salsa will reduce slightly when cooked.
Pour blender contents into a saucepan and cook over medium heat until the salsa boils, occasionally stirring. Remove from heat.
For more on salsa verde, visit my original post on the topic.
You can either make a bone-in chicken breast from scratch or use a store-bought rotisserie chicken if you're short on time. For bone-in chicken breast and chicken stock, you can just gently boil the chicken on the stove with a pinch or two of salt, a slice of onion and a small spring of cilantro or a few epazote leaves until the meat is cooked through. If you use a rotisserie chicken, buy one that's low-sodium or barely seasoned. You can pour the juices from the container into a saucepan with a few cups of water and a chicken leg or two.
To make the enchiladas:
Preheat the oven to 350º F (177º C).
Heat a little bit of oil in a frying pan (just enough to coat the bottom of the pan) and lightly fry both sides of the tortilla. Each side will dome up when it's ready to be turned. Drain on paper towels. Put a bit of the shredded chicken in the center of each tortilla and add a generous pinch of the shredded Chihuahua cheese. Roll them up and place seam-side down in a baking dish.
Spread the crema liberally over the top of the enchiladas and then ladle some salsa over them. Sprinkle the remaining cheese over the top and heat in the oven at 350º for 8-10 minutes to heat through. Then move to the top rack and broil on low until the cheese is completely melted and bubbly, with some brown spots. Remove from the oven. Using a spatula, transfer enchiladas to plates and finish with some extra salsa on top.
Yields 12 enchiladas. There will be some leftover salsa.
How do you like your enchiladas?