These baked taquitos, or baked flautas, are a healthier version of the classic fried taquito that your family will love!
As a kid, one of my all-time favorite meals was taquitos de pollo (in fact, it still is one of my favorites). Anytime my mom would take me to a Mexican restaurant, I would always order this fried taco dish no matter what else was on the menu—whether it was called a taquito, flauta, or something else.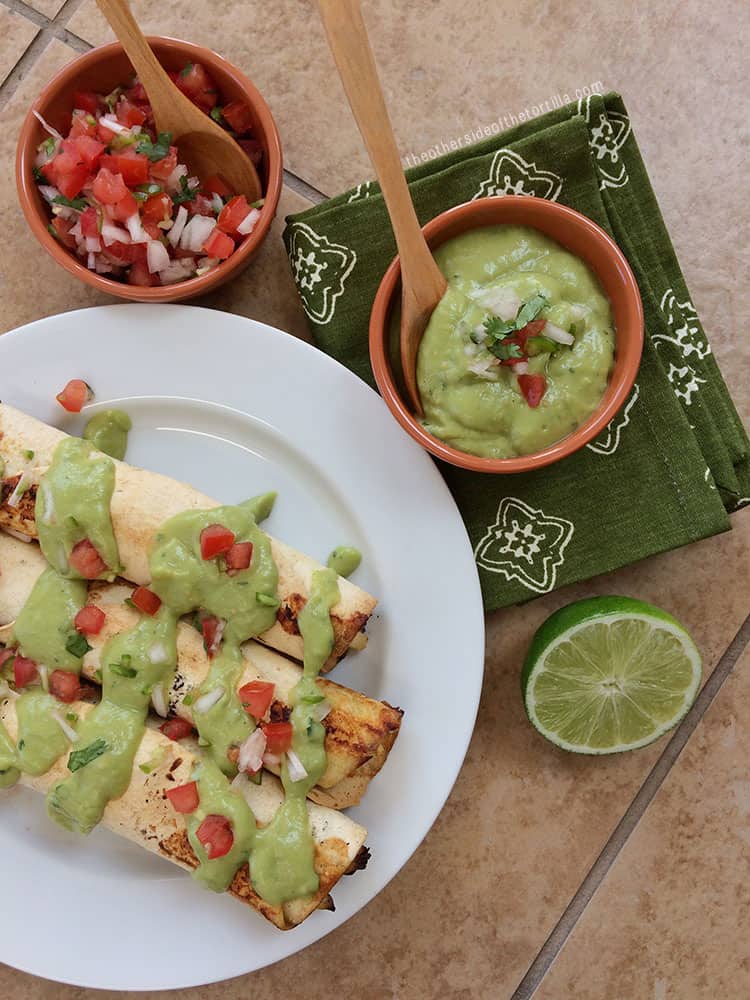 This post is part of a compensated campaign with Herdez. All opinions and the recipe here are my own.
So I wanted to recreate an easier, healthier, kid-friendly version of my childhood favorite. 
When making fried taquitos de pollo, I typically use corn tortillas. However, when it comes to baked taquitos, flour tortillas are really where it's at so you can get a great crunch that isn't so crunchy that it might hurt the roof of your mouth.
This recipe is very easy and quick to make—and the addition of Herdez salsa verde and a freshly shredded, store-bought rotisserie chicken cut down on the amount of time it takes to get it on the table. For the filling, the shredded chicken is mixed with salsa verde and a little bit of cheese to keep the chicken moist during the baking process.
While it's perfectly fine if you like to eat your salsa verde drizzled on top straight from the jar, I love to mix it with a little avocado, lime juice and cilantro to create a unique, creamy salsa. Paired with fresh, homemade salsa mexicana (which you may know as pico de gallo; made of diced tomato, onion and jalapeño or serrano chile and cilantro) as a garnish, you'll get a pop of color as well as an additional serving of veggies. And I think it also elevates the salsa experience because nobody will ever guess that the base of the salsa came from a jar! I always keep a bottle or two of Herdez salsa verde in my cabinet for quick dinner hacks like this one.
These baked taquitos are also an excellent substitute for a sandwich in your kids' lunch boxes! Just cut them in half so they're easy for small hands to hold, and include a little airtight container with the avocado salsa verde for dipping.
Make baked taquitos or flautas instead of fried! The chicken inside stays moist and flavorful in this recipe with a little salsa verde and cheese. A quick and easy dinner the kids will love.
Ingredients
For taquito filling:
2 cups shredded chicken
1/2 cup Herdez salsa verde
1/2 cup shredded queso Chihuahua or queso quesadilla
6 flour tortillas
For salsa:
1 cup Herdez salsa verde
1 large Hass avocado
Juice of 1 large lime (about 3 1/2-4 tablespoons)
2 tablespoons finely chopped cilantro
For salsa mexicana garnish:
2 Roma tomatoes, seeded and finely diced
1/2 of a Serrano chile (about 1 1/2 to 2 inches in length), finely diced
1/4-inch slice (about 1/4 cup) white onion, finely diced
2 tablespoons finely chopped cilantro
Instructions
In a bowl, mix 2 cups shredded chicken, 1/2 cup salsa verde and 1/2 cup shredded Chihuahua cheese or queso quesadilla. Set aside.
Preheat the oven to 400 degrees Fahrenheit. Line a baking sheet or jelly roll pan with parchment paper and set aside.
On a comal or a skillet, heat the tortillas so they're pliable, but not completely cooked.
Spoon about 1/3 cup of the chicken, salsa and cheese mixture into each tortilla and roll tightly. Place the taquitos on the parchment-lined baking sheet at least two inches apart.
Bake in the preheated oven at 400 degrees F, turning after 7 minutes (turn them a total of three times) to ensure the tortilla get suffuciently baked and crunchy. It's normal for a little bit of the filling to leak out.
While the taquitos are baking in the oven, make the salsa mexicana. Seed and dice 2 Roma tomatoes, half a serrano chile, 1/4 cup finely diced white onion, and 2 tablespoons finely chopped cilantro. Mix well and set aside.
To make the avocado salsa verde, add 1 cup Herdez salsa verde, the flesh of 1 large Hass avocado, juice of 1 large lime (about 3 1/2-4 tablespoons of juice) and 2 tablespoons chopped cilantro to a blender or small food processor (I use a Cuisinart mini prep).
When the taquitos come out of the oven, spoon the avocado salsa verde over them, then sprinkle with the salsa mexicana as a garnish.
Notes
These baked taquitos are best eaten immediately, but you can also store any leftovers in an airtight container in the refrigerator for up to two days.
https://theothersideofthetortilla.com/2015/04/baked-taquitos-recipe/
©2009-2015 theothersideofthetortilla.com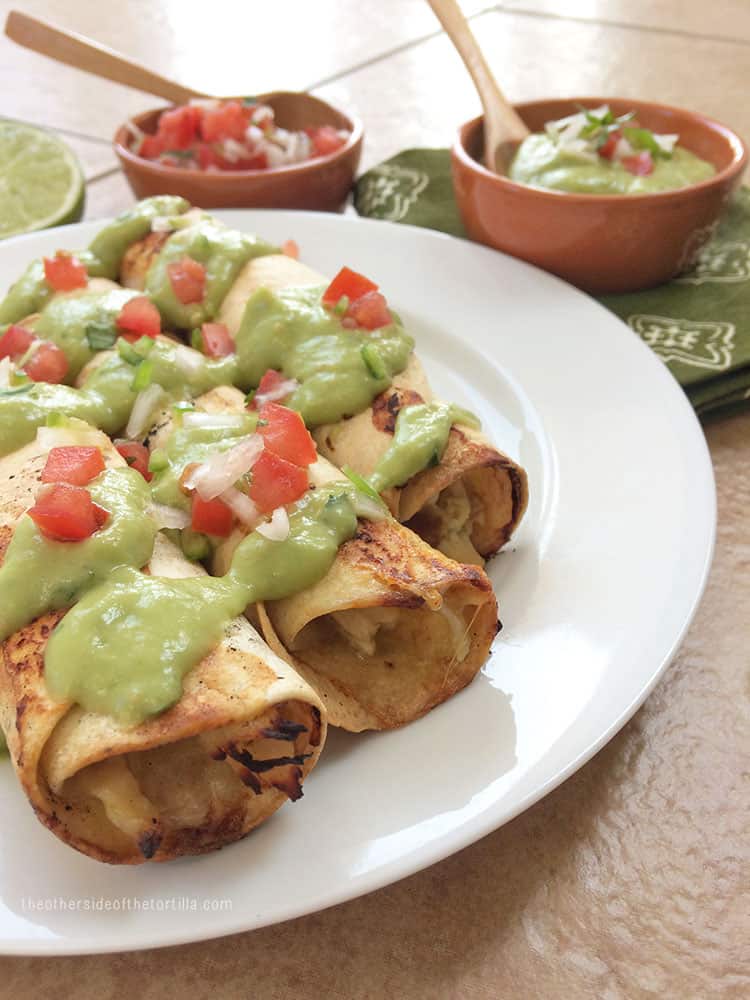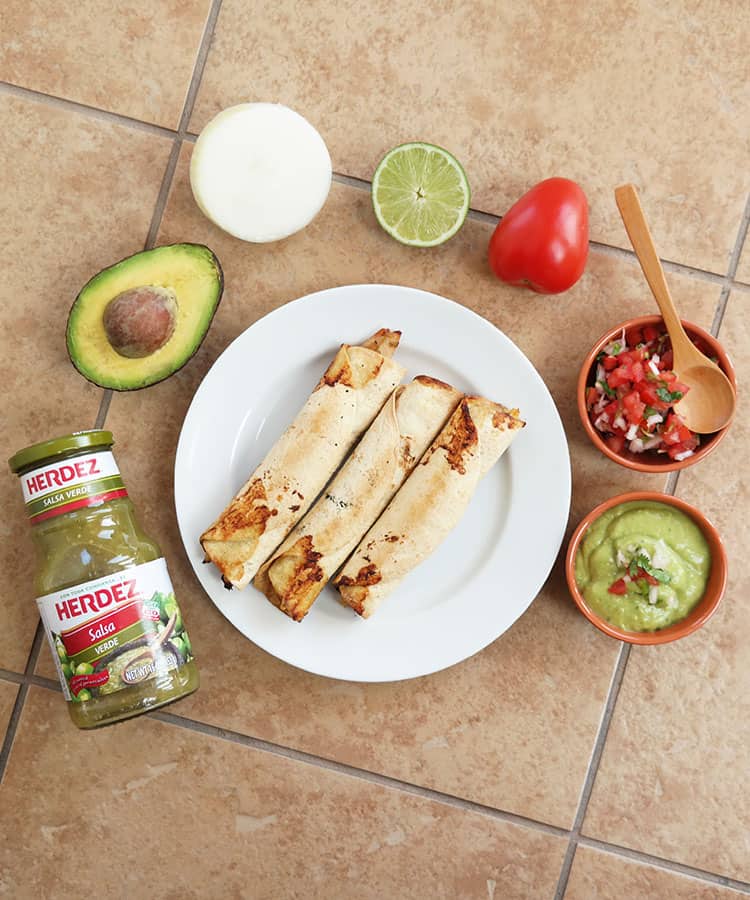 RELATED RECIPE: Tinga de pollo 
3