To me, wintertime means lots of comfort foods. And pardon the pun, but during the blizzard we had here last week, I was cooking up a storm while I was cooped up inside for three whole days. One of my favorite comfort foods is papas gratinadas, a Mexican version of potatoes au gratin.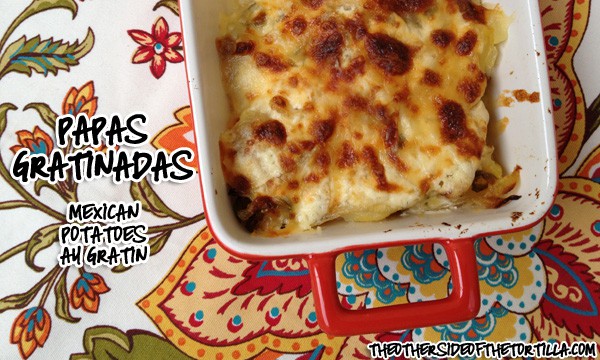 I love it so much, in fact, that while I'm writing this, I'm thinking about going to the store for more potatoes so I can make another batch. The last two times I've made this dish, it disappeared in less than 24 hours. And my friend Silvia over at Mamá Latina Tips has been asking me to post this recipe for several weeks since I told her I made it because her mom used to make papas gratinadas for her and it's one of her favorites, too.
These are a great side dish (or, um…an afternoon snack) when you need hearty, warm food to keep you full and fueled to fight the cold outside. Here's a quick video tutorial on how to make this recipe.
[youtube]http://www.youtube.com/watch?v=3bseuBjSf_Q[/youtube]
Papas gratinadas | Mexican potatoes au gratin
This Mexican version of potatoes au gratin is the perfect side dish for dinner.
Ingredients
6-8 small white potatoes, boiled until fork-tender
1/2 of a white onion, sliced
2 serrano chiles, sliced
1 1/2 tablespoons vegetable oil
A pinch of kosher salt
3/4 cup crema Mexicana
1 to 1 1/2 cups of shredded Chihuahua cheese
Instructions
Boil the potatoes until they're fork-tender, but not so long that they split. Remove from heat, take them out of the water and let them cool a bit before you slice them.
In the meantime, heat the vegetable oil in a frying pan and slice the onion and serrano chiles. Once the oil is hot, add the onion and chiles and cook them over medium heat until the onions start to turn transparent and get browned a bit. The chiles will also brown. Add a little bit of kosher salt to season them. Once they're finished, set them aside in a prep dish.
There should still be a little bit of oil leftover in the frying pan; add the potato slices to brown them for a few minutes on each side. This will give them just a little crispness on the outside so that when you bake them with the crema and cheese, they won't get soggy or mushy. Add a little bit more oil if you like or if your pan seems to be very dry, but I typically only need the little bit of leftover oil from the onions and chiles.
I like to use an 8x8-inch casserole dish when making this recipe because it fills the dish about two-thirds full with some room for easy serving without making a mess. And so you don't have a sticky mess on your hands when it comes time to clean the dish, use just a little bit of cooking spray (I use Pam Cooking Spray) to prevent the cheese from sticking to the dish.
After your dish is prepped, start with a thin layer of crema on the bottom. Then add the potatoes, followed by another layer of crema, onion and chiles, and then the cheese. Keep repeating until you run out of potatoes and make the final two layers crema and then cheese. Put the dish in a preheated oven at 350ºF for 10-15 minutes on the middle rack and then transfer it to the top rack and heat under the broiler on low until the cheese on top is brown and bubbly.
https://theothersideofthetortilla.com/2011/02/papas-gratinadas/
©2009-2015 theothersideofthetortilla.com
What are your favorite comfort foods for the winter? How do you make your papas gratinadas?
20