Mexico is a very nose-to-tail consumer when it comes to eating animals; like in many other developing countries, and often motivated by economic circumstances in an effort to use the whole animal and not leave much—if any—waste, there are a lot of delicious and unique foods that have come out of this scrappiness. One of these simple delicacies is chicharrón, made of fried pork skins.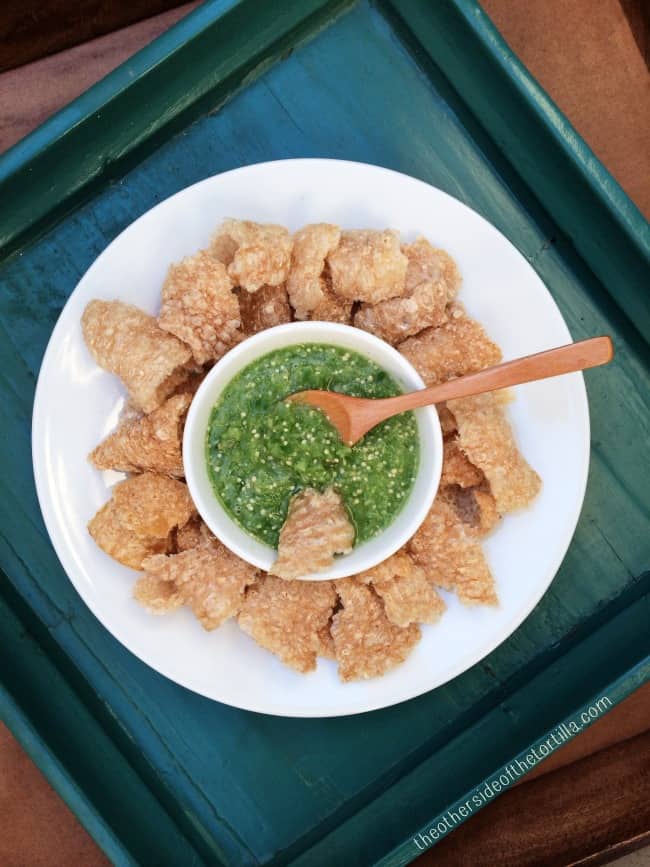 This botana, or appetizer, of chicharrón served with salsa verde is very typical in Mexico. Generally, these pork skin cracklings are made by boiling the skin, hanging it to dry, then deep frying it in hot oil until the skin puffs up. They're by no means a healthy snack, so should be eaten in moderation, but they're a guilty pleasure worth the indulgence.
They're not quite the same as processed food pork rinds or pork cracklings you might find in a potato chip-like bag in the supermarket. For that reason, it's best to buy them from your local carnicería or near the butcher's counter in any Mexican market.
I have lots of fond memories of eating this salty, crunchy snack in restaurants—sort of in the way most restaurants in the U.S. serve bread at your table before you order—and at family gatherings in Mexico. I hope it reawakens similar memories for you, too, or helps create a new snacking tradition with your family.
Botana de Chicharrón con Salsa Verde
This simple appetizer is perfect for a cocktail hour, a party or just munching as an afternoon snack. Chicharrón con salsa verde is a popular dish in Mexico.
Ingredients
1/4 pound of chicharrónes para botana (pork rinds)
1 cup small tomatillos (tomatillos milperos); husks removed and washed
2 teaspoons Knorr Suiza powdered chicken bullion
1 small chile serrano, stem removed
1 clove of garlic
1/4-inch slice of white onion
Optional: 1 tablespoon roughly chopped cilantro
Instructions
Remove husks from tomatillos and wash them to remove all sap. Gently run them dry in a kitchen towel to remove any remaining sap.
Add 1 cup tomatillos, 2 teaspoons Knorr Suiza, 1 small chile serrano, 1 clove of garlic and a 1/4-inch slice of white onion to a small food processor or blender and pulse for about 10 seconds at a time for a minute, or until the salsa is mostly smooth.
Pour salsa into a serving bowl with a spoon.
Break up the chicharrón into bite-sized pieces (about the size of a small potato chip).
Serve chicharrónes side by side with the salsa and use for dipping.
Notes
Store any leftover salsa in an airtight container, such as a glass jar, in the refrigerator for up to two days.
https://theothersideofthetortilla.com/2014/02/botana-chicharron-salsa-verde-recipe/
©2009-2015 theothersideofthetortilla.com
Like this recipe? Please share it on Facebook and Pinterest with your friends!
15