Chilaquiles are a staple in my house – great for any meal: breakfast, lunch or dinner. When making them for breakfast, I serve an egg (fried or scrambled) on top; for lunch and dinner I usually add shredded chicken, but that can be left out if you're serving it to a vegetarian. Whenever I go to a potluck dinner or any kind of event where I have to bring a dish, this is my tried and true recipe that always disappears quickly once served and the guests always end up calling me for the recipe the day after. And, ahem… chilaquiles are also known as the quintessential Mexican cure for a hangover.
RELATED RECIPE: How to make salsa verde from scratch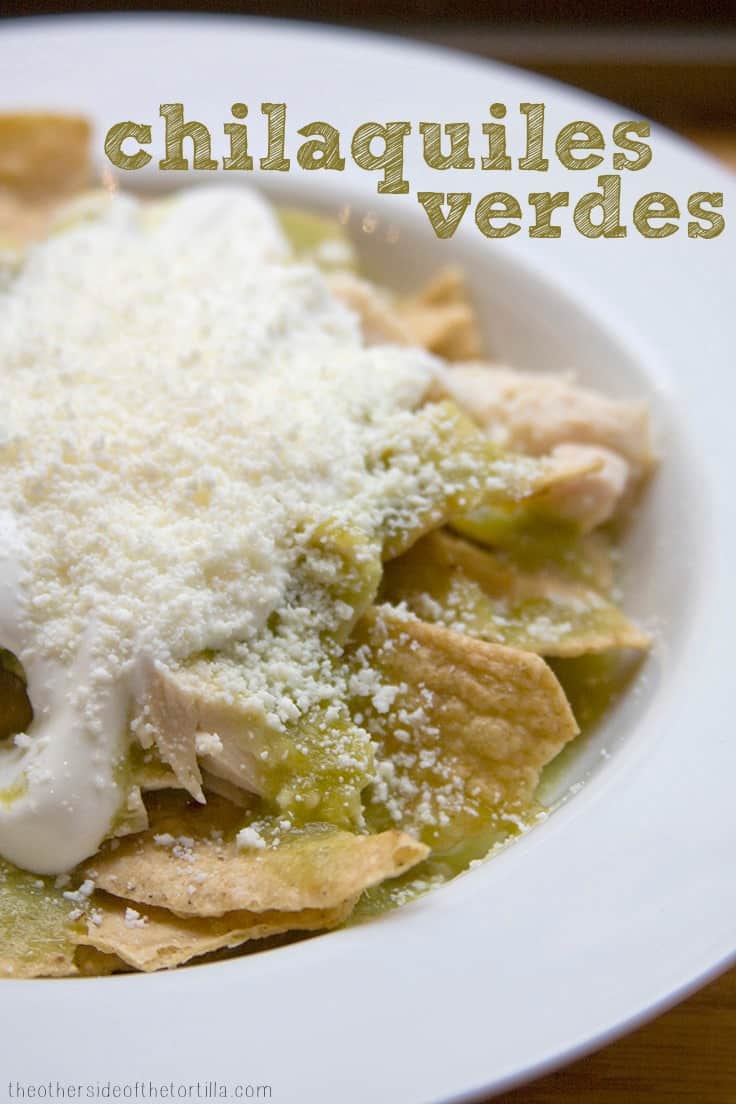 RELATED RECIPE: Baked taquitos with avocado salsa verde
I recently made my famous chilaquiles verdes for my Salsa Showdown cooking show at the Kenmore Live Studio and they were a huge hit. A lot of people from the audience came up to me after the show to say that they were impressed with not only the taste of the dish, but also how simple it was to prepare and that they felt confident they could make it at home. That's always my goal here ­– to teach you recipes and break them down so you feel comfortable making them on your own. I hope you'll try my chilaquiles, and if you do, please leave a comment below to let me know how you liked them!
RELATED RECIPE: Tacos de longaniza en salsa verde
One of the great things about the salsa verde for my chilaquiles is that it's a very versatile salsa that can also be used for enchiladas as well as a few other dishes. Be sure to check back later this week for my recipe for enchiladas verdes.
RELATED RECIPE: Enchiladas en salsa verde
Chilaquiles are an easy, classic Mexican dish that can be served as breakfast, lunch or dinner with a few modifications.
Ingredients
FOR SALSA VERDE:
A little over 1 pound of small tomatillos (milpero if you can find them), dehusked & thoroughly washed to remove sap
3-5 serrano chiles (depending how spicy you like it; start with less and increase the amount), stems cut off
1-2 cloves of garlic
1-2 quarter-inch slices of white onion
A pinch or two of kosher salt to taste
¾-1 ¼ cup water or chicken broth
FOR CHILAQUILES:
Homemade fried tortilla strips or store-bought hearty tortilla chips
1-2 shredded chicken breasts
crema Mexicana
queso cotija or queso fresco, crumbled
Instructions
To make the salsa:
First, dehusk and wash the tomatillos. Rinse them well in cool water.
Fill a pot with water (large enough to fit all the tomatillos) and bring to a boil. Put the tomatillos in and cook in the boiling water until the tomatillo flesh begins to get transparent. Using a slotted spoon, transfer the tomatillos to a blender. Add the onion, garlic and salt. Cut the stems off the serrano chiles and cut each chile into a few pieces so they're easily chopped in the blender.
Start by adding 2 chiles to the blender with about ¾ of a cup of water or chicken broth and blend on high until smooth and the chiles and tomatillos are completely incorporated. Taste the salsa to see if it's too hot; if it needs more chile, add them one at a time, blending & tasting the result until you are happy with the level of heat from the chiles. If it seems the salsa is not quite liquid enough, add another ¼ cup of water or chicken broth. The salsa will reduce slightly when cooked.
Pour blender contents into a saucepan and cook over medium heat until the salsa boils, occasionally stirring. Remove from heat.
• Tip: for extra flavor with salsa verde cocida, you can also add 1-2 strips of chicharrón con carne (the kind with meat still attached) to season the salsa. You should add the chicharrón during the end stage when you cook the salsa until it boils for a few minutes, then remove from heat and allow to come to room temperature before storing to infuse the chicharrón flavor.
To make the chilaquiles:
If you're going to make your own chips out of fresh corn tortillas, just cut them up (either into strips or triangles) and fry them in vegetable or canola oil until they're crispy. If you're not confident with a sharp knife, you can also use a pizza wheel for quick and easy cutting. To avoid excess oil, drain them on a plate over paper towels.
Ladle salsa over the hearty tortilla chips and top with desired amounts of queso cotija or crumbled queso fresco, Mexican crema and shredded chicken (optional). Serve warm. Yields 4-6 servings depending on serving size. The salsa can last for up to 10 days in the refrigerator in an airtight container.
https://theothersideofthetortilla.com/2010/11/chilaquiles-verdes/
©2009-2015 theothersideofthetortilla.com
RELATED RECIPE: Pellizcadas with salsa verde
How do you like your chilaquiles?
29