To me, wintertime means lots of comfort foods. And pardon the pun, but during the blizzard we had here last week, I was cooking up a storm while I was cooped up inside for three whole days. One of my favorite comfort foods is papas gratinadas, a Mexican version of potatoes au gratin.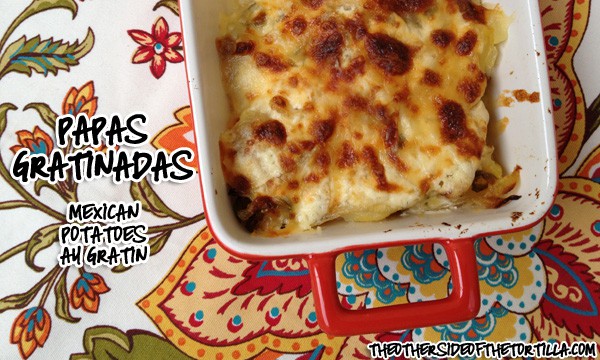 I love it so much, in fact, that while I'm writing this, I'm thinking about going to the store for more potatoes so I can make another batch. The last two times I've made this dish, it disappeared in less than 24 hours. And my friend Silvia over at Mamá Latina Tips has been asking me to post this recipe for several weeks since I told her I made it because her mom used to make papas gratinadas for her and it's one of her favorites, too.
These are a great side dish (or, um…an afternoon snack) when you need hearty, warm food to keep you full and fueled to fight the cold outside. Here's a quick video tutorial on how to make this recipe.
[youtube]http://www.youtube.com/watch?v=3bseuBjSf_Q[/youtube]
…