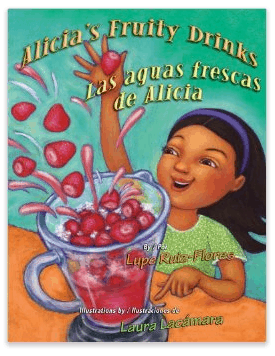 Today, I'm participating in Latinas for Latino Literature's Día Blog Hop. Over 24 days, 24 Latina bloggers are paired with 24 authors and illustrators. This initiative, started in 2013 in the United States by poet Pat Mora, is in honor of Día de los Niños, Día de los Libros which is celebrated on April 30. All of the guest writers were asked to share an original story or illustration in support of Latino children's literacy. The Other Side of The Tortilla is the fifth stop on the hop.
I'm thrilled to have been matched with Lupe Ruiz-Flores, the author of one of my favorite bilingual children's books, Las Aguas Frescas de Alicia.
The story is about a little girl who attends a Mexican Independence Day festival with her parents and discovers agues frescas for the first time. She loves the fruit juices so much, she wants to make them at home with her mami, and soon is creating her own recipes to share with her soccer teammates.
It's no secret that we're huge agua fresca fans here at The Other Side of The Tortilla, and I believe teaching your kids about their family roots through food is a beautiful and meaningful way to instill culture and identity, as well as create lifetime memories. Books are another excellent way to teach kids about culture, and we couldn't do that without Latino authors writing books filled with characters our children can identify with. As such, I'm proud to have my site serve as a vehicle to spread the word about the deep ties between literacy and culture and what they can do for our community.
Lupe Ruiz-Flores has shared an original essay for our readers as part of the L4LL blog hop. You can find the full schedule for all stops on the Día blog hop on the L4LL website. 
—Maura…