A few weeks ago I attended a dinner given by the Mexico Tourism Board and Chef Carlos Gaytan at his restaurant, Mexique, in honor of the recent UNESCO designation of Mexican cuisine as an Intangible Cultural Heritage. The Tourism Board over the last several weeks has hosted authentic Mexican dinners in a number of major North American cities to celebrate, including Chicago, New York, Los Angeles, Washington D.C., Miami, Montreal, Toronto, Ottawa and Vancouver, so I was thrilled to receive the invitation.
Did you know that French recipes and cooking techniques during the French occupation of Mexico in the 1860s became an important element in the evolution of modern Mexican gastronomy?
Gaytan's concept behind Mexique is modern Mexican food with French influence. Hailing from Huitzuco, Guerrero, Gaytan's love of food helped him rise from pantry cook to executive chef. He trained with French chef Dominique Tougne of Bistro 110 (Gold Coast) and has also spent time in the kitchens at Bistrot Margo (Old Town) and the Union League Club (Loop), all in Chicago. If you live in Chicago or are visiting, I highly recommend you visit Mexique for a meal.
One thing that left an impression on me at the dinner was when Carlos explained why he doesn't serve mixed drinks in his restaurant: they take away from the palate and so instead, he serves wine and tequila. And God bless him for telling everyone in the dining room that tequila should be sipped. Someone at a table near me chimed in that "only heathens drink tequila shooters," which caused an eruption of laughter at my table.
And I can't end without showing you what we ate. It was a lovely four-course tasting meal with excellent wines and ended with tequila. I can't wait to return to Mexique for another meal!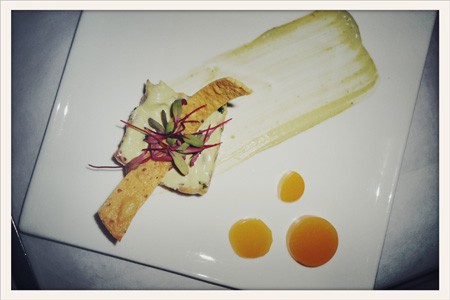 PRIMERO: Ceviche
Ahi tuna, avocado mousse, chipotle aioli, mango habanero galette…