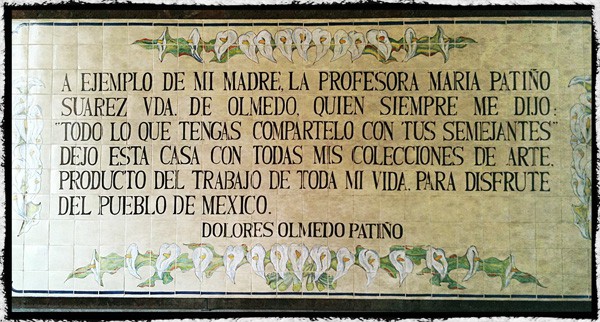 The tiles on the wall at the Museo Dolores Olmedo read: "By the example of my mother, professor Maria Patiño Suarez, widow of Olmedo, who always told me: 'Share all you have with those around you.' I leave this house with all my collections of art, the product of my life's work, so the people of Mexico can enjoy it." —Dolores Olmedo Patiño
Last year on a visit to Mexico City during the holidays, I spent a special day with friends exploring a few places I had never been before. Thanks to the abundance of cultural activities the city has to offer, there's always something new to discover. I was thrilled to hear that the Museo Dolores Olmedo was on the itinerary they planned since I'm a big Frida Kahlo and Diego Rivera fan.
Dolores Olmedo Patiño, also known to many as Doña Lola, was an aggressive collector and patron of the arts and is still revered today as one of the biggest individual benefactors and promoters of Mexican art and culture. At age 17, she met Diego Rivera by chance in an elevator at the Ministry of Public Education when he was still working on the murals there (that can still be seen today), and he ended up asking her to model for him. According to the museum, she modeled in nearly 30 nude sketches and then was the subject of other later paintings by Rivera. After separating from her husband, British journalist Howard Phillips (whom she married in 1935), the well-to-do single Olmedo made a career as a partner in a construction materials firm in the late 1940s. In the mid-1950s, she reconnected with Rivera and eventually became his benefactor, caretaker and eventually, executor of his estate and that of Frida Kahlo.
In the early 1960s Olmedo acquired Hacienda La Noria, a 16th-century Spanish colonial hacienda located in Xochimilco (a neighborhood in the south of Mexico City). At the time she acquired the property, it was a shell of its original state and so she set out on a mission to restore and preserve the hacienda. In the late 1980s, Olmedo announced plans to convert her hacienda into a museum, which opened in September 1994. Olmedo passed away in 2002 but her legacy still lives on in this charming museum she left behind for all to admire just as intended.
Here are my top ten reasons to visit the Museo Dolores Olmedo
the next time you're in Mexico City
1. The Museo Dolores Olmedo is said to have the largest collection of Diego Rivera and Frida Kahlo works under one roof. If that's not reason enough right there to visit, I don't know what is. Any Frida or Diego-lover is bound to have an enchanting afternoon seeing all their works displayed on the walls of the hacienda. If you've already been to La Casa Azul and Anahuacalli, this is the natural third stop on your quest for all things Frida and Diego.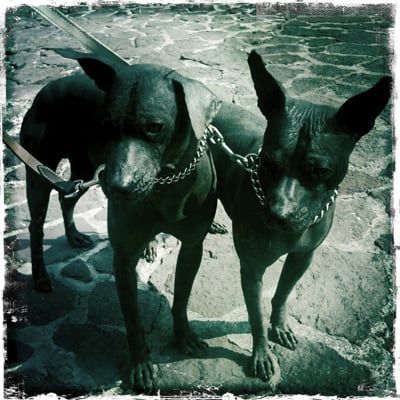 2. Olmedo had Xoloitzcuintle dogs, a pre-Hispanic breed also known in English as the Mexican hairless dog. According to interviews, the first Xolo she owned was a dog gifted to her by Diego Rivera. In fact, Frida and Diego not only owned Xoloitzcuintles, but also painted them into their works of art.
A breed revered for its loyalty and intelligence, it was also believed to have healing powers. The breed's name comes from the words "Xolotl" (the name of an Aztec god) and "itzcuintli" (meaning dog). During my last visit, the dogs' caretaker, Felipe Nava de Santiago, was walking two of the descendents from Olmedo's dogs. He let us pet the dogs, which were very friendly and sweet, and told us the breed is especially beloved by those with arthritis—you only need to pet the dog to understand why; they have incredibly warm skin and some people have even used them as bed-warmers over the centuries. Nothing like snuggling up with your pup on a cold night! There are currently 10 Xolos and a new female puppy (born this year) that live at the museum.
Watch these videos from the Museo Dolores Olmedo for more about the care and temperament of Xoloitzcuintles as well as their presence in Mexican art.
[youtube]http://www.youtube.com/watch?v=Q0VNSdppf_U[/youtube]
[youtube]http://www.youtube.com/watch?v=CBVUq45XD0Q[/youtube]
3. There are numerous beautiful birds inhabiting the grounds of the museum. There are Guinea hens, ducks and geese, as well as several pavos reales (peacocks)! It seems everywhere you turn while you're outdoors, you see a pavo real. If you're lucky, you'll get to see them spread their tails.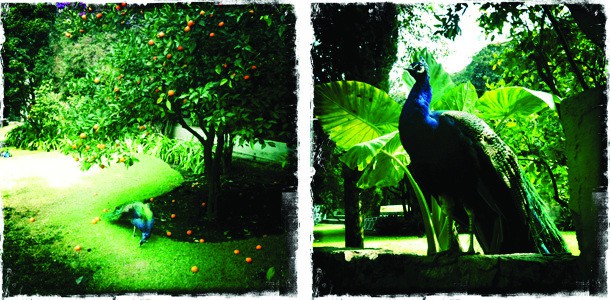 4. Get a guided tour with a trained docent (that's art-speak for an expert guide). There are so many fantastic pieces of art and artifacts and you won't want to miss a beat to learn about it all. The guided tours are offered Tuesday through Saturday, and require a reservation in advance but are well worth the effort and the minimal extra cost.
5. Aside from Frida Kahlo and Diego Rivera's works, you'll also find works by Russo-French painter Angelina Beloff, a companion of Rivera's during his early years as a painter in Europe; Eastern World art such as ivory and Chinese cloisonné (raised enamel painted onto metal); her personal memorabilia such as photos and documents; popular art, artifacts, pottery and more. The wonderful thing about the quality and variety of art on exhibit is that the museum is small enough to view everything in one day's visit but big enough that you know you're visiting a world-class museum.
6. Check out the beautifully lush gardens around the grounds. You'lll spy bugambilias everywhere creeping over the walls, mandarin orange trees (pictured above), nochebuenas (pictured below), various native Mexican plants and the biggest maguey plants I've ever seen in an urban area. I'm not sure exactly how tall they were, but definitely more than 7 feet tall—this photo does not do them justice. Some of the flora you'll see is only found in the Xochimilco area.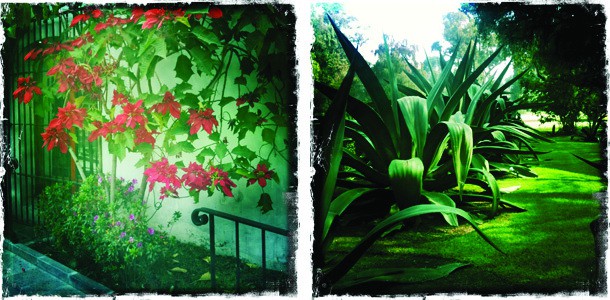 7. Architectural history! As I mentioned before, when Olmedo purchased the hacienda in the early 1960s it was in need of much restoration. According to the museum here's the scoop of what they've got to offer:
The original outline and characteristics of the design have been preserved: tile roofs, sturdy hand-hewn wooden beams, reinforced brick and stone walls, clay and wooden floors, stuccoed walls and vaulted ceilings, as well as the buttresses typically used at the time, the decorative detail in the portals and the facade outlined in quarried limestone.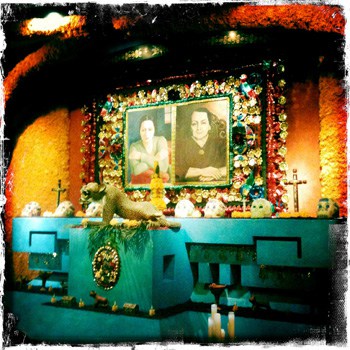 8. As is tradition at Casa Azul and Anahuacalli, the Museo Dolores Olmedo also has an ofrenda (pictured, right).
9. The gift shop! Stocked with all kinds of wonderful books and colorful popular art and folk art, you can't leave without a souvenir. I wanted to buy about ten different books in the gift shop but only ended up with one because I knew I couldn't fit them all in my suitcase. But don't worry, I took photos of all the book jackets so I wouldn't forget which ones I wanted.
10. The museum is very close by the famous and historic floating gardens of Xochimilco. Bring a picnic lunch, stroll the museum for a few hours and then take an hour-long ride down the canals on your favorite trajinera.
Que maravilla el museo, ¿no?
You can follow the museum on Twitter @DoloresOlmedo and LIKE Museo Dolores Olmedo on Facebook, too. I'm sure they'd be pleased to answer any questions you might have about visiting.
If you go:
Museo Dolores Olmedo
Avenida México 5843, La Noria, Xochimilco
16030 México, DF
Have you been to Museo Dolores Olmedo? What part of the museum did you like best? If you haven't been before, what would you like to see?
Marca País – Imagen de México, is a joint public and private sector initiative designed to help promote Mexico as a global business partner and an unrivaled tourist destination. This program is designed to shine a light on the Mexico that its people experience every day. Disclosure:  I am being compensated for my work in creating content for the México Today program. All stories, opinions and passion for all things México shared here are completely my own.

3