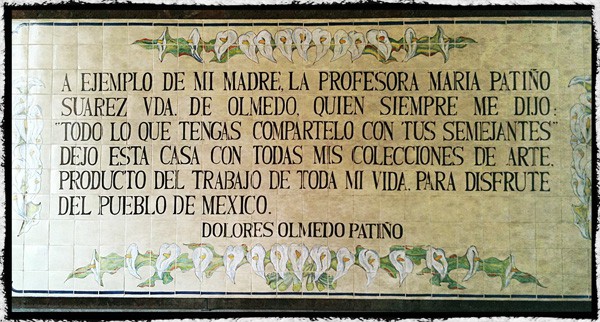 The tiles on the wall at the Museo Dolores Olmedo read: "By the example of my mother, professor Maria Patiño Suarez, widow of Olmedo, who always told me: 'Share all you have with those around you.' I leave this house with all my collections of art, the product of my life's work, so the people of Mexico can enjoy it." —Dolores Olmedo Patiño
Last year on a visit to Mexico City during the holidays, I spent a special day with friends exploring a few places I had never been before. Thanks to the abundance of cultural activities the city has to offer, there's always something new to discover. I was thrilled to hear that the Museo Dolores Olmedo was on the itinerary they planned since I'm a big Frida Kahlo and Diego Rivera fan.
Dolores Olmedo Patiño, also known to many as Doña Lola, was an aggressive collector and patron of the arts and is still revered today as one of the biggest individual benefactors and promoters of Mexican art and culture. At age 17, she met Diego Rivera by chance in an elevator at the Ministry of Public Education when he was still working on the murals there (that can still be seen today), and he ended up asking her to model for him. According to the museum, she modeled in nearly 30 nude sketches and then was the subject of other later paintings by Rivera. After separating from her husband, British journalist Howard Phillips (whom she married in 1935), the well-to-do single Olmedo made a career as a partner in a construction materials firm in the late 1940s. In the mid-1950s, she reconnected with Rivera and eventually became his benefactor, caretaker and eventually, executor of his estate and that of Frida Kahlo.
In the early 1960s Olmedo acquired Hacienda La Noria, a 16th-century Spanish colonial hacienda located in Xochimilco (a neighborhood in the south of Mexico City). At the time she acquired the property, it was a shell of its original state and so she set out on a mission to restore and preserve the hacienda. In the late 1980s, Olmedo announced plans to convert her hacienda into a museum, which opened in September 1994. Olmedo passed away in 2002 but her legacy still lives on in this charming museum she left behind for all to admire just as intended.
Here are my top ten reasons to visit the Museo Dolores Olmedo
the next time you're in Mexico City…