Super Bowl Sunday is upon us, and whether you're throwing your own fiesta or heading to someone else's, you probably need to make at least one dish to share with everyone! Why not feed your family and friends with an assortment of Mexican snacks?
Here's my list of Super Bowl-approved snacks, dishes and drinks — easy Mexican recipes that can either be prepared a day ahead of time or quickly before you plan watch the big game.
Mexican snacks for Super Bowl parties
Slow-cooker hits
Crock-Pot cochinita pibil
An ideal dish to make the day before; serve this slow-cooker cochinita pibil buffet-style with black refried beans and hearty tortilla chips or mini tostadas.
Slow-cooker carnitas
Another ideal dish to make the day before, you can serve slow-cooker carnitas as tacos with garnishes, sliders with chipotle mayo, or it would be a great addition to any DIY nacho bar, too!
Chicharrón guisado
Stewing fried pork skin in a smoky, spicy salsa makes amazing tacos, or you can also slather tortilla chips with refried beans and add this chicharrón on top with some salsa for an awesome game day snack.
Guacamole recipes
No matter what kind of guacamole you make, be sure to read my guide on how to keep your guacamole fresh and green if you plan to make your guac in advance or store leftovers after the party!
The best guacamole recipe ever
My No. 1 most-requested recipe any time I'm invited anywhere when guacamole needs to be part of the menu. This version of the classic won't let you down!
BLT guacamole
Bacon, lettuce, and tomato give a classic guacamole a uniquely American twist. This one is best to make the day of so the lettuce and bacon stay crisp.
Mango and pomegranate guacamole
This sweet spin on a usually savory dish is sure to please your crowd! This can be made the day before or the day of the party.
Pineapple and pomegranate guacamole
Another fruity spin on guacamole, acidic pineapple and sweet pomegranate seeds pair well with classic guacamole flavors.
Pomegranate and cotija guacamole
Crispy cotija cheese croutons and pomegranate seeds give this guac an excellent salty and sweet crunch!
Other recipes to dip your chips
Classic queso fundido with chorizo
Fry up some chorizo (which you can also do the day before, so your kitchen doesn't stink) and mix in to grated cheese. Melt in the oven under the broiler for an awesome snack you can serve with chips or mini tortillas.
Vegetarian queso fundido
Mushrooms and strips of roasted poblano chiles are excellent mix-ins so your vegetarian friends can enjoy the queso fundido, too. Serve with hearty chips or mini tortillas.
Roasted jalapeño hummus
Making your own hummus from scratch is super easy! Add Mexican flavor to it with roasted chiles. You could also sub chile poblano, serrano or chipotles en adobo to make your own unique, spicy hummus! Serve with tortilla chips or pita bread for dipping.
Guacahummus
A cousin to guacamole, guacahummus is made of regular hummus blended with avocado. This is a great semi-homemade hack that you can make in less than 10 minutes with store-bought hummus!
Chicharrón botanero with salsa verde
Buy your chicharrones and whip up a quick salsa verde fresca for a healthy, flavorful dip to go with this sinful snack.
Other Mexican snack food recipes
Roasted chickpeas with Tajín
For a healthy snack to nosh on during the game, these oven-roasted chickpeas will hit the spot. You can make these the day before or the day of the game.
Cotija cheese and chile powder-spiced popcorn
These palomitas are awesome served with a squeeze of lime juice on top! Best to make right before the party and let guests add the toppings as they serve themselves – just pop the popcorn for them and set out the cheese, chile powder and limes, and they do the rest.
Semi-homemade empanadas
With store-bought puff pastry dough, the sky's the limit with choosing your own fillings for these quick empanadas. Thaw the dough for an hour in advance, then stuff with fillings such as jamón y queso, Spanish chorizo and cheese, or veggies and cheese. You can bake them a few hours beforehand if you like and just reheat in the oven to melt the cheese later.
Cheesy chipotle potato bites
Similar to potato skins, these uniquely Mexican-flavored mini potato bites are filled with a mixture of chorizo, crema mexicana, adobo sauce and cheese, and baked to bubbly perfection.
Chicharrón de queso
If you've ever been to a taquería in Mexico City, you're probably pretty familiar with this typical Mexican appetizer of crunchy, crispy cheese. The secret's all in the shredded gouda.
Tortilla cheese pizzas
Using flour tortillas as a base, mix your own sauce blend with canned tomato sauce, chipotles in adobo and Mexican oregano. Top with your favorite shredded Mexican cheese and bake or stick under the broiler for a quick and easy Mexican pizza treat.
Chicharrones de harina
Fry up these puffy wheat snacks and dress with your favorite salsa botanera (such as Búfalo, Valentina or Cholula) and freshly-squeezed lime juice.
Pico de gallo jicama salad
This healthy salad made with jicama, oranges, lime juice, red onion, serrano chile, cucumber and Tajín is great if you're trying to watch what you eat or for vegetarian or vegan guests at your Super Bowl party.
Esquites and Mexican street corn aka Elotes
This popular street food is easy to make in advance and serve either on a stick or divide into small party cups. To save yourself some prep time for the version served in cups, buy frozen roasted corn (I like Trader Joe's brand) or frozen corn that you roast in the oven yourself.
Spicy Mango Gummies
These addictive, spicy, sweet-and-sour gummies are best made the night before to allow time for the chamoy to soak in and dry a bit.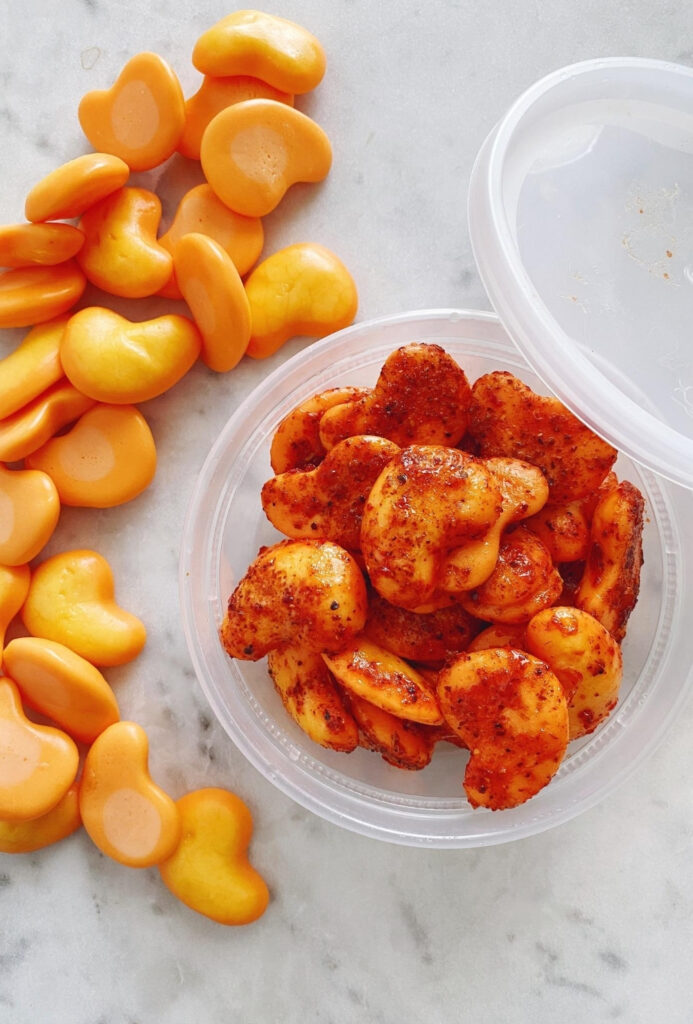 Chamoy Peach Ring Gummies
These peach ring gummies soaked in chamoy and sprinkled with Tajín are a sweet-and-sour candy dream!
Tacos
Baked flautas
This is a healthier version of classic fried tacos dorados and you can make them with any size flour tortillas. You can even chop them up into bite-size pieces if you like. Pro tip: a store-bought rotisserie chicken and store-bought salsa (I use Herdez salsa verde) will cut your prep time significantly for this dish!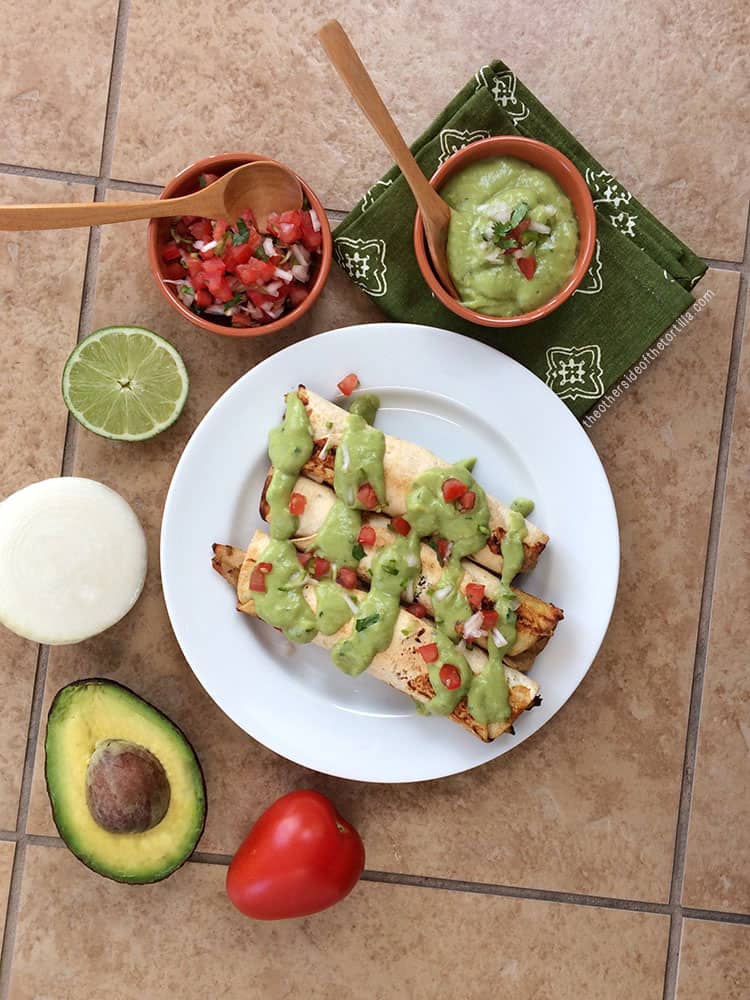 Steak and chorizo tacos de alambre
This staple taquería dish is great for a DIY taco bar. It's typically served on a platter with a basket of tortillas and everyone can make their own tacos. This also goes great on top of tortilla chips for an amazing spin on nachos! We also make a version of this alambre with pork and bacon that's always a huge hit.
Margaritas
Mandarin Orange Margaritas
This refreshing cocktail uses in-season citrus. I love to line the glass with a mix of Miguelito and salt to counter the sweetness of the mandarin oranges.
Slushy Strawberry Margaritas
OK, so strawberries aren't exactly in season around the same time as the Super Bowl. But hear me out: so long as you can get your hands on some freeze-dried strawberries, your margarita can still have that peak-summer strawberry punch!
Paloma Margaritas
This grapefruit margarita can be made with either fresh grapefruit juice or grapefruit soda. If you want to get fancy, you can sub mezcal for the tequila to get a smoky, sophisticated flavor.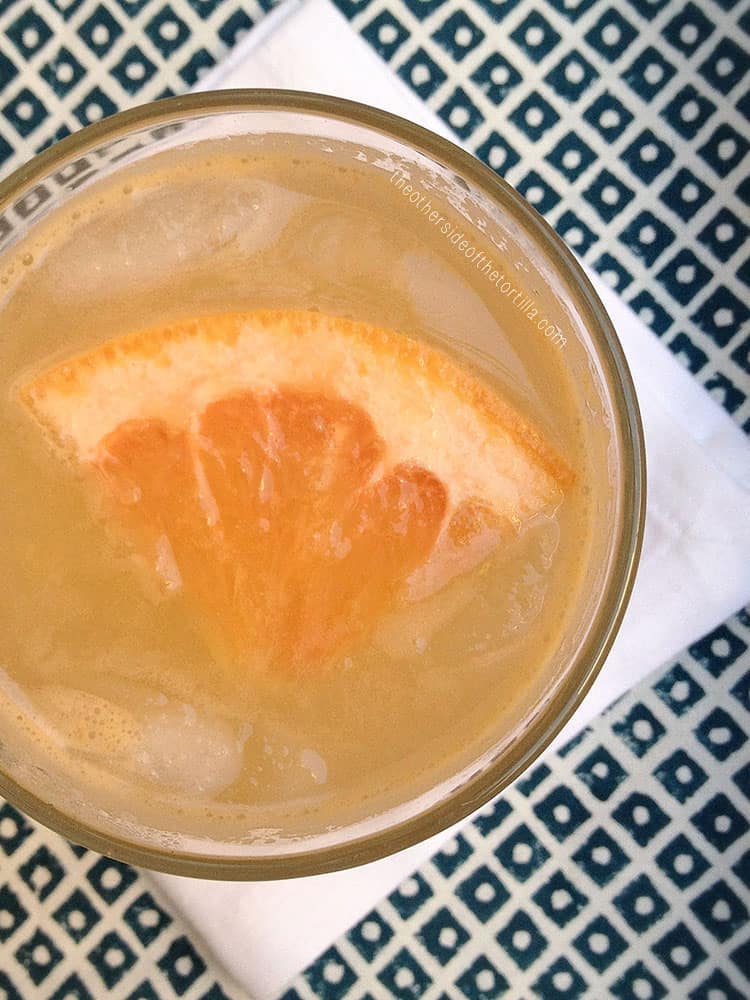 Warm Winter Margarita
If you love a good hot toddy, this is right up your alley! Apple cider, Mexican cinnamon, dried fruit and your favorite tequila make a great warm cocktail. Rim the glass with sugar if you want to give it an extra fancy touch.
23