Have you ever had a fudgsicle? It's a chocolate-flavored popsicle, with a pudding-like consistency, and I used to beg my parents to buy them at the grocery store when I was a kid. I developed the recipe for these vegan avocado and cacao paletas with those fudgy popsicles from my childhood in mind. As an adult, I like to give things a healthier spin when I can and since I have a vegan in the family, I wanted to make them in a way that she could enjoy them with me, which meant they couldn't have any dairy. These are similar to my avocado popsicles, with a few tweaks to make them vegan-friendly. The avocado gives the popsicle a creamy, silky base, and coconut milk mixed in helps the popsicles freeze consistently and stay together when you remove them from the mold.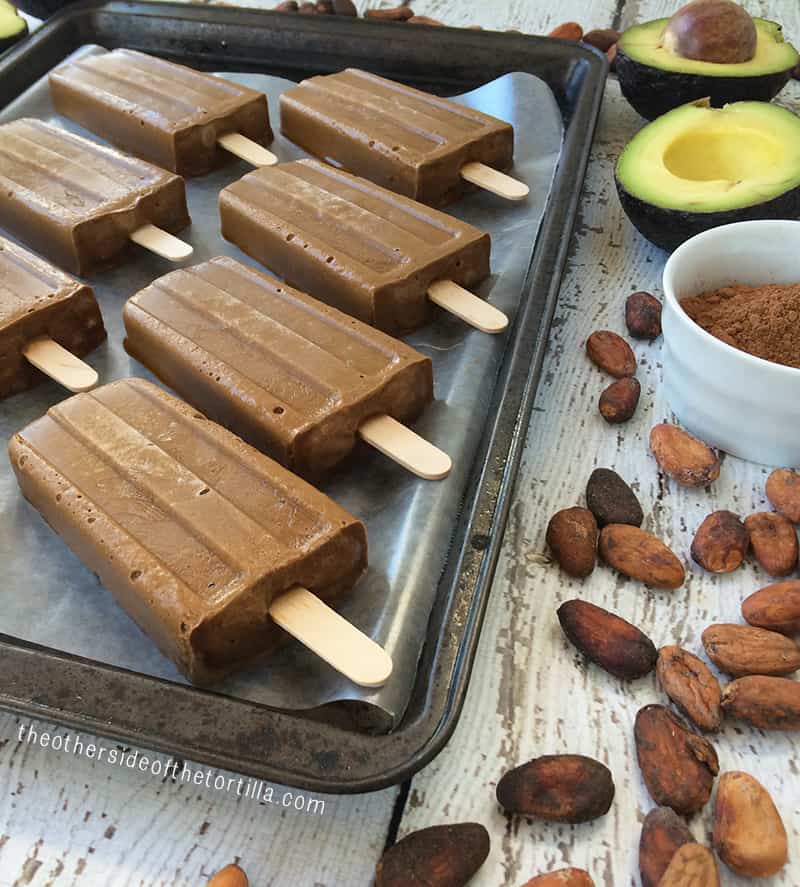 A few notes: In this recipe, I used shelf-stable coconut milk and also tested it with refrigerated coconut milk (I like the So Delicious and Coconut Dream brands best). Its consistency is a bit thinner than the canned light coconut milk called for in my avocado paletas and it has less fat. Make sure that whichever brand you use, that it's unsweetened but not sugar-free (the sugar-free one is still sweetened, but with stevia, which is considered a natural sugar substitute). I personally do not like the flavor of the sugar-free coconut milk with the stevia, so I normally purchase original unsweetened or unsweetened vanilla-flavored coconut milk if I want it to have a little more depth. You can absolutely substitute the unsweetened vanilla-flavored coconut milk in this recipe if you like.
Vegan avocado and cacao popsicles
Avocado gives a silky, creamy base to these fudge-flavored popsicles that are vegan-friendly.
Ingredients
9 ounces Hass avocado flesh, pit removed (net weight oz; not fluid oz)
1/2 cup coconut sugar plus 2 tablespoons (I like a brand called Madhava)
1/4 cup plus 2 tablespoons raw cacao powder (or more to taste)
2 cups unsweetened coconut milk
Instructions
In a blender or food processor, add ingredients in this order: coconut milk, avocado, coconut sugar and raw cacao powder.
Blend until completely smooth. Scrape down sides if necessary with a spatula.
Pour into popsicle molds, add sticks and freeze 8 hours or overnight.
To remove from mold, turn the mold sideways and run lukewarm water from the faucet over the tips of the popsicle molds for a minute. They should slide out easily without melting.
Notes
Cook time listed is for time in the freezer.
https://theothersideofthetortilla.com/2014/07/vegan-avocado-cacao-paletas-recipe/
©2009-2015 theothersideofthetortilla.com
EAT MORE PALETAS!
Try these paleta recipes from The Other Side of The Tortilla:
I used these supplies from my Amazon store (affiliate links) to make the avocado and cacao paletas:
Progressive International Freezer Pop Maker
Progressive International Wood Freezer Pop Sticks (pack of 50)
Sunfood Organic Raw Cacao Powder
Madhava Organic Unrefined Coconut Sugar (pack of 6)
15