Atole de nuez is a traditional milk and masa-based beverage flavored with toasted pecans and piloncillo.
Served hot, this creamy beverage is the perfect way to warm up on cold fall or winter mornings. Atole is often served for breakfast, but can also be served throughout the day or after dinner, too. My father-in-law always had a mug of atole with his coyotas, a Sonoran pastry, after dinner at a restaurant he loved in Coyoacan.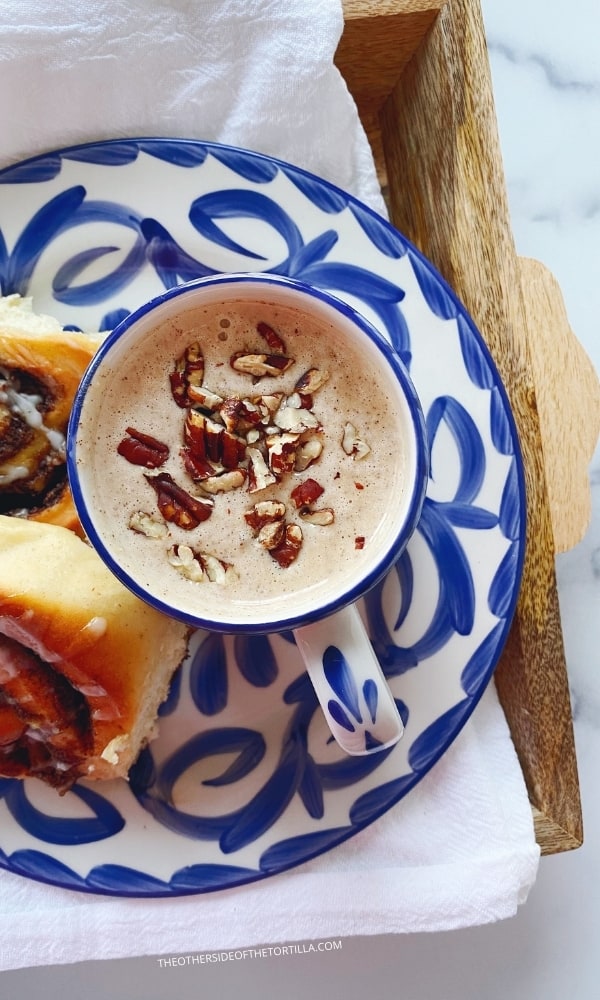 Atoles come in many flavors; most are thickened with corn masa. When it comes to the main liquid, most are made with water, milk, or a combination of the two. Champurrado and vanilla atole are the most typical flavors, but others, such as pumpkin atole, strawberry atole, as well as grain (such as amaranth), fruit and nut flavors, also exist. There are even some types of atole that are savory rather than sweet.
Ingredients for this recipe
With 7 simple ingredients you surely have in your pantry and refrigerator, you'll have atole de nuez in about 30 minutes!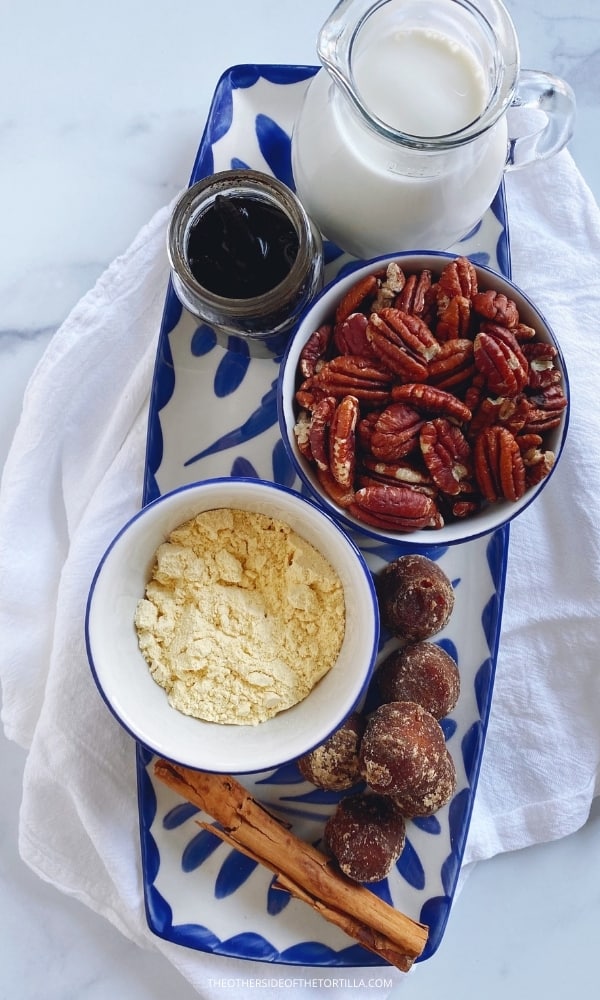 You'll need:
Piloncillo (plus 1/2 cup water to melt it in a saucepan)
1 Mexican cinnamon stick
Raw whole pecans
Whole milk
Corn flour (such as Maseca, Bob's Red Mill, or your preferred brand)
Pure vanilla extract (bonus if you can find Mexican vanilla!)
Do I have to use whole milk?
This recipe calls for whole milk because it makes the drink exceptionally creamy. If you prefer, you can substitute 2% milk. Skim milk will make the consistency very thin, so I don't recommend using fat-free milk.
How to make atole de nuez
Start by adding water, piloncillo and a large Mexican cinnamon stick to a saucepan and melt the piloncillo over medium heat. It helps to stir the mixture every so often to melt the piloncillo quicker. As you can see from the photos here, I buy small piloncillo cones because they're easier to cook with and control the amount you use. Turn off the heat and remove the cinnamon stick once piloncillo is completely melted. Reserve the cinnamon stick for later.
In another pan, toast your raw whole pecans until they give off a nutty smell. Be sure to stir them frequently to prevent them from burning. Remove from heat after toasting and allow to cool. Reserve 1/4 cup of nuts; you'll chop those and use them as garnish later.
Next, add the piloncillo syrup, toasted pecans, milk and corn flour to the blender. Start slow to allow your blender to begin to chop the pecans. Increase the speed of your blender and allow it to run until the pecans are completely liquefied.
Pour the contents back into the saucepan and add the cinnamon stick you reserved earlier. From this point on, you'll want to constantly stir or whisk the atole because the corn flour acts as a thickening agent. It's important to follow this instruction because if you don't, you'll get corn flour clumps in the bottom and sides of your saucepan and the milk may also burn at the bottom.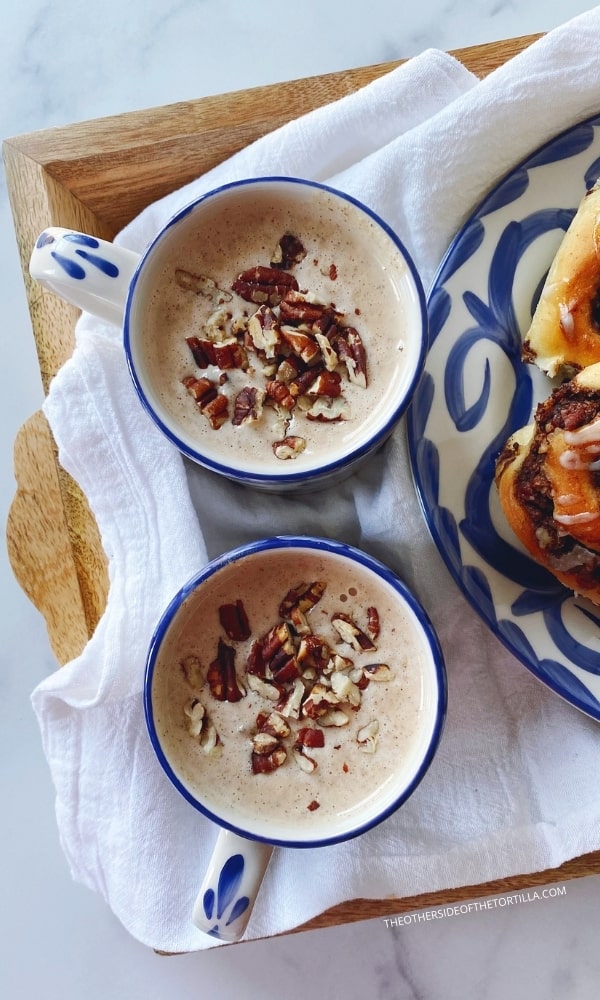 Tips for making the best atole
In the last 5 minutes of stirring, add in the vanilla extract. Always add vanilla extract to atole toward the end of the cooking process. Vanilla evaporates and cooks down when heated, so adding it too early means you could cook away all the flavor. Putting it in at the end assures you'll get the right flavor balance.
Once finished cooking, strain the atole to catch any clumps that you may have missed while stirring or whisking. I usually strain it directly into a pitcher so I can pour into mugs immediately for serving. Garnish with about 1 tablespoon of chopped toasted pecans per mug.
Consistency too thick or atole too sweet? Add a few tablespoons of milk at a time to thin it out or dilute the sweetness.
What to serve with atole
Pan dulce and tamales are most commonly served with sweet atole. I love to dunk orejas or a concha in this atole. We sometimes also serve this atole with roles de canela for a super pecan-lovers' breakfast.
This recipe is naturally gluten-free and vegetarian-friendly.
Print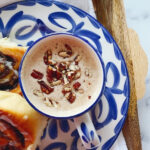 Atole de nuez
Author:

Prep Time:

20 minutes

Cook Time:

10 minutes

Total Time:

30 minutes

Yield:

4

servings

1

x
---
Description
This traditional milk and masa-based beverage is flavored with toasted pecans and piloncillo. Served hot, this creamy beverage is the perfect way to warm up on cold fall or winter mornings. 
---
1/2 cup

water

3

–

4

ounces of piloncillo

1

large Mexican cinnamon stick

1

and 1/2 cups raw whole pecans, toasted

3 cups

whole milk

1/4 cup

corn flour (Maseca, Bob's Red Mill, or your preferred brand)

1 teaspoon

pure vanilla extract
---
Instructions
In a saucepan, add water, piloncillo and cinnamon stick and cook over medium-low heat until the piloncillo is completely melted. This should take about 8 minutes. Remove from heat and allow to cool slightly. Remove the cinnamon stick and reserve.
In another pan, toast the pecans over medium heat, stirring frequently with a wooden spoon to prevent them from burning. They should darken in color and release an intense nutty aroma when they're toasted enough. Remove from heat and allow to cool. Reserve 1/4 cup of toasted pecans; chop and set aside.
Add the remaining 1 and 1/4 cup toasted pecans to your blender. Pour the cooled piloncillo syrup and milk over the pecans. Add 1/4 cup corn flour. Seal the blender and blend on low for 1 minute, then blend on high for about 2 more minutes until the pecans are completely blended and incorporated into the liquid.
Pour the blender contents back into your saucepan with the cinnamon stick, and cook over medium heat for 5 minutes, constantly stirring.
After 5 minutes, add 1 teaspoon pure vanilla extract and reduce heat to a simmer. Continue constantly stirring to prevent burning or sticking to the bottom of the pan for another 5 minutes.
Remove saucepan from heat and pour atole through a fine mesh strainer into a pitcher to catch any clumps that may have formed. 
Pour into mugs and garnish each with 1 tablespoon of chopped pecans.
---
Notes
Store leftovers in an airtight container in the refrigerator for up to 5 days. Reheat in the microwave or on the stove. 
If the atole has thickened too much, you can thin it out by adding 1-2 tablespoons of whole milk at a time until you reach desired thickness.
79