Polvorones are also known as Mexican wedding cookies and are a tender shortbread cookie made with chopped nuts and topped with powdered sugar.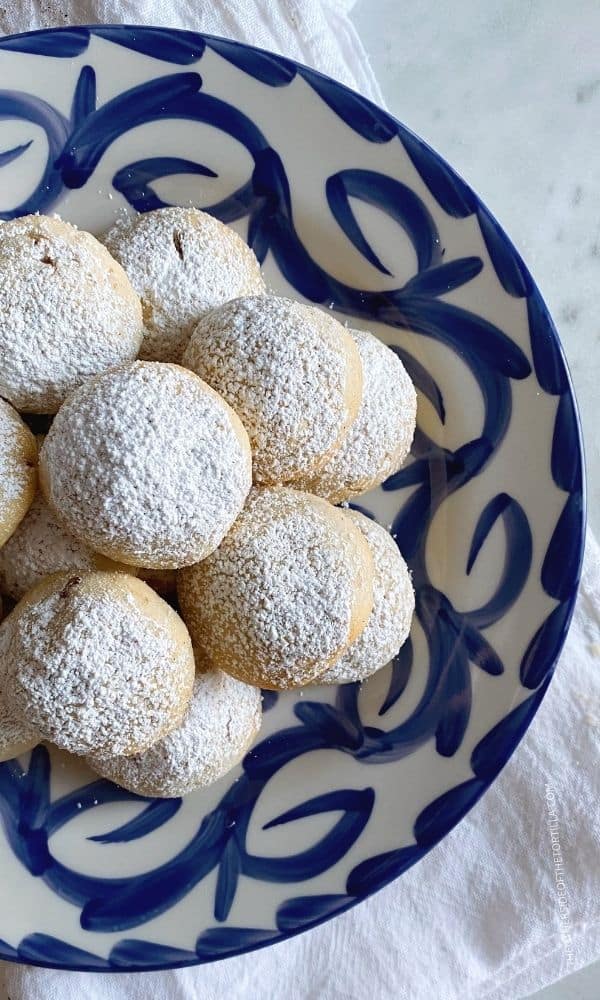 These crumbly, buttery shortbread cookies known as polvorones or Mexican wedding cookies melt in your mouth. This particular recipe was passed down from my grandmother and one that my family enjoys every year between Christmas and Día de los Reyes Magos. I especially love to eat them alongside a mug of ponche navideño, champurrado, or spicy Mexican hot chocolate. These are also delicious to eat with rompope, the Mexican version of eggnog!
The origin and many names of Mexican wedding cookies
These cookies, in general, are often referred to as having European origins, and many versions exist.
The Moors brought a type of these cookies to Spain when they occupied the country from the 700s through the 1400s. When Spaniards settled in Mexico, nuns who traveled to the new world brought their knowledge of these cookies as well, and that's how polvorones became known in Mexico as beloved convent sweets.
How and when exactly these cookies began being called Mexican wedding cookies in English is a bit less clear, but it's a widely accepted notion that they were sometimes served at weddings and on special occasions when butter could be obtained. In Spanish, they are always called polvorones.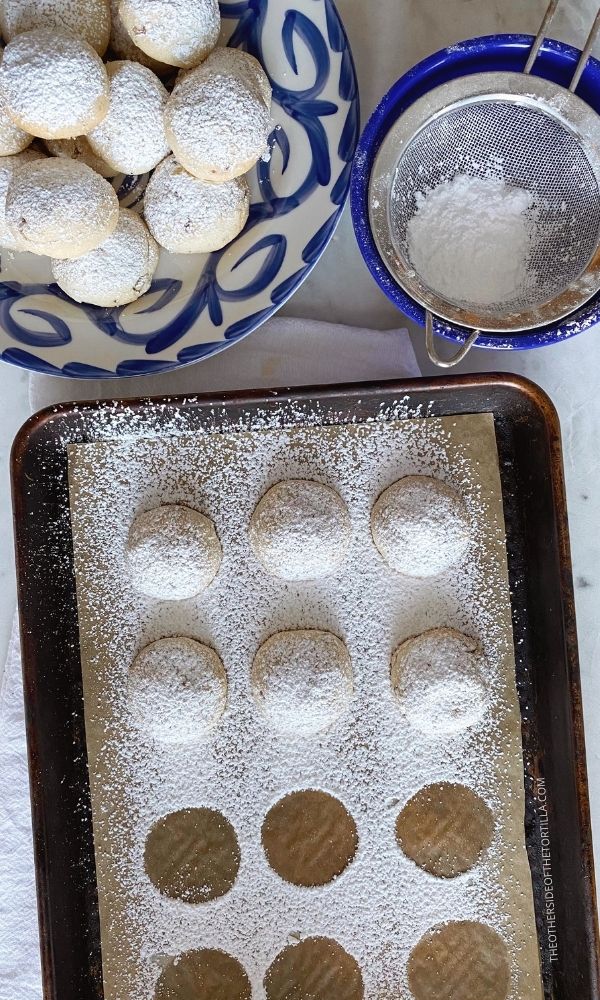 My grandmother called these cookies butter balls, and you may have also heard of versions of this popular cookie called pecan balls, snowballs cookies, Russian tea cakes (which are actually supposed to be rolled out and sprinkled with nuts), or pecan sandies. Numerous names exist and there are several variations on how to make them. My grandmother also liked to make these cookies with semi-sweet chocolate chips, and I also sometimes make them with chopped Andes mint chocolates.
Ingredients and method to make Polvorones
This easy recipe contains only six ingredients:
Unsalted butter
Sifted powdered sugar (also called confectioner's sugar, or in Spanish, azúcar glass)
Salt
Vanilla
Sifted all-purpose flour
Pecans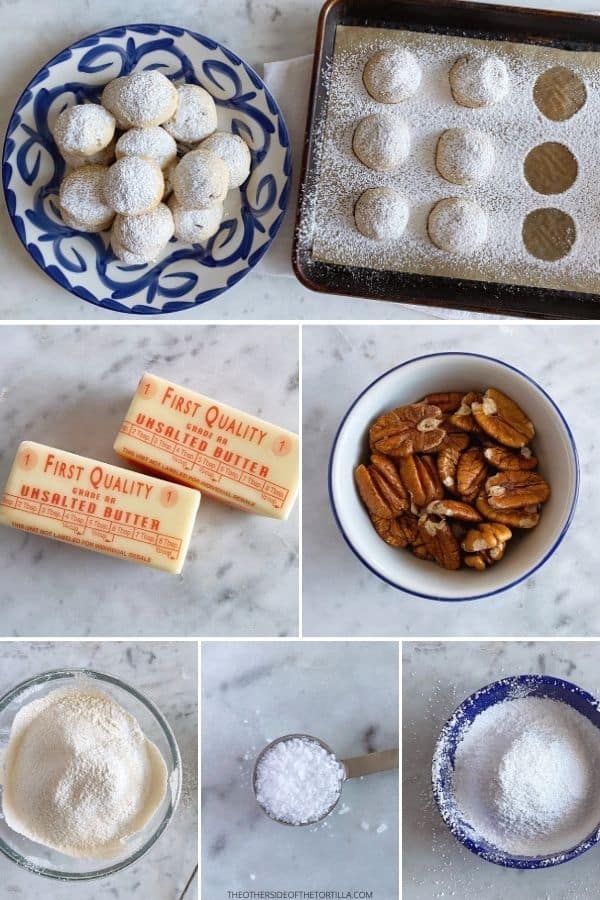 The butter should be softened to room temperature prior to making this recipe. If your dough is too soft, you can refrigerate it for about 15 minutes before forming the cookies and baking.
In a stand mixer, cream the butter and sifted powdered sugar, and add the salt. Once incorporated, add your vanilla. I prefer to use vanilla bean paste in most of my baking and typically buy the Nielsen-Massey vanilla bean paste on Amazon. The taste is amazing and it also elevates the look of most baked goods with the visible vanilla bean flecks. Paste can be used 1:1 for pure vanilla extract. The only downside is that it costs significantly more than pure vanilla extract, but if you bake a lot and buy vanilla bean paste in bulk, you can definitely save. I typically go through about one 32-ounce bottle of Nielsen-Massey vanilla bean paste per year.
Add sifted all-purpose flour little by little until all the flour is incorporated, and then add finely chopped pecans until incorporated.
Roll rounded tablespoons of dough and bake in a preheated 325 degree Fahrenheit oven for 13-15 minutes. Every oven is a little bit different, so watch them beginning around the 10-minute mark. These cookies should not brown unless they are over-baked. They're still perfectly edible with brown spots or slightly browned bottoms.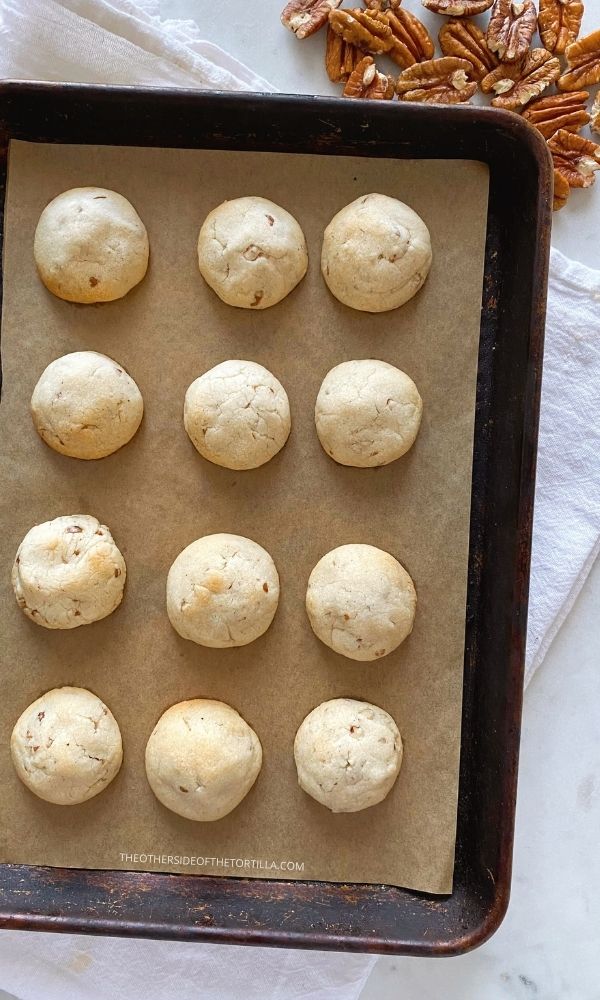 Once cooled, sift powdered sugar over the top. Many other recipes call for rolling the cookies in powdered sugar, but I find that too much sugar takes away from the melt-in-your-mouth quality of the cookie. I also think the sifted sugar over the top gives them a more delicate look, but you can choose to roll or sift according to your own personal preference.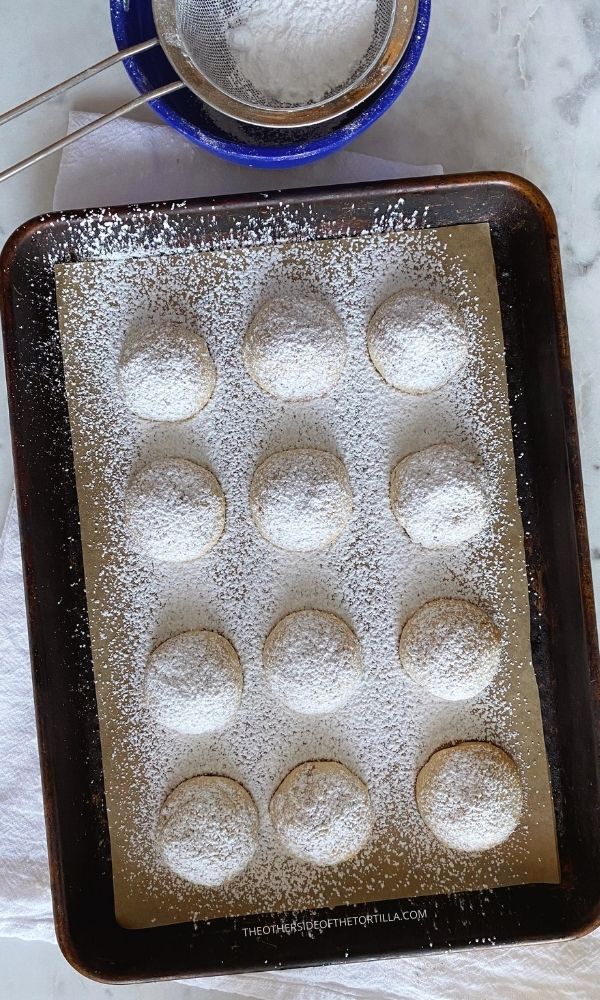 Mexican regional variations
Depending on the part of Mexico they come from, there are many variations on this type of cookie, and there's no one right way to make them. In place of pecans, they may also be made with walnuts, almonds, or even peanuts or pine nuts. In the state of Veracruz, you'll often find these cookies made with orange zest.
The Moors used butter for these cookies, while the Spanish often used lard, and as a result, you'll find regional recipes in Mexico that call for one or the other.
P.S. A single cookie is called a polvorón; multiple cookies are called polvorones.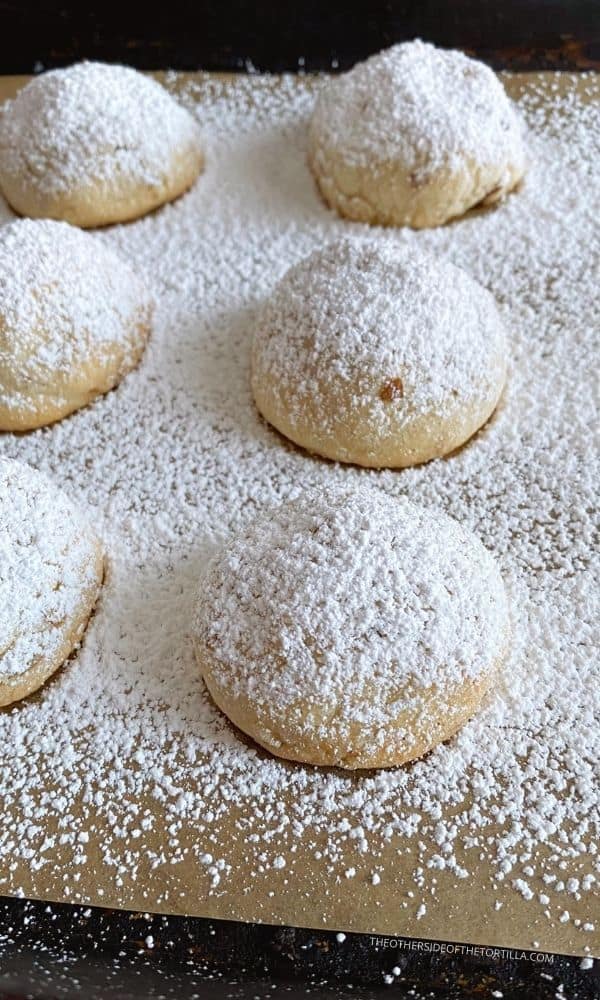 Print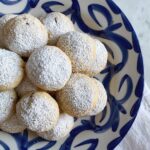 Polvorones: Mexican Wedding Cookies
Author:

Prep Time:

20 minutes

Cook Time:

13-15 minutes

Total Time:

35 minutes

Yield:

3

dozen cookies

1

x

Method:

Baking

Cuisine:

Mexican
---
Description
Mexican wedding cookies, also known as polvorones in Spanish, are a tender shortbread cookie made with butter, powdered sugar, salt, vanilla, flour, chopped nuts and topped with powdered sugar. These cookies were made popular in Mexico by convent bakers after the Spanish settled in the new world.
---
1 cup

butter, room temperature

1 cup

powdered sugar, sifted +

1/4 cup

for topping

1/2 teaspoon

kosher salt

1 tablespoon

vanilla bean paste or pure vanilla extract

2 cups

all-purpose flour, sifted

3 ounces

chopped pecans 
---
Instructions
Preheat oven to 325 degrees Fahrenheit.
Finely chop 3 ounces of pecans, place in a prep dish and set aside.
In a stand mixer, cream 1 cup butter, 1 cup powdered sugar and salt with a paddle attachment. Start on low speed and increase to medium in order to keep the powdered sugar from flying out of the bowl. 
Add vanilla bean paste or vanilla extract and continue to mix on medium speed until completely incorporated. 
Reduce mixer speed to low and gradually add sifted flour, about 1/4 cup at a time until all flour is incorporated.
Add chopped pecans and mix until incorporated.
Shape rounded tablespoons of dough and roll them into balls.
Bake on a parchment paper-lined baking sheet at 325 degrees Fahrenheit for 13-15 minutes. The cookies do not brown on top unless over-baked, so the dough should still look very light when they come out of the oven.
Remove from oven and allow to cool for 15 minutes, then sift remaining powdered sugar over the top of the cookies. 
Store completely cooled cookies in an airtight container for freshness up to 10 days.
---
Notes
You will need a stand mixer such as a KitchenAid mixer and paddle attachment to make the dough.
Keywords: polvorones, Mexican wedding cookies, Russian tea cakes
48