You may remember from a recent post that my family goes crazy for fruity guacamole. That's why, when I hosted an #iloveavocados live party with Avocados From Mexico, I wanted to make another version of my fruity guacamole with one of my favorite fruits: Mango. I love to experiment with lots of different sweet and savory guacamoles and this version with mango, pomegranate seeds, red onion and serrano chile is one of my absolute favorit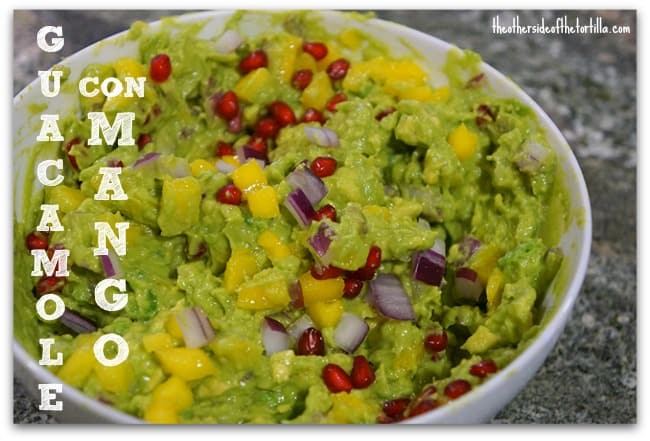 My guests practically licked the bowl clean and there may have been some arguing over who got the last scoop. Another sure sign that the recipe was a success: Some of the guests sent tweets or posted on Facebook the next day that they wished they could have some more!
Sometimes I like to add a clove or two of garlic to this recipe to make it a little more savory. You can also split the batch in half and put garlic in one portion and none in the other to decide which you like better. Whichever way you choose, I'm sure you'll fall in love with this fruity guacamole recipe. As with most guacamole recipes, this one is vegetarian and vegan-friendly, and gluten-free too.
Guacamole with mango and pomegranate
Give guacamole a fruity twist with mango and pomegranate.
Ingredients
2 large or 3 small Hass avocados
juice of 2 limes
1 teaspoon kosher salt
1/2 cup fresh diced mango
1/2 cup diced red onion
1/2 cup pomegranate seeds
1/2 to 1 whole serrano chile, finely chopped (start with half a chile and increase to your level of heat preference)
Instructions
Cut open the avocados, discard the pits and spoon into a large bowl. Squeeze the lime juice over the avocado, sprinkle the kosher salt over the top and mash coarsely with a fork.
Add the diced mango, red onion and serrano chile and stir to mix well.
Gently fold in the pomegranate seeds so as not to break them.
Serve chilled and with the tortilla chips of your choice.
Notes
https://theothersideofthetortilla.com/2013/07/guacamole-recipe-mango-pomegranate-granada/
©2009-2015 theothersideofthetortilla.com
What kind of fruit do you like to add to your guacamole?
8