Chipotle mayo is a condiment that you can easily make at home — so you can make it as mild or as spicy as you want! You probably already have all the ingredients at home, too.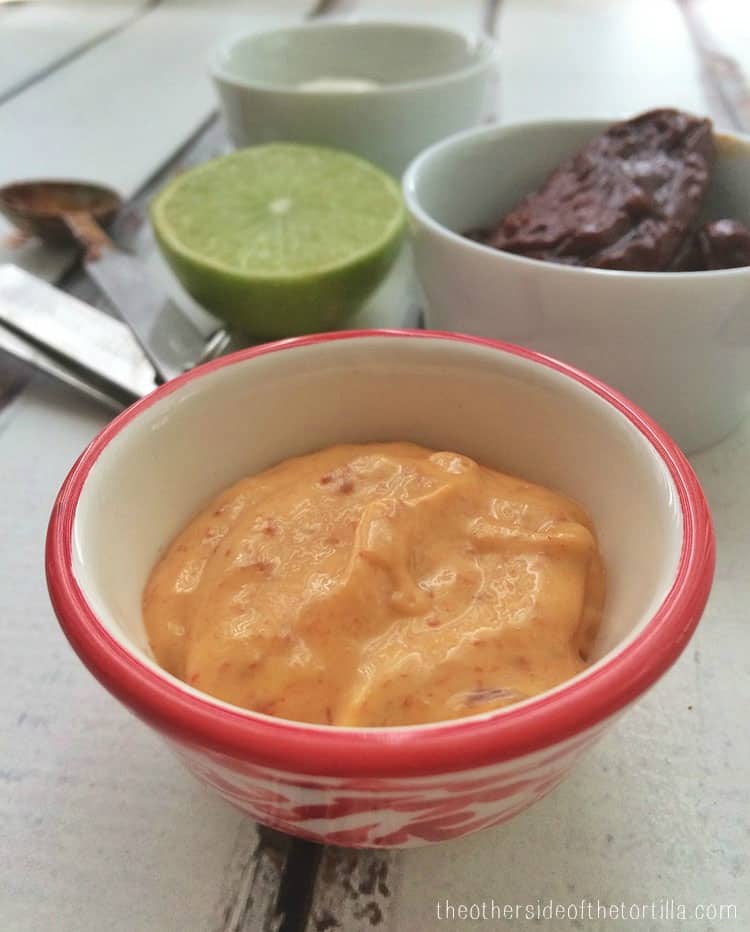 Some condiments that are commonplace in Mexico, such as chipotle mayo, can be tough to find in mainstream grocery stores in the United States. Although I've always lived in cities where I had access to a Mexican grocery store, not all of them carry the brands I like, so I began making my own at home because I always have the ingredients handy anyhow. And considering it takes less than 10 minutes to whip up, I love that I can adjust how spicy it is with ease depending on my mood or what I plan to spread my chipotle mayo on.
I like a brand of chipotles in adobo sauce called San Marcos, which has more adobo sauce in the can. Some brands can be a little bit dry inside the can, such as La Costeña, and the adobo is more like a paste than a sauce. In that case, I just add about a tablespoon of water to the can and stir well to get it a little saucier. Other brand names you might recognize that make chipotles en adobo include Herdez, La Morena and Embasa. I typically buy the smallest size can the store has available, which is 7 ounces. You can always save the remaining chipotles and adobo sauce that you don't use — just put them in an airtight container in the refrigerator until you're ready to use them.
If you don't have a small food processor (I use a Cuisinart Mini Prep) or a hand blender, you can also use a molcajete or mortar and pestle to crush the chipotle chile into the mayonnaise so it's not chunky. Don't forget to scrape out the seeds!
And if you only want a couple of servings for a few tortas and you know you won't use more mayo anytime soon, you can cut this recipe in half.
A note about the mayonnaise: you can choose whether you want to use full-fat or low-fat mayo.
I like to use my chipotle mayo on tortas, turkey sandwiches, with sweet potato fries and in my BLT guacamole. Make some yourself and find out  your favorite way to use it!
Make your own chipotle mayonnaise at home with only four ingredients, including store-bought mayonnaise, for a quick chipotle mayo fix.
Ingredients
1 cup mayonnaise
4 medium canned chipotle chiles in adobo; seeds scraped out
4 teaspoons adobo sauce from the can
Juice of one lime
Instructions
In a small food processor or using a hand blender, add 1 cup mayonnaise, 4 chipotle chiles in adobo sauce, 4 teaspoons adobo sauce from the can the chipotles came in and the juice of one lime.
Blend until completely smooth.
Transfer to a small airtight jar with a spatula and refrigerate.
Notes
Store your chipotle mayo in an airtight jar (I use a glass jar with a screw-top lid) in the refrigerator for up to 10 days.
https://theothersideofthetortilla.com/2015/01/chipotle-mayo-recipe/
©2009-2015 theothersideofthetortilla.com
OTHER MEXICAN RECIPES MADE WITH CHIPOTLE CHILES IN ADOBO SAUCE:
Fideo seco
Tomato chipotle soup with star pasta
Black bean chipotle soup
Albóndigas en salsa chipotle
Whipped sweet potatoes with chipotle and piloncillo
Chorizo and avocado cups with chipotle cream
Skinny flour tortilla pizzas with chipotle tomato sauce
Cheesy chipotle potato bites
13