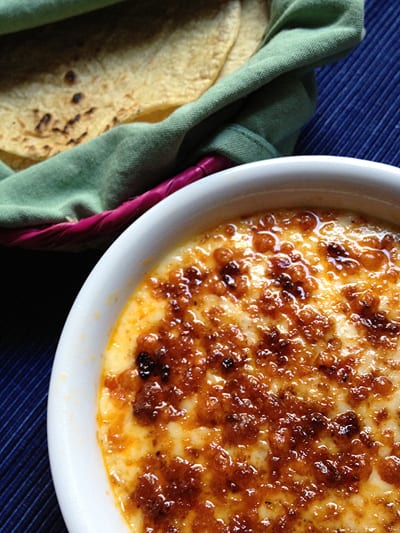 During the winter, I love to eat warm, hearty treats. There's something about the winter weather that makes you want to eat things that'll stick to your ribs, right?
This past weekend, I made a very simple queso fundido that really hit the spot. Given that I just shared a recipe for homemade chorizo earlier this week, I thought it would be nice to give you another way to use that during the holidays for a quick and easy party treat.
Whether you're hosting at home or need to bring a dish to a posada or any other type of party, this is a super simple recipe that's sure to wow guests. To take it to go, just prepare in the crock or a casserole dish and wait until you arrive at the party to pop it under the broiler for a few minutes. Don't forget to bring some tortillas!
RELATED RECIPE: Vegetarian queso fundido with mushrooms and poblano chiles
We like to make tacos out of this recipe, but you can absolutely also serve it dip-style with chips if you like.
Queso fundido is a classic Mexican appetizer that can be eaten with warm tortillas or tortilla chips. You choose the mix-ins!
Ingredients
4 to 5 ounces cooked chorizo
14 ounces shredded Chihuahua or Quesadilla cheese
Non-stick cooking spray
Instructions
Cook your chorizo first and set aside to drain the grease over paper towels.
In a microwave-proof dish, grate the Chihuahua or Quesadilla cheese and microwave at intervals of 30 seconds until mostly melted. Stir if necessary to heat evenly.
Spray a little non-stick cooking spray in a small oven-proof crock (an individual-size soup crock will hold half this recipe and is what I typically use and make a second serving). Pour the melted cheese into the crock. Add half the chorizo and fold in gently.
Set your oven broiler on low and place the crock at least 6-8 inches from the flame. Heat for about 5-6 minutes or until the cheese bubbles and gets brown spots. Be sure to use a pot holder or oven mitt to remove the crock or oven-proof dish from underneath the broiler.
Place the crock or dish on a trivet and serve with warm tortillas to make tacos or hearty tortilla chips if you want to serve it more as a dip.
Notes
Note: the cooking spray is completely optional; I like to use it because it helps a lot with cleanup and getting all the cheese out of the dish before it makes it to my sink.
https://theothersideofthetortilla.com/2011/12/queso-fundido/
©2009-2015 theothersideofthetortilla.com
What do you like in your queso fundido?
20