Mango and cantaloupe are a great combination not only because they're both at peak availability during the summer, but also because both fruits are sweet enough when ripe that they don't need to be sweetened with sugar to make juices or other treats like popsicles.
These mango cantaloupe popsicles are keeping me in denial about the end of summer drawing near.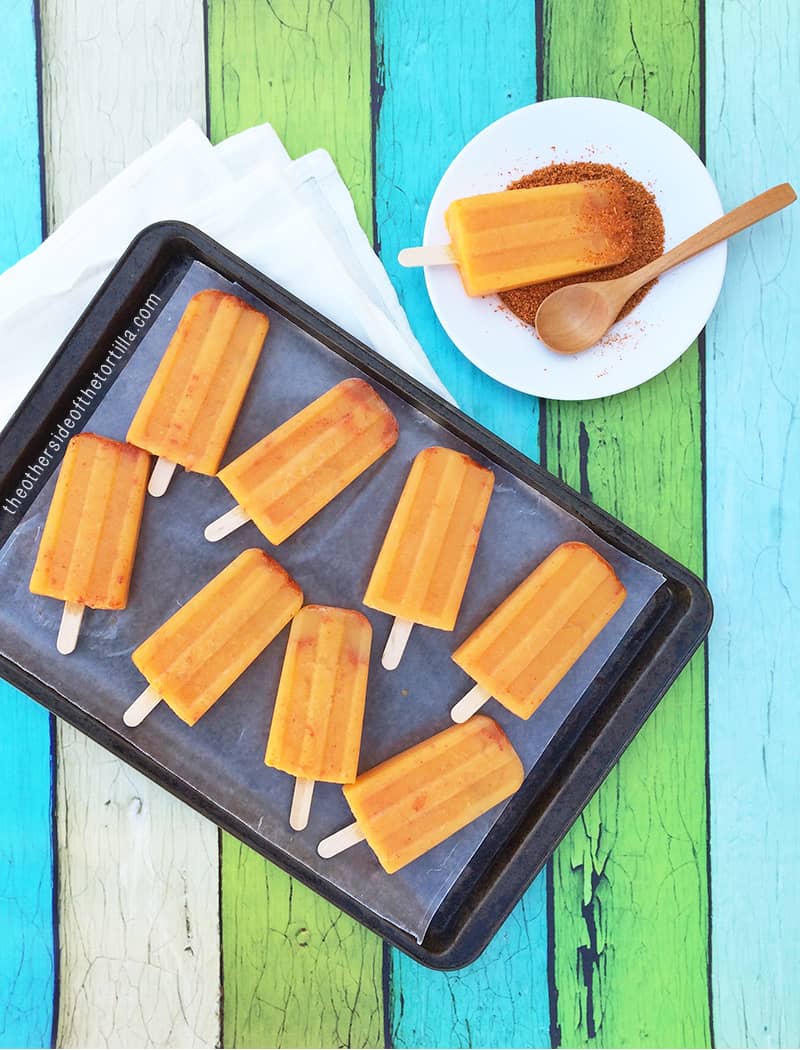 I really love these popsicles because they're not syrupy sweet like store-bought popsicles, and the chile powder in the fruit mixture adds just the right amount of heat so that they're still kid-friendly. Optionally, if you like, you can also sprinkle or dip the popsicles in some more chile powder before eating to add extra spicy flavor. 
In this recipe, I've tried both Keitt and Kent mangoes since they've been bountiful and inexpensive all all my local supermarkets this summer. The Keitt and Kent variety of mangoes have similar flavor and texture profiles: sweet, juicy and limited fibers. Kents are the best for juicing, too. The Tommy Atkins variety of mango is also a suitable substitute, but it has more fibers.
To choose a mango, squeeze gently—it should give slightly, but the skin should spring back. If it's too soft or feels remotely squishy, look for another mango because those are too ripe. You want mangoes that are ripe but still firm. All three varieties are sourced primarily from Mexico.
RELATED RECIPES: Mango peach paletas, agua de mango
Mango peak availability
Keitt: August and September
Kent: January to March and June to August
Tommy Atkins: March to July and October to January
Ideally, if you have a ripe cantaloupe and mangoes, you shouldn't need to add any sugar to this recipe. However, if your fruit isn't completely ripe, or if you don't have a juicer and need to juice the melon in the blender with water, you may want to taste the juice before pouring into the popsicle molds. If it needs to be sweetened, make a simple syrup with one to two tablespoons of sugar and one tablespoon of warm water, and then add to the blender for a spin again before pouring into the popsicle molds.
Mango and cantaloupe paletas
These easy cantaloupe juice and mango fruit-based paletas have no added sugar and are vegan-friendly. Sprinkle them with chile powder before serving to give these popsicles an extra Mexican touch.
Ingredients
2 cups fresh cantaloupe juice
Flesh of 1 large mango (Keitt, Kent or Tommy Atkins variety)
Juice of 1 lime
1/8 teaspoon chile lime powder per popsicle (with or without salt; it's up to you) or chile en polvo para naranja (a blend of chile powder that is typically meant for fruit and does not contain salt) plus more for dipping, if desired
Instructions
Juice cantaloupe in a juicer. If you don't have a juicer, see notes below.*
Remove all flesh from mango and add to blender. Add cantaloupe juice and lime juice. Blend on high until completely smooth.
Add 1/8 teaspoon of chile powder into each individual popsicle mold.
Gently pour the cantaloupe, mango and lime mixture into each mold. Some of the chile powder will float—that's OK.
Freeze for 8 hours or overnight and then remove from molds to serve.
Sprinkle or dip in chile powder before serving for an extra Mexican touch.
Notes
*If you don't have a juicer, you can juice cantaloupe in the blender by blending about two pounds of melon with 1/2 cup water until completely smooth. Pour through a fine mesh sieve to get the juice. You should get about 2 cups of juice.
If your cantaloupe is not completely ripe, it may not be very sweet. In this case, you can make a simple syrup by adding one or two tablespoons of sugar mixed with one tablespoon of warm water; add to the blender with the juice and mango flesh to sweeten the mixture before freezing.
Total time listed includes 8 hours inactive prep time in the freezer.
https://theothersideofthetortilla.com/2014/09/mango-cantaloupe-popsicle-recipe/
©2009-2015 theothersideofthetortilla.com
4