April 8 is National Empanada Day, and far be it from me to deny a day meant to celebrate these delightful pastries, savory or sweet. This is more of a kitchen tip than a recipe on how to make semi-homemade empanadas, but I've included proportions below as a guideline—though you should feel free to tweak to your liking with different fillings or cutting the dough to different sizes. Whether you're looking to fool party guests,  need a quick potluck dish, or just want to make a snack or appetizer for your family, here's my cheater's guide to making empanadas, 30 minutes from start to finish.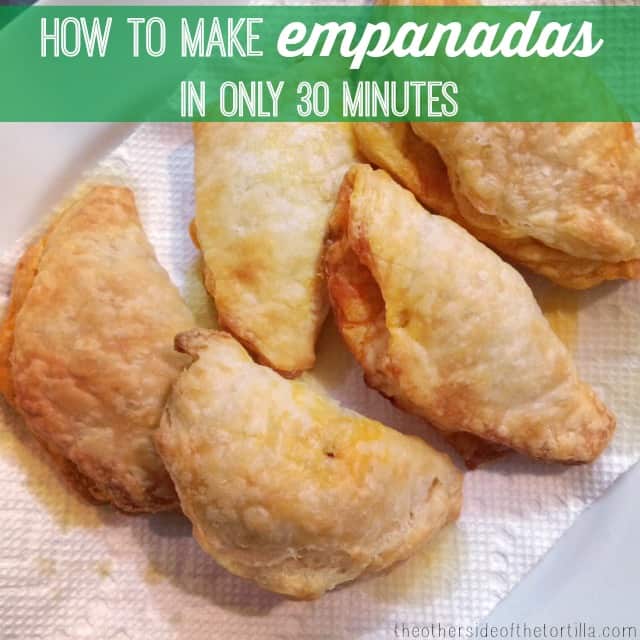 Which brand of puff pastry you use, as well as which kind of cheese, are really up to your personal preference. I like Trader Joe's frozen puff pastry sheets and Pepperidge Farms puff pastry dough (sold in the freezer aisle at most grocery stores). As for cheese, I typically use a light-colored melting cheese that I'd be likely to put inside a quesadilla, such as queso Chihuahua, queso quesadilla, queso manchego or queso Oaxaqueño, to name a few. This recipe is for savory empanadas meant for meat-eaters, but you can also swap the meat for a veggies and cheese combo, cheese alone, fruit, ate or membrillo—the possibilities are only limited by your imagination!
How to make empanadas in 30 minutes
A quick and easy guide to making semi-homemade empanadas with store-bought puff pastry dough.
Ingredients
1 or 2 sheets of store-bought puff pastry
2-inch slice of Palacios Spanish chorizo, diced into small pieces
1/2 to 3/4 cup shredded quesadilla cheese
1 egg, beaten (used to seal and varnish the empanadas)
Instructions
Defrost the store-bought puff pastry dough and then gently roll out on a lightly floured surface. Don't roll it too thin. Sprinkle a little flour on the top of the dough as well to prevent sticking while cutting the dough into circles.
Preheat your oven to 400ºF or to the temperature specified on the packaging for your store-bought puff pastry dough.
Use a 3-inch diameter biscuit-cutter or standard drinking glass to cut the dough into circles, placing the cuts as closely together as possible so as not to waste any dough. (If you have enough scraps, you can roll them back out to make an additional empanada.)
Place about a tablespoon or so of shredded cheese and a few small pieces of chorizo in the center of the dough circle.
Brush the egg wash around the edges of the dough circle, fold over and press gently with your fingers to seal or crimp closed with a fork.
If desired, brush the outside of the closed empanada with the egg wash to give it some shine.
Poke a few small holes in the top of the empanada to help steam escape; it helps prevent the edges from opening and some of the filling oozing out during baking.
Bake for 10 minutes in the preheated oven, or until the top of the empanadas start to turn golden brown.
https://theothersideofthetortilla.com/2014/04/easy-empanada-recipe/
©2009-2015 theothersideofthetortilla.com
What's your favorite empanada filling?
60