Guacahummus sounds a lot like what you might imagine it to be… guacamole (sort of) mixed with hummus. Actually it's a blend of hummus, avocados and lime juice. I served this simple, healthy dish at my #iloveavocados live party with Avocados From Mexico recently and surprisingly, most of my guests were having it for the first time. The dish was definitely a hit—they scraped every last morsel out of the bowl.
The main reason why this dish is so great—aside from being very healthy—is that you can make a semi-homemade version with a store-bought hummus of your choice (I like Sabra's classic hummus), which helps you get this dish from food processor to plate in about five minutes. I use a 3-cup Cuisinart mini prep (available in my Amazon aStore, El Mercadito), which fits the ingredients perfectly. A bonus: This recipe is both vegetarian and vegan-friendly and is also gluten-free.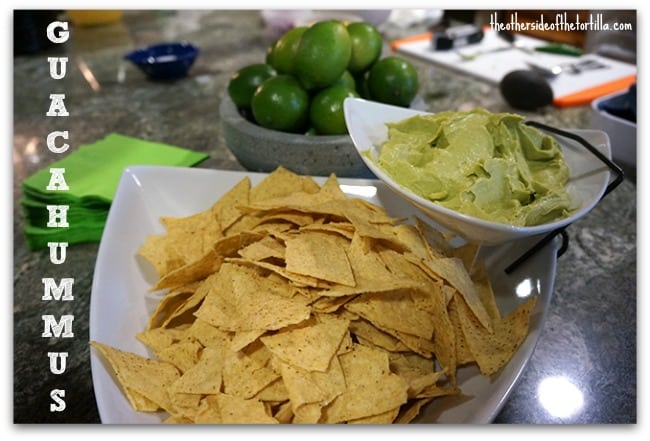 It's great for packing in kids' lunches with baked tortilla chips or pita wedges, or for serving at parties when you're in a time crunch. If you like to make your own hummus, you can do that too; it'll just take a bit longer, but the results will be just as tasty. And if you want to keep it perfectly green for a few days (although I'm not sure you'll be able to resist eating it all in one sitting) you can check out my tutorial on how to keep guacamole fresh and green with a great tip that applies for this dish as well if you plan to store it in the refrigerator for more than a day.
Guacahummus (Avocado + Hummus)
A simple, healthy snack that both adults and kids will love. Vegetarian and vegan-friendly and gluten-free, too!
Ingredients
1 cup hummus
1 medium Hass avocado
juice of one lime
Instructions
In a food processor (such as the Cuisinart mini prep), blend 1 cup of hummus with 1 medium Hass avocado and the juice of one lime.
Use a spatula to remove the mixture from the food processor's cup. Serve with hearty tortilla chips.
https://theothersideofthetortilla.com/2013/07/guacahummus-recipe/
©2009-2015 theothersideofthetortilla.com
Have you tried guacahummus? Do you have another easy, healthy Mexican snack to share? Let me know in the comments!
This post includes affiliate links to my Amazon aStore, El Mercadito, recommending products that I used to make this recipe. I used a Cuisinart 3-Cup Mini Food Processor to blend my guacahummus.
 Thank you to Pattie Cordova at Living Mi Vida Loca for sharing her photos of the guacahummus I served at my party.
2