This post is part of a compensated campaign with McCormick Spices. All opinions and the recipe here are my own.
Roasted jalapeño hummus is a quick, easy, healthy snack you can make at home in about 15 minutes.
While this might look like any old regular hummus, the roasted jalapeño, garlic and cumin give it a mellowed, spicy kick for a different flavor than traditional, plain hummus. This anything-but-typical dip is great served with pita bread, pita chips, or tortilla. chips. And in 2015, this snack — which is a fusion of Middle Eastern and Mexican flavors — is actually trendy! Middle Eastern dips and spreads are one of the global food trends in this year's Flavor Forecast from McCormick Spices.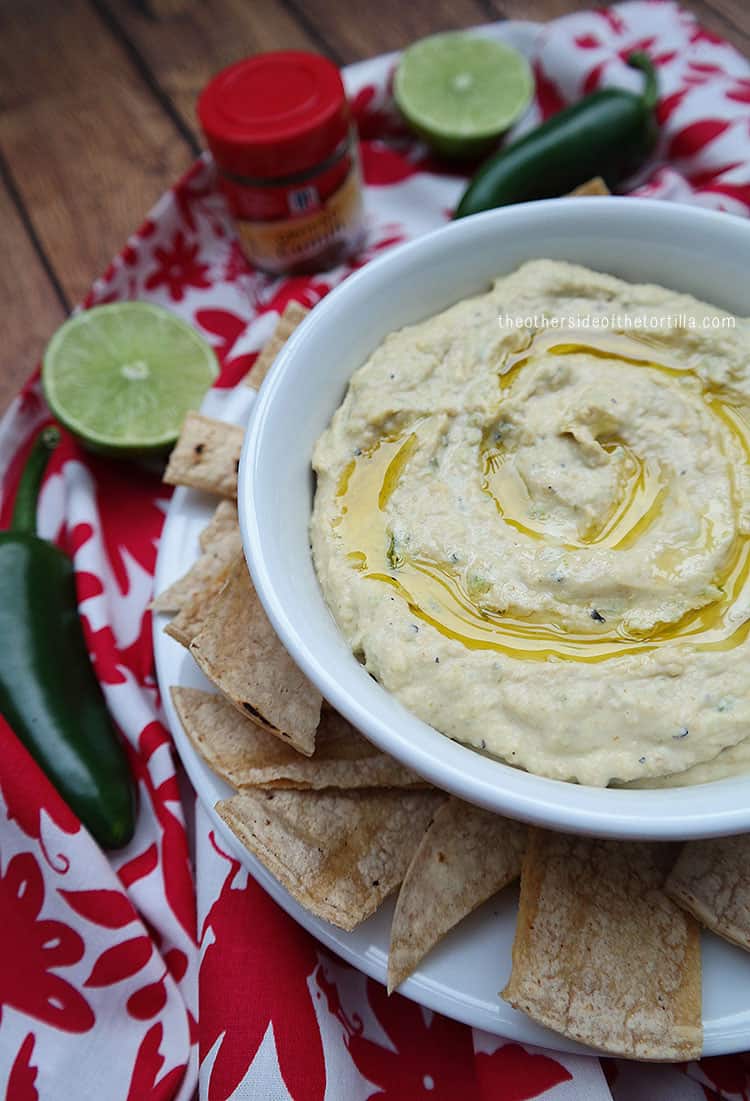 It's quite easy to work most of these trends into your daily cooking routines, but I challenge you to try to incorporate at least one trend per week. Chances are, if you're a Mexican food enthusiast, you may already be cooking according to some of these trends — in which case, congratulations for being accidentally cool!
Check out the full McCormick Flavor Forecast 2015 and get inspired to get cooking with recipe suggestions galore.
There are eight flavor trends to watch in the 15th annual McCormick Flavor Forecast, and here, I'm sharing my five favorites and how you can apply them with Mexican cuisine in your own kitchen.
RELATED: 2013 McCormick Flavor Forecast gives Mexican food a global twist
Recipes for my favorite Flavor Forecast trends to help you get started:
 Middle Eastern Mezze
"Distinctive dips and spreads, packed with zesty herbs and seasonings, offer an approachable and delicious introduction to a vibrant global cuisine."
There's actually a pretty large population of Lebanese immigrants in Mexico. In fact, in Mexico City, there's even a Centro Libanés. It's fairly common to find Lebanese food folded into Mexican gastronomy as a result. Lebanese dishes such as hummus, shawarma (often served as tacos árabes), pita bread (pan árabe) and labneh (jocoque) are all foods you'll find, sometimes with distinct Mexican spins.
Roasted jalapeño hummus (see below for recipe)
Liquid Revolution
"Fresh purees and juices blend with bold spices and herbs to intensify sauces, pasta, dressings and more  ̶ providing a fun, delicious way to enjoy an extra serving of fruits and veggies."
Mexicans are no strangers to a nose-to-tail and whole fruit and veggie-way of living. In a land where many families use every part of the animal or produce — sometimes out of economic necessity — producing less waste forces you to get creative with how to use ingredients. Juices and soups are two ways you can easily incorporate the liquid revolution trend in your kitchen.
Sour + Salt
"Combining coarse salt with surprising sours like pickled ginger, sour cherry, dried mango and lemon zest results in a lively finishing flavor that lends brightness and texture to dishes."
Mexicans love sour and salt, as well as sour and sweet, combinations. Lime juice and chile salt is the most obvious combination, but you can also delve into the realm of sweet and sour (known as agridulce) to extend the trend.
Smoked Spices
"Smoking spices and herbs deepens their flavor and aroma, adding richness to meals and drinks."
Smoked paprika, also known as pimentón, is very common in dishes from Spain — a trend brought over to Mexico. The peppers used to make this spice are harvested and dried over wood fires to create a unique smoked, woodsy flavor. Paella is my favorite dish for cooking with this trend.
Flavor Worth the Wait: Slow-Cooked Meals
"Lift the lid to discover the rich flavors from recipes around the world that meld aromatic spices and comforting ingredients into mouthwatering slow-cooked meals."
The "low and slow" cooking method has long been popular in Mexico, and with good reason! Another reason to love slow-cooked meals beyond the taste: the lack of hands-on prep time. Did you know January is National Slow-Cooking Month?
Enjoy this roasted jalapeño hummus as part of the Middle Eastern Mezze trend! 
This recipe is naturally gluten-free and vegan-friendly.
Give plain old hummus a Mexican makeover with roasted jalapeño chiles, garlic and ground cumin!
Ingredients
1 15-ounce can plain chickpeas (garbanzo beans), drained and rinsed
6 tablespoons unsalted tahini
1/2 cup extra virgin olive oil, plus more for drizzling
3 limes, juiced
2-3 medium-sized garlic cloves, peeled and roasted
2 jalapeño chiles, roasted and seeded
3/4 teaspoon McCormick ground cumin
1 teaspoon kosher salt, or more to taste
Instructions
Drain and rinse the chickpeas in a mesh colander.
On a hot comal or pan, roast the jalapeño chiles and garlic cloves until blistered. Remove and discard the stem and seeds from the jalapeños.
Add chickpeas, tahini, garlic, jalapeño, lime juice and 1/4 cup olive oil to a food processor and pulse until moderately smooth.
Add remaining 1/4 cup olive oil, ground cumin and kosher salt and pulse until completely smooth.
Transfer hummus to a bowl and created a swirl indent with a small spoon. Drizzle a little bit of olive oil into the indentation and serve with pita or tortilla chips.
Notes
Store leftover hummus in an airtight container in the refrigerator for up to one week.
https://theothersideofthetortilla.com/2015/01/roasted-jalapeno-hummus-recipe/
©2009-2015 theothersideofthetortilla.com
Share your experience cooking with these trends using the #FlavorForecast hashtag and find more recipes in the McCormick Flavor Forecast 2015!
3