Spicy peach rings soaked in chamoy and sprinkled with Tajín are an easy sweet and sour candy treat you can make at home.
Chamoy peach rings are just one of many variations of this popular Mexican candy. In Mexico, you can easily find them sold in street vendor stalls, grocery stores, and even high-end candy shops. It's spicy, sweet, sour and tangy all at once—and completely addictive!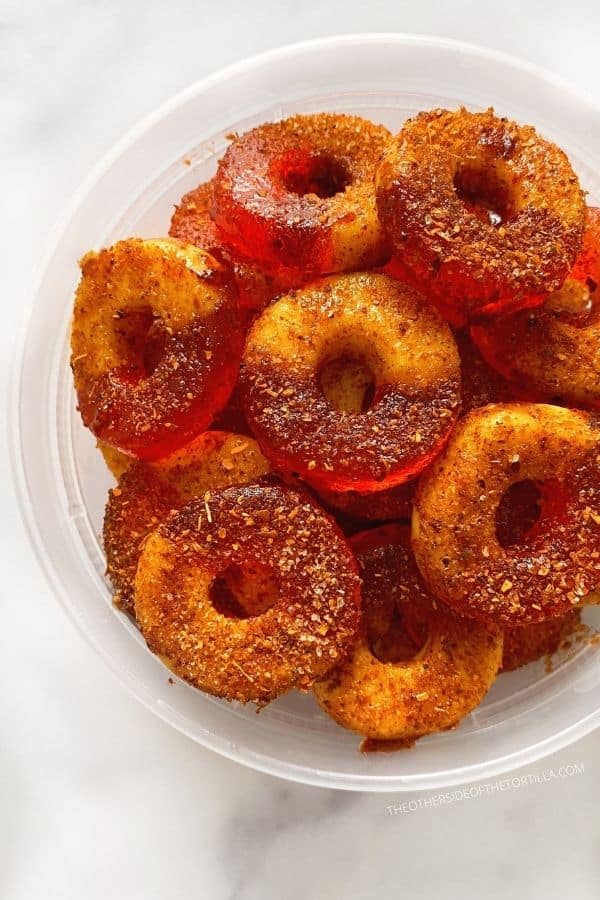 If you love Mexican gummies with chamoy, you'll definitely want to try my recipe for spicy mango gummies, too.
While there are plenty of mass-produced Mexican candies that fall into this same category, such as osos enchilados (chili and chamoy gummy bears) and pica fresas (a strawberry gummy with a chamoy candy coating), I prefer the homemade, small batch method so you can control exactly how sweet, sour or spicy you want your gummies to be.
Ingredients to make your spicy gummy candy
There are only three ingredients in this recipe and you can typically find all of them either online or at any Mexican grocery store.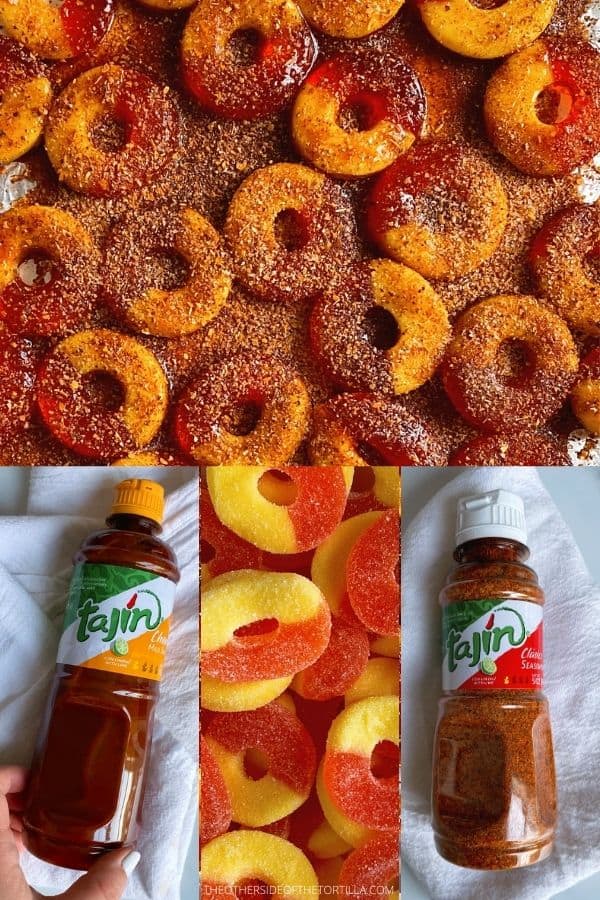 Peach-flavored gummy rings – You can buy any brand of gummies you like best to make your chamoy peach rings. The ones pictured here are the kind sold in bulk in my local grocery store, but I also like Trolli peach rings or Albanese peach rings. It's easy to find these gummies in bulk online, or at your local grocery store or the candy section of your favorite chain pharmacy store in smaller bags.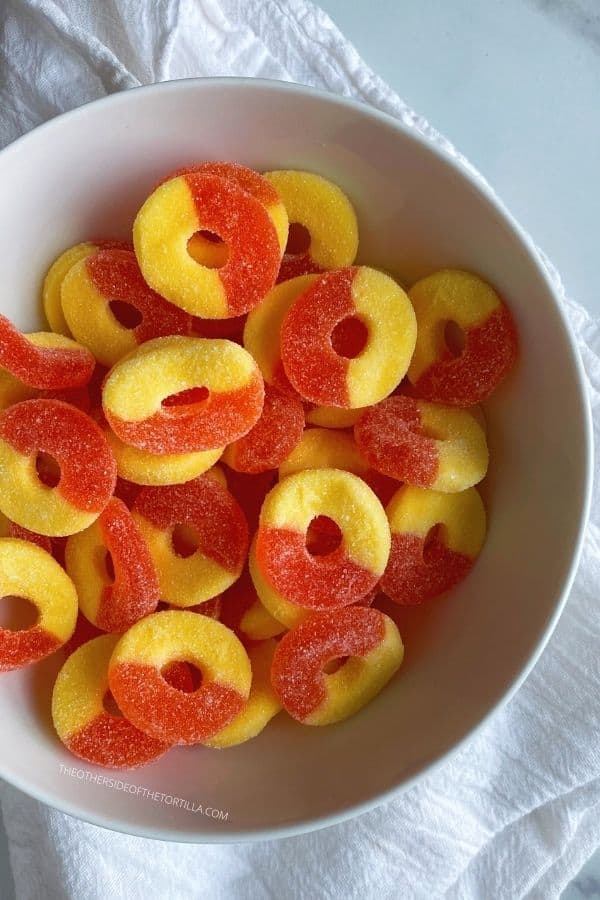 Liquid chamoy – This popular snack condiment make from pickled fruit is sold all over Mexico. The brand shown here is Tajín chamoy and is a thicker consistency than some of the other brands of chamoy I've used. Salty, sweet, sour and a little spicy, there are many brands available: Chamoy Mega, Amor Chamoy, and Bokados are a few I've seen consistently sold in the U.S. The main difference between each brand is the consistency of the liquid, and some are a little sweeter or saltier. You can use whichever brand you can find at the grocery store that suits your personal taste. I also like the Miguelito liquid chamoy.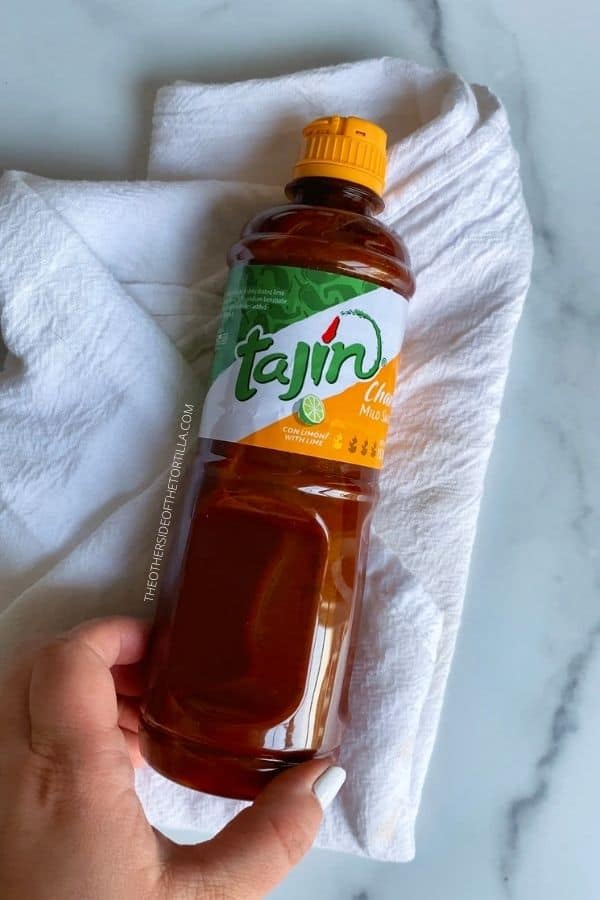 Tajín – Dried chile peppers, lime and salt make up the ingredients of this popular seasoning. It's extremely popular in Mexico and in the last few years has begun to make its way into mainstream American grocery stores. It's a great to sprinkle on fruit or vegetables, rim drink glasses and more. Some of my favorite recipes with Tajín include Mexico City-style pico de gallo, mangonadas or mangonada popsicles, and crunchy roasted chickpeas, to name a few.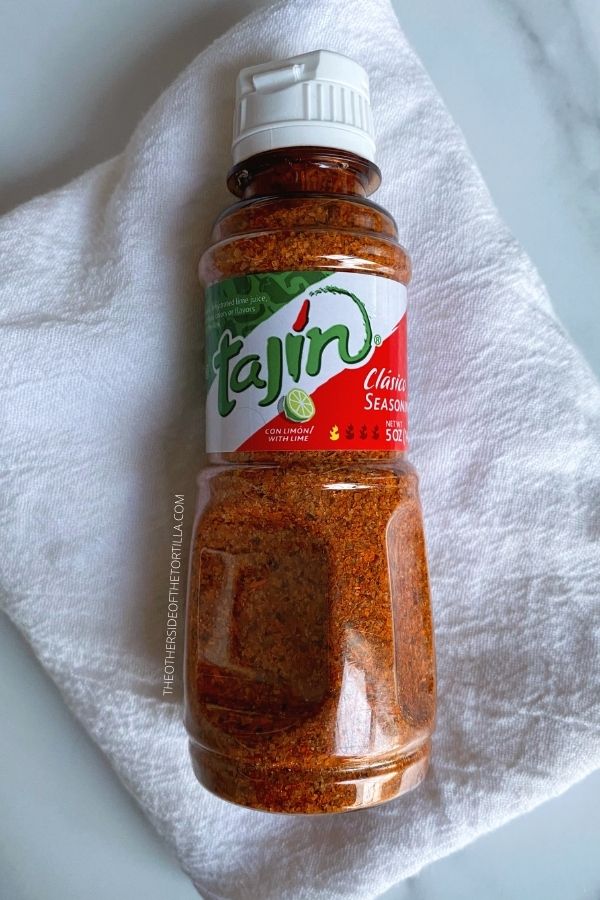 How to make spicy gummy peach rings
With only three ingredients and no cooking involved, this recipe is very easy to make. The hardest part is waiting for the chamoy to soak into the gummies.
PRO TIP: A kitchen scale comes in handy to weigh your gummies, especially if you're buying them in bulk and don't have the candy weight labeled on the bag.
Add the gummies, Tajín and liquid chamoy to a class or ceramic bowl and mix by hand. Some brands of chamoy can stain plastic. You'll also want to use disposable gloves because it can also stain your skin (and light-colored nail polish, too).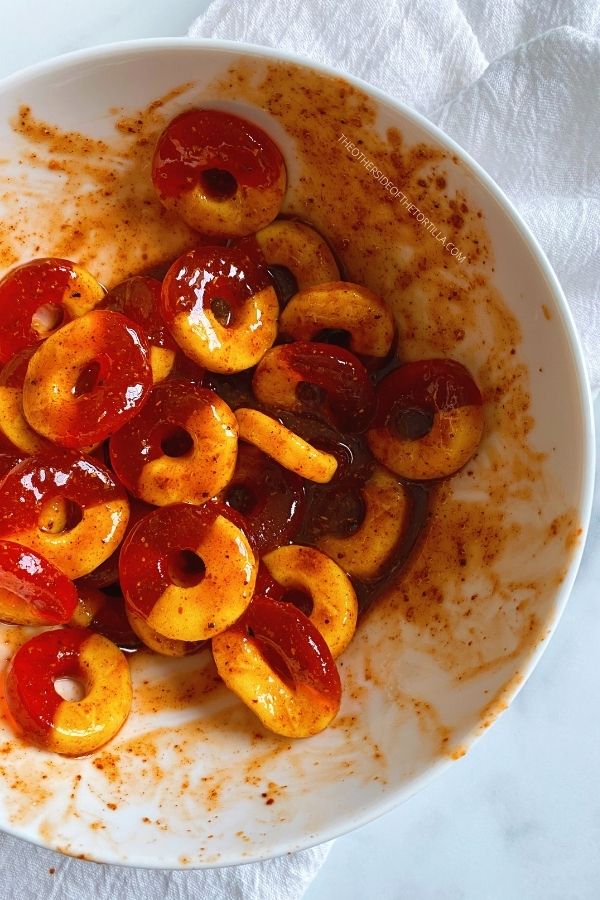 Once your gummies are fully coated, line a baking sheet or a quarter sheet pan (shown here) with aluminum foil and pour them onto the surface. Spread them out so they're not overlapping at all and sprinkle the remaining Tajín over the top of the gummies.
They'll look very wet for at least a few hours; you'll know they're drying out enough to eat when the wetness starts to look more glassy or have a lacquered appearance. I recommend letting the gummies dry overnight so the chamoy soaks in enough. Transfer dried chamoy peach rings to an air-tight plastic container for storage.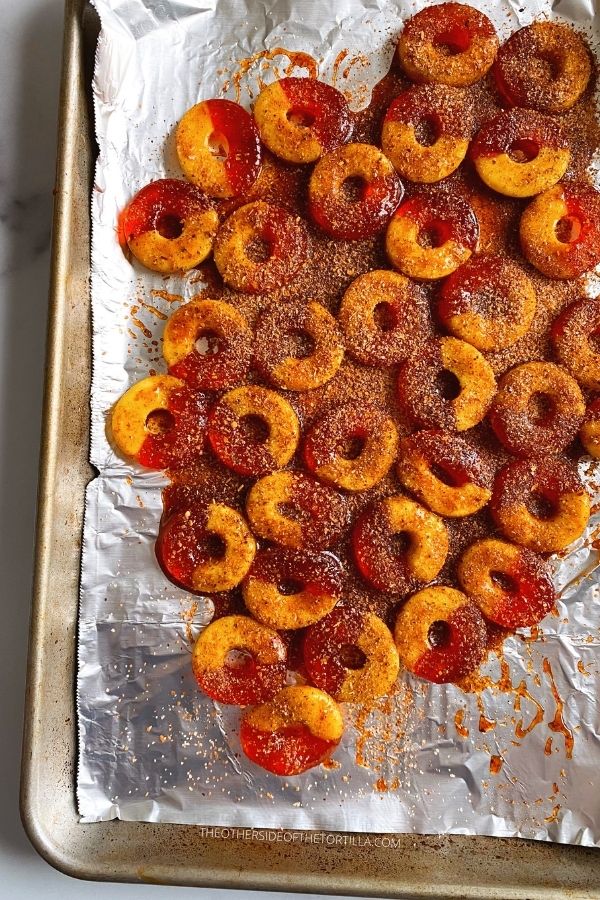 Some brands of gummies weep a bit after being soaked in a liquid and drying. This is completely normal, especially because they can become moist again while being stored in an air-tight container. They'll dry out again by simply leaving the top off the container, but this may also make them chewier.
Print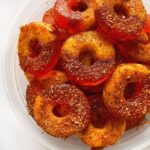 Chamoy peach rings
Author:

Prep Time:

10 minutes

Cook Time:

2-12 hours resting time

Total Time:

10 minutes + resting time

Yield:

8 ounces

(about

4

–

6

servings)

1

x

Category:

Dessert

Cuisine:

Mexican
---
Description
If you love sweet, spicy and salty Mexican gummies, these chamoy peach rings are an easy recipe to fulfill your sweet and sour candy craving!
---
8 ounces

peach gummy rings

2.5 tablespoons

Tajín classic or low sodium Tajín (blue cap), divided (

1 1/2 tablespoon

+

1 tablespoon

)

3

–

4

tablespoons liquid chamoy, such as Tajín chamoy or Miguelito
---
Instructions
Measure 8 ounces of peach ring gummies. Add them to a large glass or ceramic bowl and pour 1 1/2 tablespoons of Taj́in over the top.
Add 3-4 tablespoons of liquid chamoy to the bowl and use disposable gloves to mix thoroughly. Massage the gummies to help the chamoy and Tajín coat them completely.
Turn coated gummies out onto a baking sheet lined with aluminum foil and sprinkle evenly with 1 tablespoon of Tajín.
Allow gummies to dry for at least 2 hours or overnight to allow the chamoy to soak in sufficiently so they aren't too sticky to handle.
---
Notes
Store gummies in a cool, dry place and consume within 5-7 days for optimal freshmess. It's normal for the gummies to look wet and sticky after being stored in an air-tight container because the container keeps the moisture in. If they're too wet, you can leave the top off the container to dry them out a bit again.
Keywords: chamoy, gummies, peach rings, tajín, spicy gummies, Mexican gummies
766