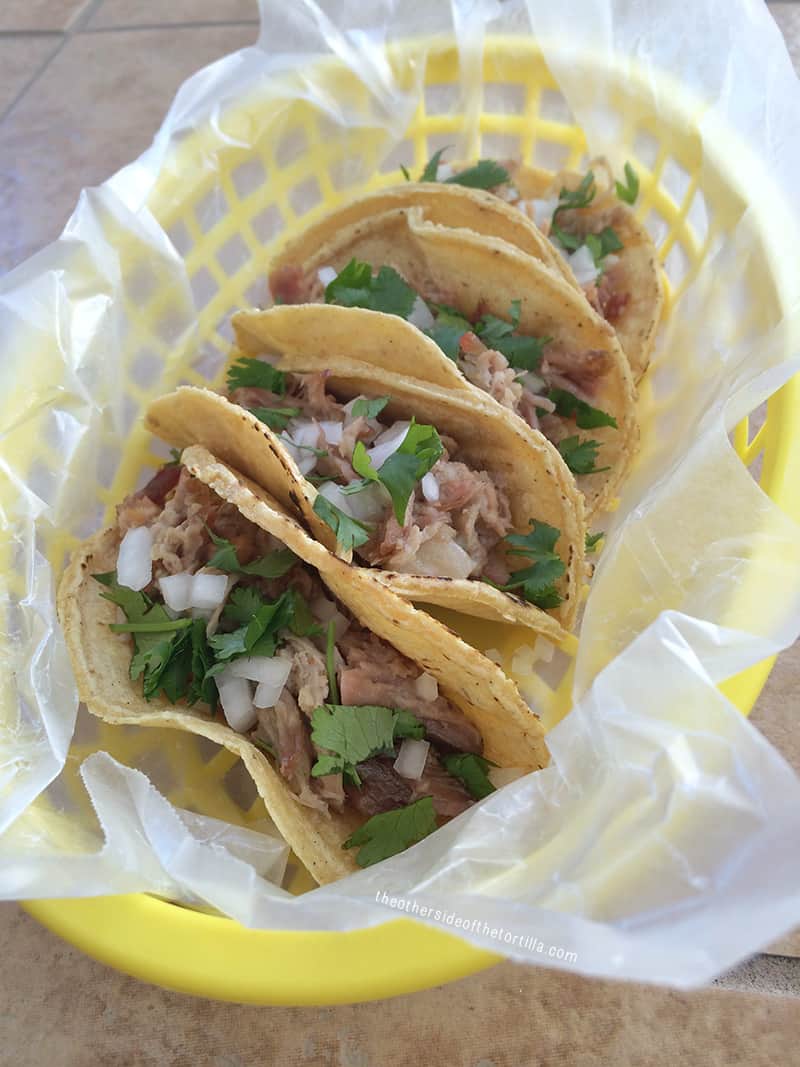 This post is part of a compensated campaign with the National Pork Board, but all opinions and the recipe here are my own.
Slow-cooker carnitas are great for an easy weeknight family dinner or for a weekend gathering. This is a super simple meal with only four ingredients that you can also prepare in advance and reheat.
Carnitas are typically a true nose-to-tail kind of dish where almost the entire pig is used. My husband loves this recipe and says that it's similar to ordering maciza, which is mostly lean and white meat. If you're used to eating carnitas and order "surtido" (which includes a little bit of everything), you can simulate that by buying a pork shoulder that has a cap of fat on one side. The fat will partially cook down and melt in the slow-cooker, and the soft remains left over at the end can be chopped up and mixed in with the shredded meat. (And you can use some of the liquid fats to moisten the meat before storing, so it doesn't dry out when reheated, too.) 
RELATED RECIPE: Slow-cooker cochinita pibil
This recipe is made with pork shoulder which can also be called Boston butt roast or pork butt, depending on the region of the U.S. where you live. In Mexico, this area of the pig is often called espaldilla or cabeza de lomo, which are adjacent cuts that come from the top of the front legs of the pig and just above. These cuts are typically well-marbled and are very versatile, but the best way to use them, in my opinion, is to cook them low and slow (at a low temperature over a long period of time) so that the meat becomes fork-tender. 
If you're not very familiar with pork shoulder, you may have already eaten it before without even realizing it; when you buy ground pork from the grocery store, it's oven made from pork shoulder. And it makes great chorizo!
RELATED RECIPE: Homemade pork chorizo
If you can't find a boneless roast, you can buy a little larger piece to account for the weight of the bone. You can cook it the same way, just leaving the bone in, and then remove the bone before serving. A bonus to cooking this cut low and slow: you can also render your own pork fat—the same way you would with bacon—and transfer to a jar and store in the refrigerator.
This recipe serves four people for a light meal (about three tacos each), or two people for a larger meal. If you wish to serve more people, or simply have more leftovers, you can double the size of the pork roast to 4 pounds, add three slices of thick-cut bacon and two more dried bay leaves.
Ingredients
2 pounds boneless Boston butt roast (pork shoulder)
5 slices thick-cut smoked bacon
1.5 to 2 teaspoons sea salt
2 dried bay leaves
Instructions
Line the bottom of your slow-cooker with three pieces of bacon and put the bay leaves on top of the bacon.
Sprinkle about half of the sea salt on one side of the pork roast, and the remaining salt on the other side. Place the pork roast over the bacon and bay leaves.
Place the remaining two slices of bacon over the top of the pork roast and put the lid on the slow-cooker. Turn the slow-cooker to low and let it cook for 8 hours.
After 8 hours, remove the meat from the slow-cooker with a slotted spoon to a large bowl and shred well with a fork.
Serve with warm corn tortillas and garnishes such as diced white onion, chopped cilantro and salsa of your choice.
https://theothersideofthetortilla.com/2014/10/slow-cooker-carnitas-recipe/
©2009-2015 theothersideofthetortilla.com
For more information and recipe ideas visit porkbeinspired.com or The National Pork Board's Spanish-language website, porkteinspira.com.
13