An alambre is a popular staple taquería dish in Mexico that contains meat, vegetables and melted cheese to hold it all together.
There's a taquería in Mexico City called Las Brasas that's famous, in part, for their large alambre selection. Located in the Plateros neighborhood since 1977, there's more than a dozen types of alambre combinations on their menu.
My family has been obsessed with this place since we discovered it. So, I decided to make a copycat recipe at home! It's an awesome, easy and quick weeknight dinner. You can get it together even quicker if you prep the veggies beforehand.
We also make a pork alambre at home as a red meat-free alternative to this version. That recipe is made with thinly sliced pork chops or pork tenderloin and bacon. Both versions are very filling and I sometimes double the recipe so I can take leftovers to work for lunch.
Watch this video to see how easy it is to make!
What is an alambre?
Alambre means "wire" in Spanish. This dish is traditionally skewered—hence the wire reference—and roasted or grilled. Typical ingredients may include beef or pork, onion, chiles, bacon or chorizo (sometimes both), and cheese to hold everything together, served over tortillas.
Not everyone can skewer their meat and vegetables to cook over fire or on a grill like it's meant to be, so it's also very common to cook it in a skillet on the stove.
When using chorizo in an alambre, it's best to keep the amount small to prevent the flavor from overpowering the other ingredients. You can use either beef chorizo or pork chorizo depending on personal preference or dietary needs.
What ingredients go in this dish?
Grilled or pan-seared rib eye steak cutlets are preferable to use in this version of an alambre. You can also use beef tenderloin, though it's a bit pricier. A small amount of Mexican chorizo lends depth and flavor without overpowering the other ingredients.
For vegetables, I used diced chile poblano and onion, and finally, to hold everything together, shredded Chihuahua cheese. You can use another type of chile or different veggies if you prefer.
The easiest way to put this dish together quickly is to dice the vegetables while cooking the steak and chorizo. Arrange the ingredients using the French "mise en place" method (as shown below) to add ingredients one at a time, in the right order as you cook. You can even dice the chile and onion the day before and keep refrigerated until ready to use!
After cooking the chorizo, remove it from the pan. Set aside and cook the chile and onion in the chorizo grease to give it a little extra flavor.
When it comes to assembling your alambre as tacos, you can use either corn or flour tortillas, whichever you prefer.
I love to serve this steak and chorizo alambre with agua fresca de mandarina, jamaica, or agua de piña (pineapple agua fresca).
Print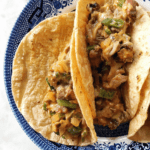 Steak and Chorizo Tacos de Alambre
Author:

Prep Time:

15 minutes

Cook Time:

20 minutes

Total Time:

35 minutes

Yield:

2

servings

1

x

Category:

Tacos

Cuisine:

Mexican
---
Description
How to make a beef and chorizo-based version of the popular Mexican taqueria dish known as an alambre, with chile, onions and cheese.
---
2 ounces

Mexican chorizo

1/2

a small white onion, diced

2

medium poblano chiles, seeded and diced

12 ounces

thinly sliced rib eye steak, cooked and diced

1 1/2 cups

shredded Chihuahua cheese
Corn or flour tortillas for serving
---
Instructions
In a skillet over medium heat, cook 2 ounces of Mexican chorizo, stirring frequently to break up the meat as it cooks so it doesn't burn. Remove cooked chorizo from pan and set aside.

Dice 1/2 a small white onion and seed and dice 2 medium-sized poblano chiles. Add them to the skillet over medium heat, stirring frequently until they begin to soften, 5-7 minutes.

In another skillet, cook 12 ounces of thinly sliced rib eye steak, about 3 minutes per side. Remove from skillet and allow to rest on a cutting board for about 5 minutes.

After the steak has rested, dice and add to the skillet with the onion and poblano chiles. Add the chorizo and stir well to incorporate.

Add the cheese to the skillet, stirring frequently until melted.

Remove from heat and serve with warm tortillas. 
---
Notes
Any leftovers can be kept in an airtight container in the refrigerator for up to 5 days and reheated with fresh tortillas.
Keywords: alambre, steak, chorizo
Other taquería staples you'll love:
Chiles toreados
Chicharrón de queso
Tacos de chicharrón guisado
13