Chicharrón guisado is an easy, flavorful dish made from crunchy, fried pork skin stewed in salsa, and it makes incredible tacos.
The best part about this dish is that it's incredibly easy to make, packs a ton of flavor, and using a slow-cooker means it's mostly a hands-off recipe.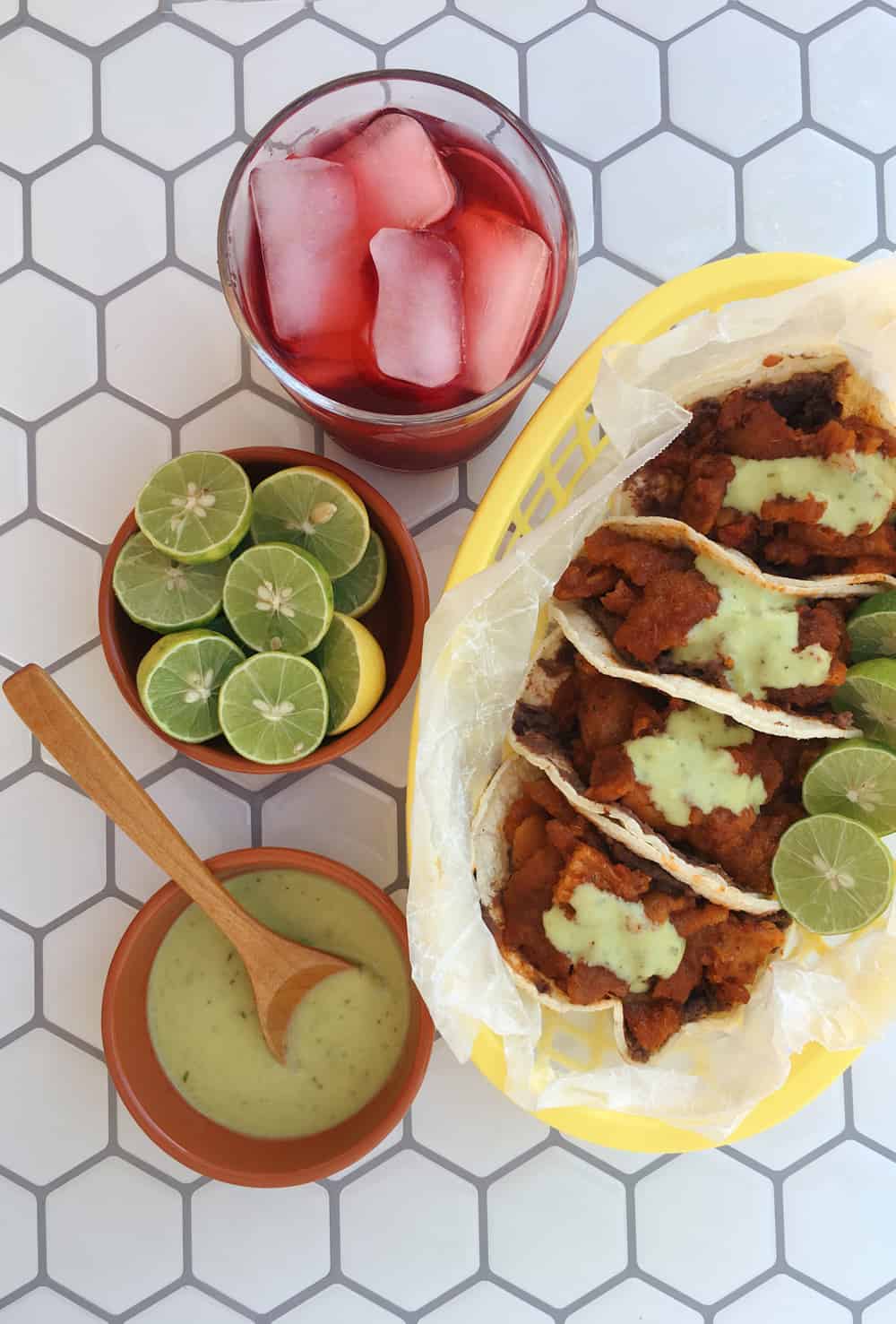 There's a taquería in Los Angeles I really love called Guisados. They make a taco de chicharrón guisado that's very similar to this recipe, and they serve it on a corn tortilla over refried black beans, and topped with a little dollop of avocado salsa verde, which is how I served them here as well, but you can serve it without beans (or different beans) and whatever kind of salsa you like on top.
There are lots of recipes out there for chicharrón guisado—mostly in Spanish—and there's one key departure in my version aside from using a slow-cooker: I use chile morita, which is a small, dried and smoked chile. I also like to serve these on smaller tortillas (about 4.5 inches round instead of the standard 6 inches) because it makes you feel more like you're in a taquería.
WHAT IS CHICHARRÓN?
For the uninitiated, chicharrón is fried pork skin rinds, and it's used in many ways in Mexican cuisine. It can be served as an appetizer, such as chicharrón botanero, or also used in place of a chip with guacamole. It can be used as a garnish, crushed and sprinkled on top, as with frijoles charros. And it can be turned into a guisado by rehydrating it in a salsa or sauce, as with this recipe, just to name a few options.
There are also several variations of chicharrón. The one used in this recipe is sometimes known as chicharrón delgado or chicharrón duro. In some parts of Mexico, chicharrón like this is also called duritos de puerco.
This is what it looks like when sold in large sheets: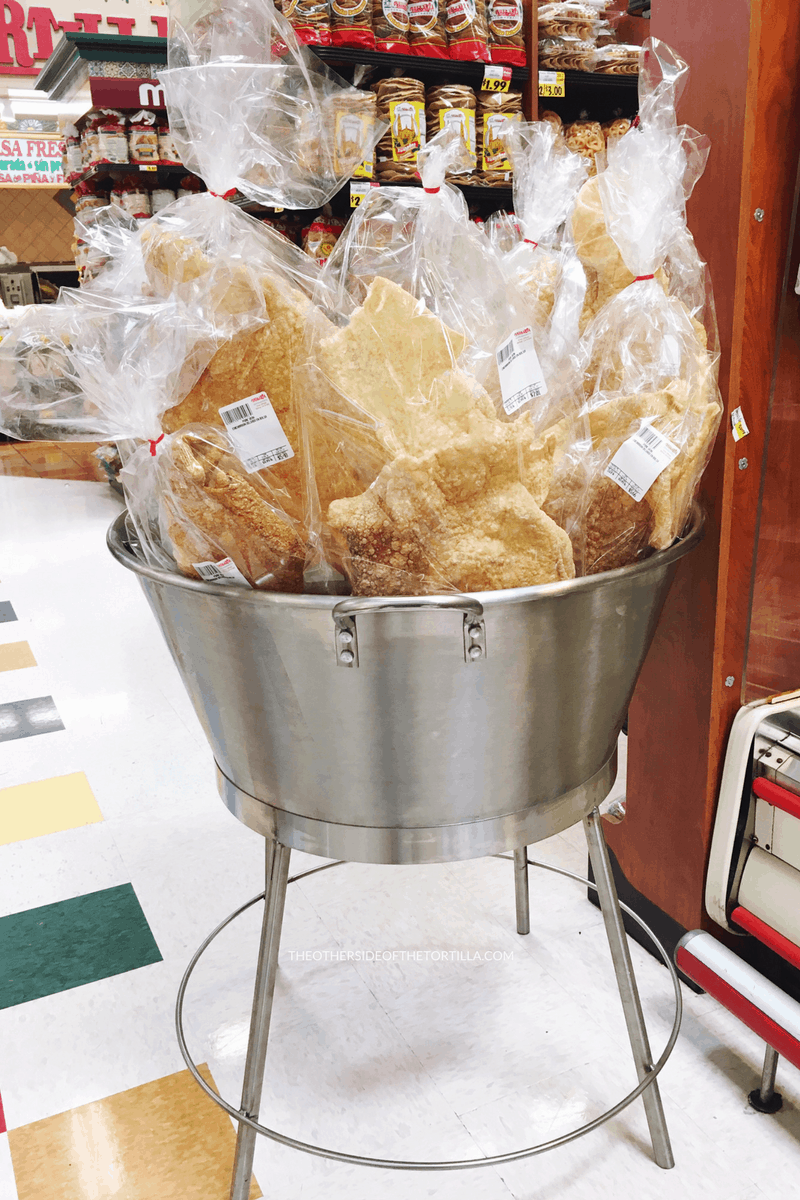 And this is what it looks like sold in smaller pieces: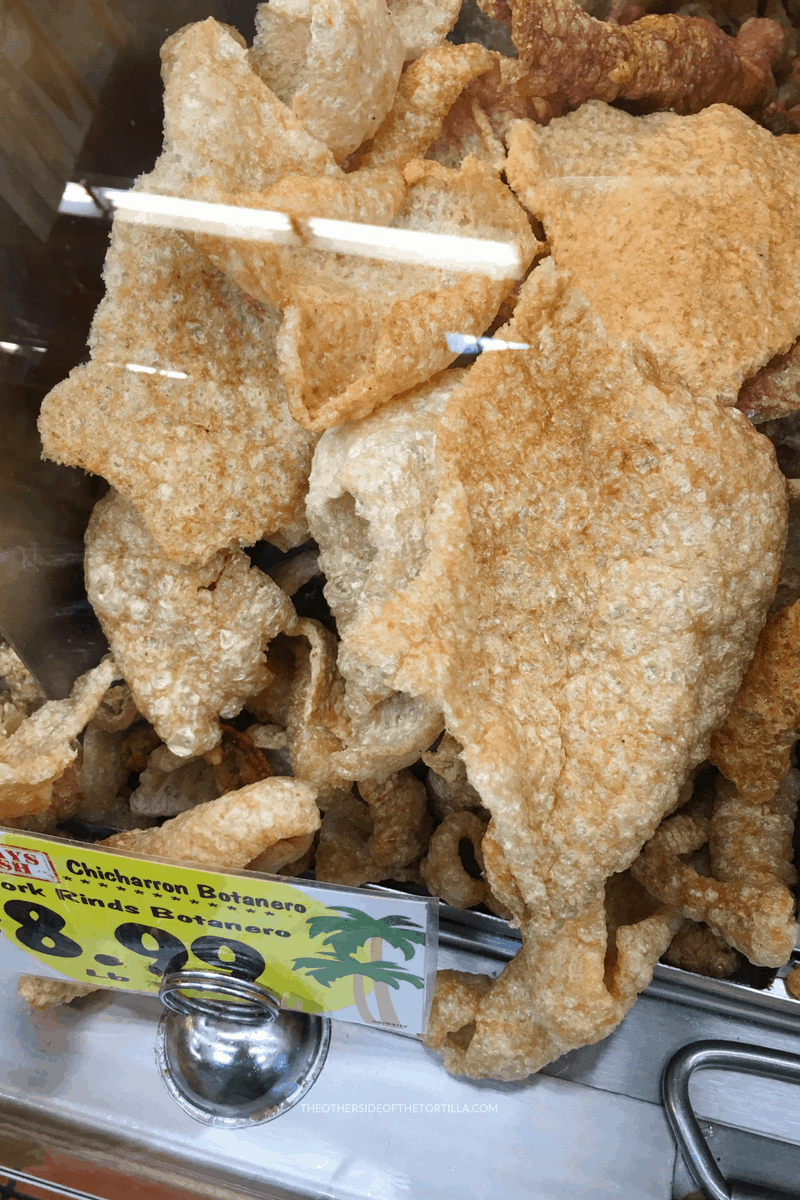 And here's what it looks like when you break it up into bite-sized pieces: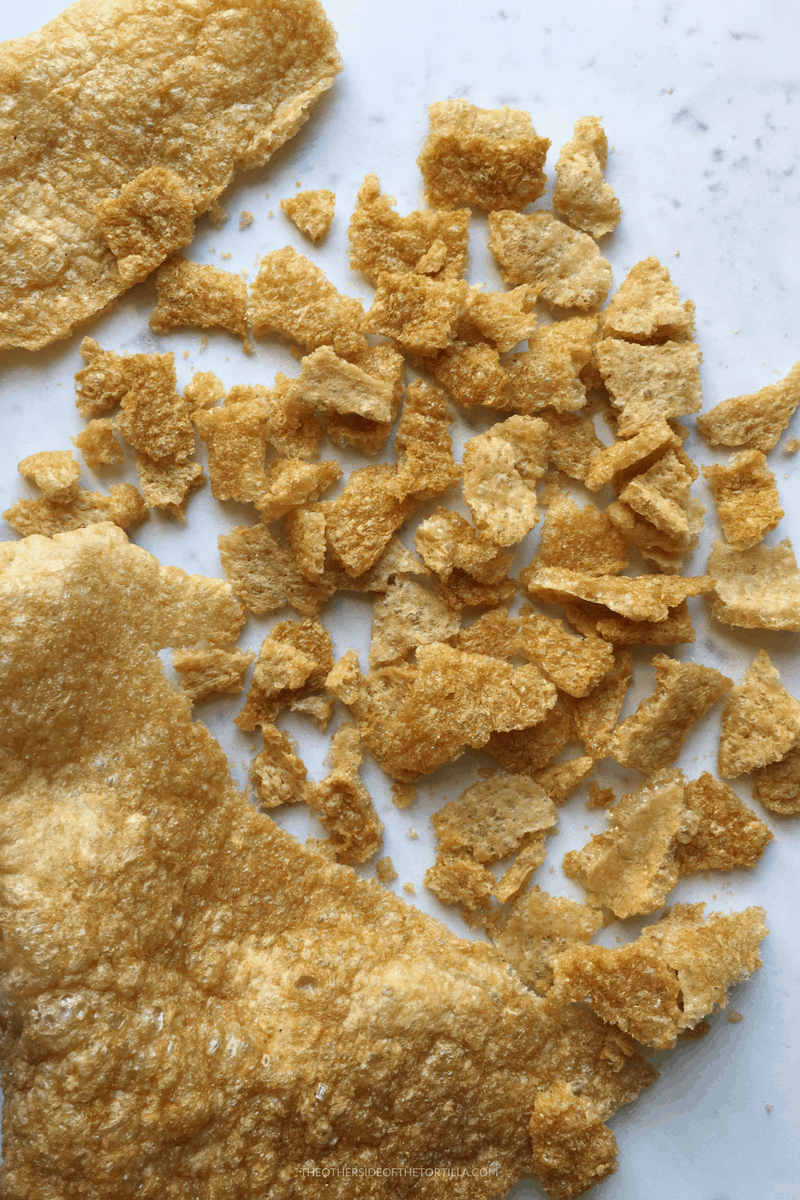 PRO TIPS FOR PREPARING CHICHARRÓN GUISADO IN A SLOW-COOKER
If you know a day or two in advance that you're going to make this dish, toast and rehydrate your chiles and keep them in a glass jar with a lid in the refrigerator. This allows them to get really soft, pliable, and also will impart a really nice, deep, smoky flavor to the water they rehydrated in. You can use some of the water to add extra flavor the salsa, or reserve it for adding to other dishes as well.
I typically toast and rehydrate more chiles than I need for the recipe and just keep the jar in the fridge for adding to other dishes.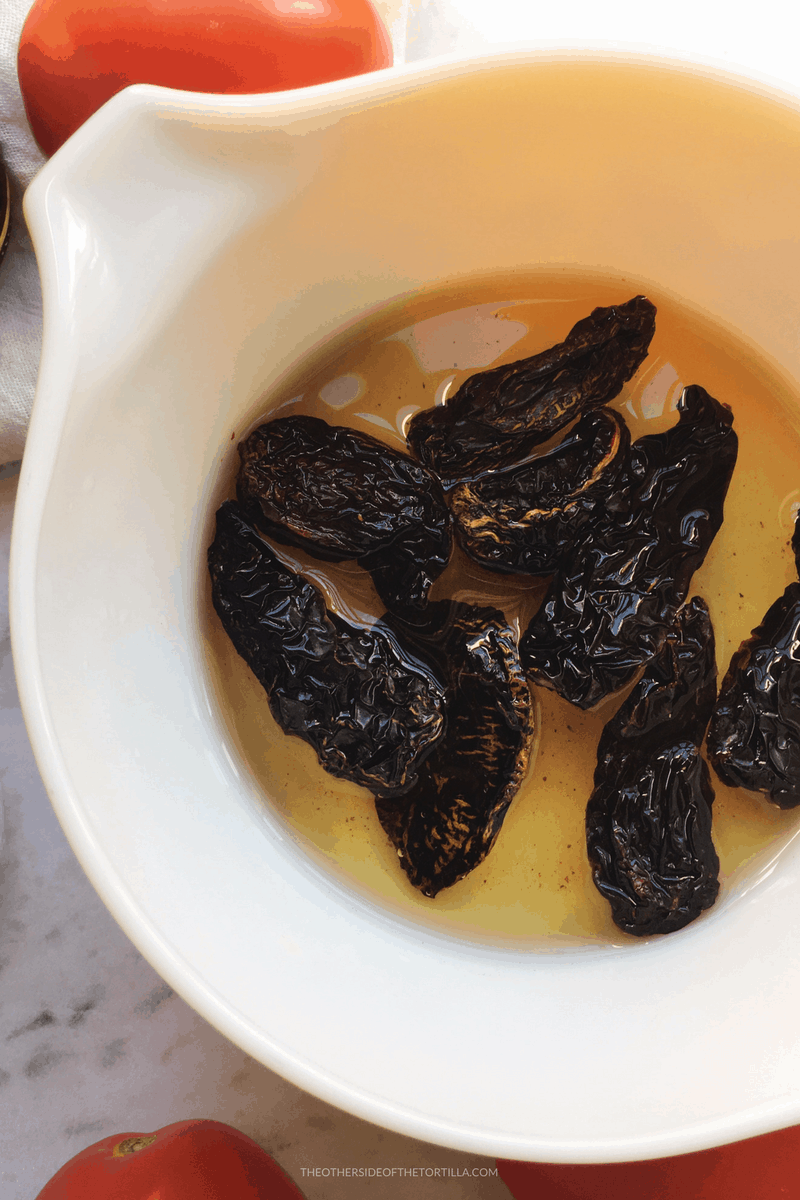 Make sure you're buying fresh chicharrón to make this recipe (pretty much always available Mexican grocery store or Latin American market). Stuff you'll find in the snack aisle among the bagged chips and pretzels is not going to be very fresh and sometimes also has a distinct, old, fried oil taste. Freshly fried chicharrón shouldn't stink, either. (If it smells weird/fishy or too oily, move along.)
When you break the chicharrón into pieces, keep in mind that they're going to grow in size once they're stewed in the salsa. You may want to make the pieces slightly smaller than what you think of as bite-sized so when they rehydrate and plump up, they don't get too big.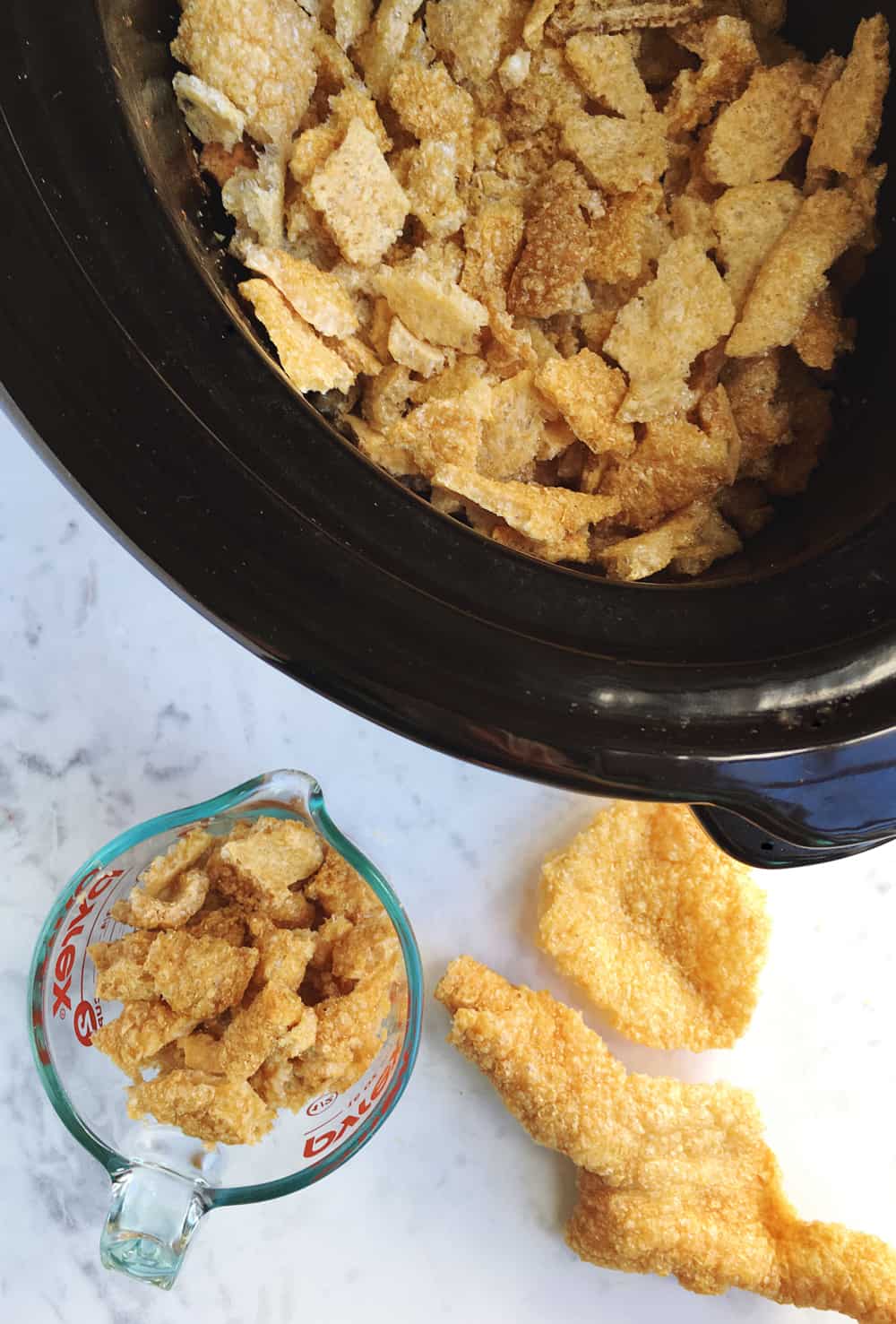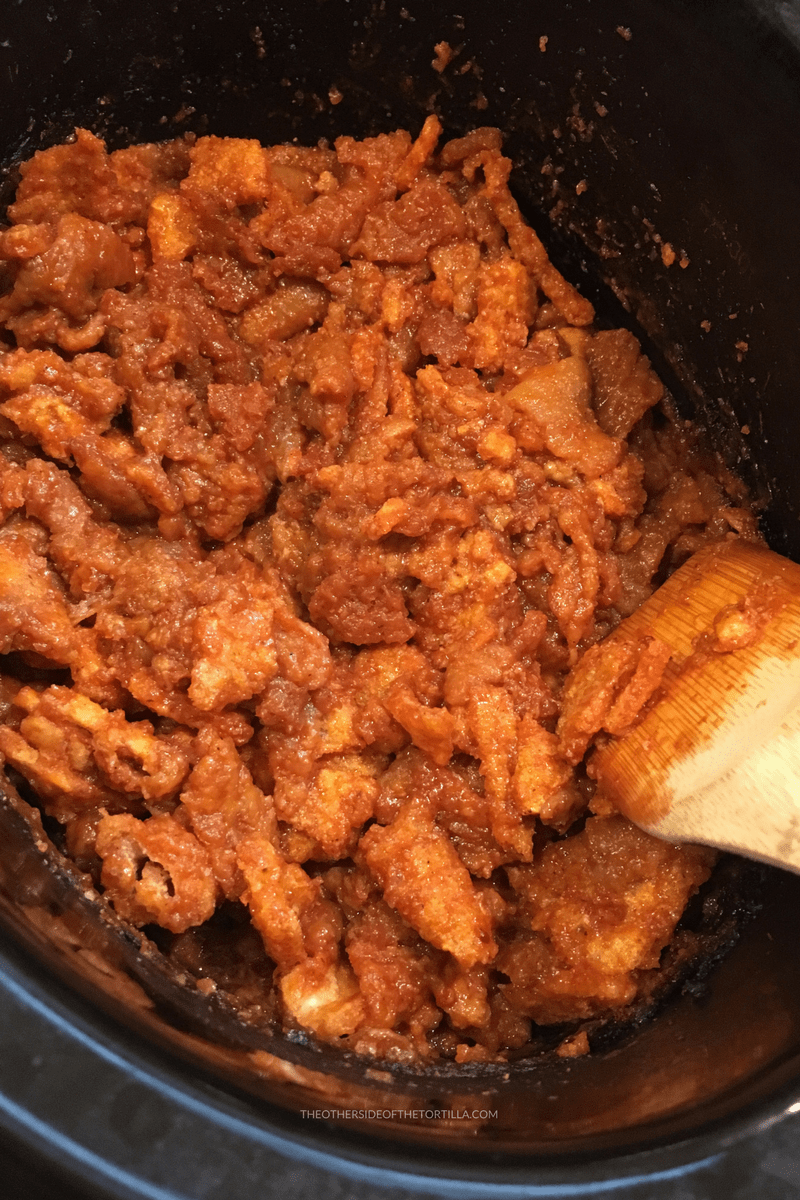 And finally, don't be a martyr when it comes to the beans. While homemade refried beans are great, if you don't have any, just use your favorite canned refried beans. I buy La Costeña brand black refried beans.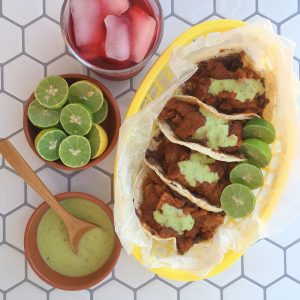 Print
Tacos de chicharrón guisado
Yield 4 cups
A classic Mexican dish, chicharrón guisado is made from stewed pork cracklings and a smoky salsa roja. Makes 12-16 tacos.
Ingredients
2-3 small dried morita chiles, toasted and then rehydrated (see Notes below)
5 medium-sized Roma tomatoes (jitomate saladet)
1/4-inch slice of white onion
1-1/4 teaspoon kosher salt
1/2 teaspoon Knorr Suiza tomato flavor, or another brand of tomato-flavored bouillon 
1-1/4 cups water
10 cups chicharrón (pork cracklings), broken into bite-sized pieces (0.6 of a pound should yield 10-12 cups)
1 cup refried black beans
corn tortillas
salsa of your choice (Herdez guacamole salsa is what's pictured here because that's what I had in the refrigerator)
Instructions
Remove any stems from your dried morita chiles. Lightly toast them on a comal until they inflate slightly (but not burn) and submerge them in 1/3 cup boiling water. Cover and set aside.
Wash the tomatoes and remove the stem scars (the little spot where the stem was attached). Cut them in half and place them cut-side-down on an aluminum foil-lined baking sheet. Broil for 10-12 minutes or until the skins have blackened. Set aside to cool slightly.
Break up the chicharrón into smaller, bite-sized pieces, and set aside.
In a blender, transfer the roasted tomatoes and any rendered juices, and add the rehydrated chiles, white onion, kosher salt and Knorr Suiza Tomate or other tomato bouillon. Blend until mostly smooth. Add 1-1/4 cup water and blend again on high until completely smooth. 
In a slow-cooker, add all the chicharrón pieces to the bottom of the crock. Pour the contents of the blender evenly over all the chicharrón and then stir lightly to make sure everything is coated. Put the top of the slow-cooker on and turn the temperature to high. 
Cook for two hours, stirring every 20-30 minutes to make sure nothing gets stuck to the bottom or sides of the crock.
When it's done cooking, transfer chicharrón to a bowl for serving or store in an airtight container and refrigerate until ready to serve.
To assemble tacos: cook tortillas, spread warm refried black beans on the tortilla, add a heaping spoonful or two of chicharrón guisado on top, and finish with a drizzle of salsa.
Notes
It's best to rehydrate your chiles 24 hours in advance if possible for the most complex flavor, but if not, 30-60 minutes will do.
Best if served immediately, but can be refrigerated in an airtight container for up to 3 days.
Courses lunch/dinner
Cuisine Mexican
If you're not a meat-eater, you might be interested in making chicharrones de harina as a snack instead, or the popular cheese version called chicharrón de queso.
98