Strawberry hibiscus popsicles are a healthy treat with a uniquely Mexican-flavored twist.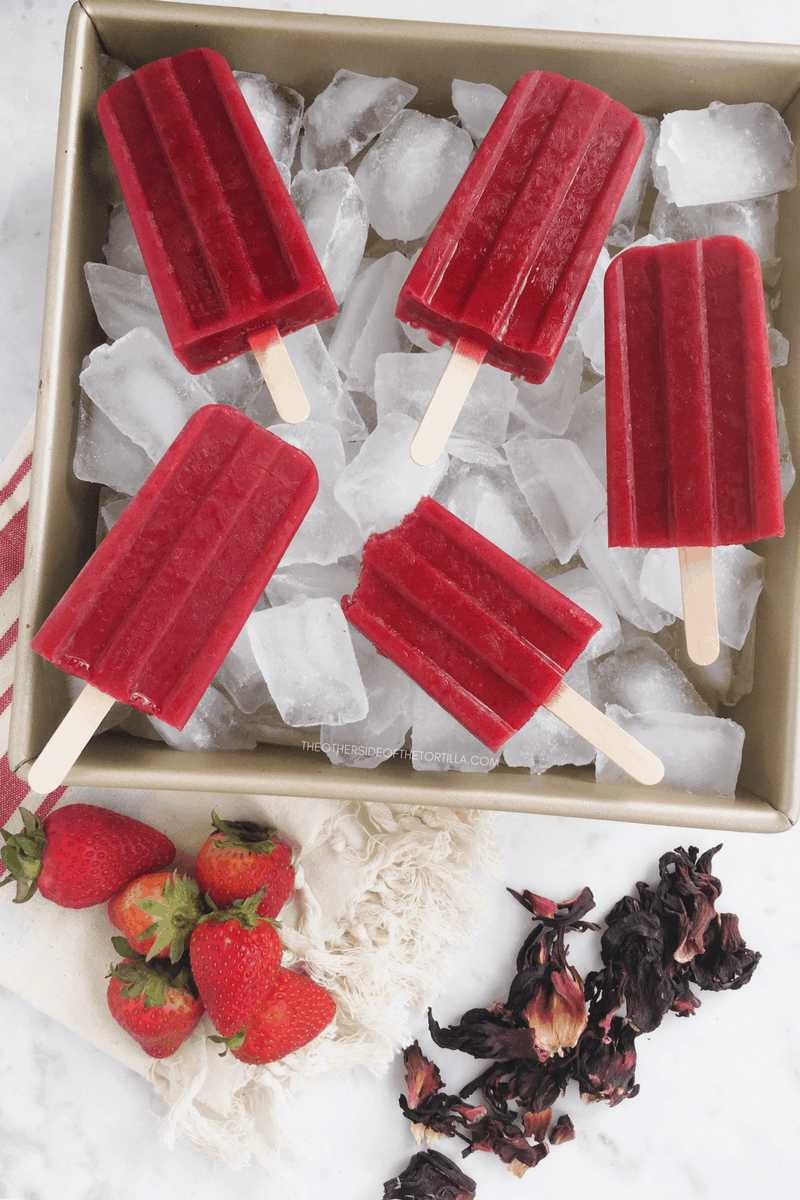 This post is in partnership with California Strawberries. The recipe and opinions are my own.
If you love strawberries, but you're also trying to cut back on added sugar, you're going to love this recipe for strawberry hibiscus popsicles.

I always keep strawberries in my refrigerator for a healthy snacking option, and since I moved to California in 2013 and have actually visited local strawberry farms, it feels good to buy strawberries in the grocery store when I know where they come from. Thankfully, even if you don't live in California, you can still find California strawberries in your market year-round! And you can take my word that these farmers take the utmost care in growing and packaging your berries.
Because strawberries are naturally sweet but low in sugar, they're recognized by The American Diabetes Association as one of the top 10 superfoods for a diabetes meal plan. They have a low glycemic index, are packed with vitamins, and have plenty of antioxidants and dietary fiber, too.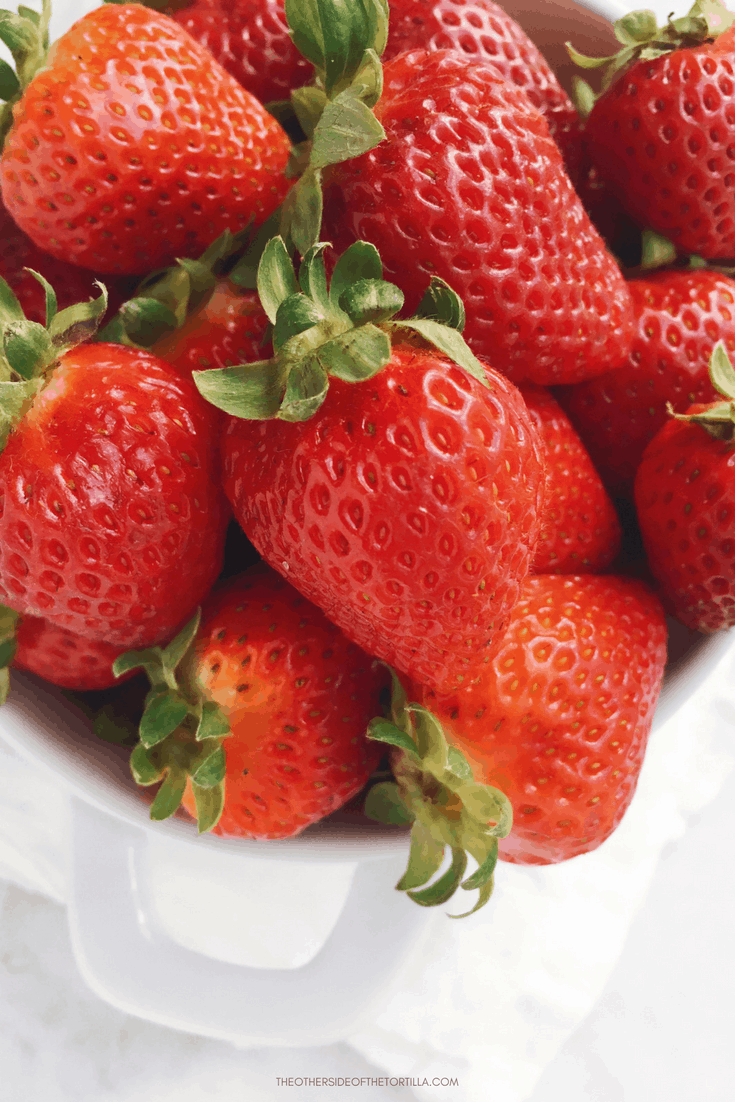 One serving of 8 strawberries contains only about 8 grams of natural sugar. I've used brown rice syrup as a substitute for regular sugar in the recipe because it breaks down more slowly in the body, so it's a healthier option for diabetics. (It's no secret that lots of Mexican families struggle with obesity and diabetes.) And as an added bonus, these popsicles are also naturally vegan-friendly and gluten-free.
When you think of Mexican food and drinks that include strawberries, I'm guessing strawberry margaritas and fresas con crema are the two top things that come to mind. And while those are both good in moderation, I encourage you to think about adding more strawberries to your diet in a healthy way, too.
The bulk of the flavor in this recipe comes from the strawberries and a concentrated juice made from stewing dried hibiscus flowers. Thanks to the natural sweetness of the strawberries, you really don't need to add much brown rice syrup to balance out the berries and tartness of the juice. These popsicles aren't super-sweet, but just enough so to make you feel like you're having a treat.
RELATED RECIPE: Agua de jamaica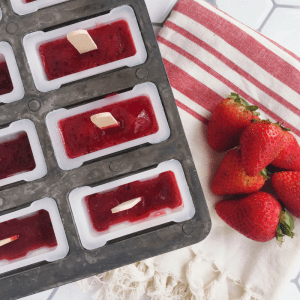 Print
Strawberry hibiscus popsicles
Yield 10 2.5-ounce pops
If you love strawberries, but you're also trying to cut back on added sugar, you're going to love this recipe for strawberry hibiscus popsicles.
Ingredients
2 cups strawberries, hulled
1 cup water
½ cup dried hibiscus flowers
3 tablespoons brown rice syrup
½ cup water or coconut water
Instructions
Clean and hull 2 cups of fresh strawberries. Dry them off and put them in a plastic bag or on a small tray in the freezer for an hour.
In a small saucepan, bring 1 cup of water and ½ cup dried hibiscus flowers to a boil. Turn heat down slightly and gently boil for 4-5 minutes, then remove from heat and allow to come to room temperature.
Once the juice is room temperature, pour through a fine mesh sieve into a measuring cup. Press the flowers to get all the juice out. You should have about ½ cup concentrated juice. Discard the flowers. Set aside until your strawberries come out of the freezer.
Add strawberries, hibiscus juice, 3 tablespoons brown rice syrup and ½ cup water or coconut water to a blender and blend on high until you have a smooth consistency.
Pour into popsicle molds, filling them only ¾ of the way to the top. Freeze for at least 8 hours, or until fully frozen.
Notes
To loosen the popsicles from the molds, run the bottom of the molds under cool or lukewarm water for a few minutes. They should slide right out.
Courses Dessert
Cuisine Mexican
Buy this Norpro popsicle mold on Amazon.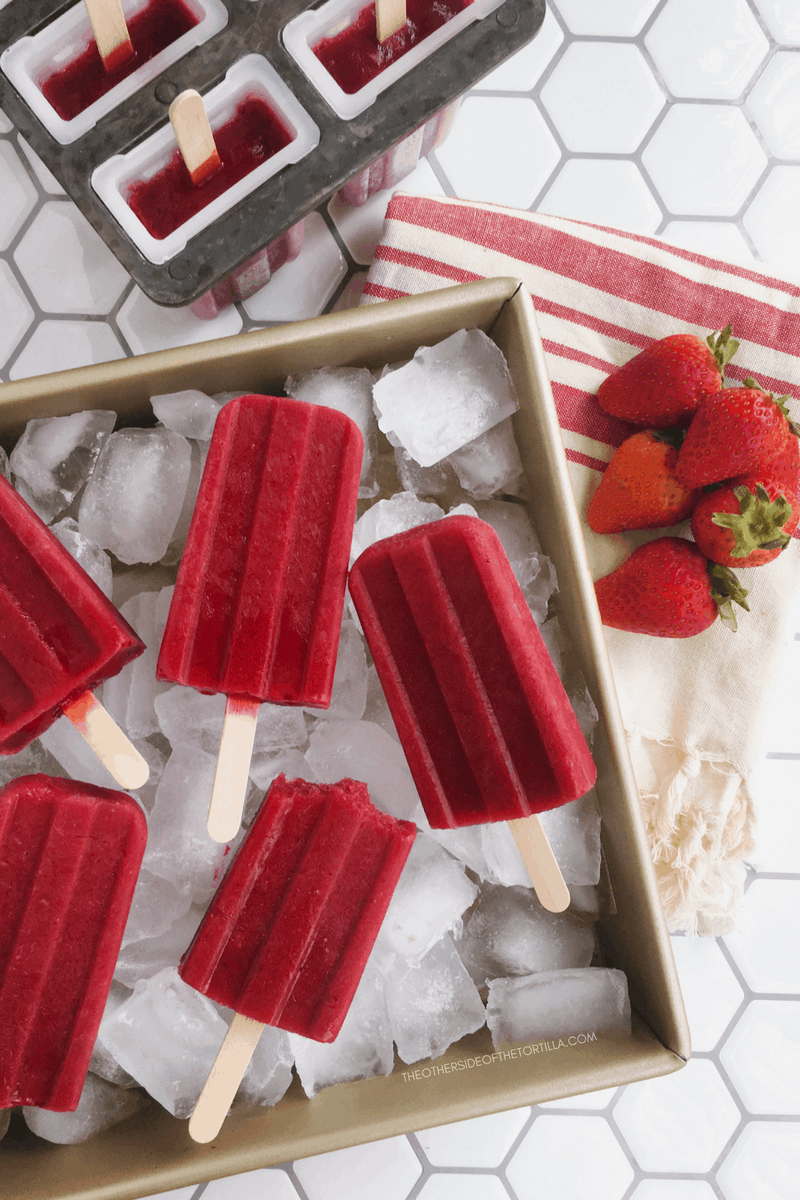 7