If you want to make the best guacamole, there are a few things you need to know. I swear by this recipe, but also by these tips that help make it the best it can be.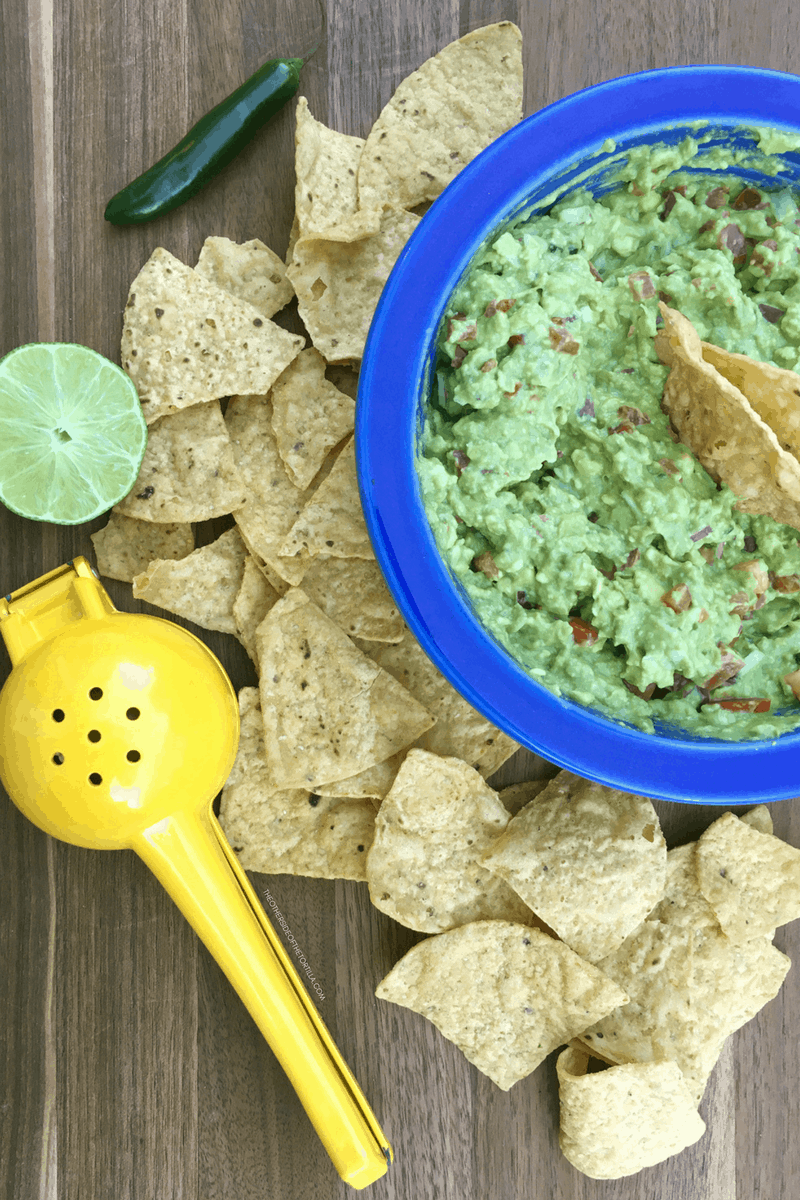 Not all guacamole is created equal, and it's much easier to screw up than one might think. And since avocados are sometimes a splurge in your grocery budget, you really don't want to waste them with bad guacamole. There are some common mistakes people make that cause their guac to suck: mashing the avocado so much that it's totally smooth, adding too much of one ingredient so it throws off the flavor balance, not enough flavor so the whole thing is totally bland, or the opposite – too salty.
I'm not bragging (OK, I am totally bragging) but everyone I know who has ever eaten my guacamole has said that I make the best guacamole ever.
My dad thinks my guacamole is so good that he used to just drop off ingredients at my house and have me make it, and he'd take it home. My mom, the woman I inherited all my cooking skills from, even says my guac is the best. My toddler nephew also can't get enough of my guacamole. You should see the kid's face when I make it for him! But outside my family, the praise is equally positive—lest you think they only says nice things to make me feel good about my guacamole skills because they love me.
Here's what makes it so good: Fresh ingredients.
Yes, that's really the secret.
Fresh, perfectly ripe avocado
Serrano chile for a little heat
Diced Roma tomatoes (Mexicans know these as jitomate saladet) for body and texture
Diced red onion for crunch
Freshly-squeezed lime juice (NEVER bottled lime juice!)
Freshly-minced cilantro (totally optional)
Kosher or sea salt, to taste

Why use red onion instead of white?
Yes, it's true that white onion is used more in Mexican cuisine than red. And although white onion is slightly crunchier than red onion, it's also a sharper onion taste, which means the flavor can potentially overwhelm the rest of the ingredients. Red onion is also less pungent, meaning it won't give you raunchy onion breath, but it still has plenty of flavor; red onion also adds a decent crunch to the texture.
The garlic debate
My mom always put garlic in her guacamole, and while I like the way it tastes (really, no complaints, mom!) I prefer it without because it allows the onion and the chile flavors to shine through. Also, my Mexican side of the family doesn't use garlic, so I leave it out most of the time.
How to store leftover guacamole properly
Before I started blogging, I just assumed that everyone knew the correct way to store avocado so it doesn't turn brown. I'm not going to give you an entire science lesson here, but the basics go like this: avocados have an enzyme called polyphenol oxidase that, when exposed to air, causes it to oxidize and turn from green to brown. I was truly disgusted to learn some of the weird things people of the internet do to keep their guacamole green, such as covering it with water or milk (gross, guys, really?), too much citrus or thinking the pit keeps it from oxidizing. Stop doing those and ruining your guac. The only thing that keeps avocado from turning brown is to prevent it from being exposed to oxygen. You can read more about my method in this tutorial how to keep your guacamole fresh and green if you have leftovers.
The best vehicle for guacamole (aka what kind of chip to use)
I don't want to tell you what to do here so much as remind you that you have options. We all have different tastes in chips and if you like flimsy Tostitos, well, I won't stop you. (But aren't you tired of your chips breaking in half, though? So much frustration and work!) I prefer the homestyle kind of hearty, thick, salted tortilla chips.
Shoutout to El Milagro, the best tortillería in Chicago that also makes THE BEST tortilla chips. They're so good, if you have someone in Chicago who will send them to you, it's worth paying the postage to get them shipped.
The other suitable option I recommend is chicharrón botanero (aka chicharrón delgado), which also goes great with fresh tomatillo salsa.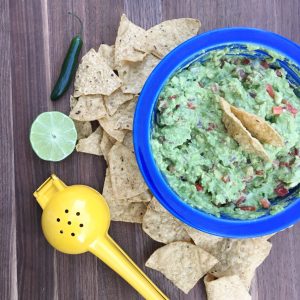 Print
The Best Guacamole
The guacamole recipe everyone will ask you to make, over and over again!
Ingredients
6 ripe, large Hass avocados
1/2 cup diced red onion
1/2 cup diced Roma tomatoes (about 1-1/2 small or 2 medium tomatoes)
1 serrano chile, finely diced (or more to taste)
Juice of 2 limes (or more to taste)
1 teaspoon kosher or sea salt (or more to taste)
1 tablespoon freshly minced cilantro (optional)
Instructions
Dice red onion, tomatoes, serrano chile and set aside.
Pit avocados and scoop the flesh into a medium to large serving bowl. Squeeze lime juice over avocado and mash gently with a fork. It should still be pretty chunky. 
Sprinkle salt over the mashed avocado, add diced onion, tomatoes, serrano chile and optional cilantro. Mix gently with a fork to incorporate the ingredients.
Serve immediately or cover with plastic cling wrap pressed against the guacamole to seal it off from air exposure and refrigerate until ready to serve. 
Courses snack
Cuisine Mexican
If you're here because you're a guacamole-lover, you might also like these recipes:
28