Elotes are a very popular snack in Mexico City and other parts of Central Mexico. But this Mexican street corn is easy to make at home, even without a grill!
Although Mexican street corn is often cooked over a charcoal grill by a street vendor, this recipe made in the oven or a convection toaster oven will give you elotes that taste just as good.
Typically, street food vendors will peel the husk and silk and place the raw corn directly over a grill or portable stove that's fueled by charcoal. They turn the corn constantly until it's cooked sufficiently and has some dark brown or black spots. Then they serve it with a squeeze of lime juice, or dressed with lime, salt, chile, cotija cheese and mayonnaise or crema Mexicana.
You can find vendors selling elotes pretty much everywhere in Mexico City—along the sidewalk, in open-air mercados in any neighborhood, outside the Metro stations, all around Chapultepec and in the city's many parks, in the zocalo, floating down the canals of Xochimilco, and just about anywhere else they can manage to set up and break down easily.
When street vendors cut the corn off the cob, it's known as elote en vaso or esquites. Sometimes, the corn is cooked first in water with salt and epazote before being dressed with freshly squeezed lime juice, chile, freshly grated cheese and mayonnaise. You'll often find these sold in plastic or styrofoam cups, served with a plastic spoon or fork.
And some street vendors make what's called elotes locos, literally meaning "crazy corn," that comes with toppings like crushed Takis or spicy Doritos, and other
Some people like to mix the lime juice in with the mayonnaise, while others like to squeeze it over the top at the end. I've made the lime juice optional here because I know some people don't like to add lime juice at all. There's no wrong way to do it. However, if you're adding lime juice, Mexican limes are a must!
We don't have a charcoal grill since we're city apartment-dwellers, so I came up with a different way to make elotes with very similar results. The only thing missing is the smell of charcoal. As it turns out, my Breville Smart Oven Pro convection toaster oven is a pretty great substitute!
By broiling the corn with butter inside a tightly sealed foil packet, the corn will cook sufficiently, and the butter will help with the browning once you finish the corn with the foil open under the broiler.
Pro tip for applying mayonnaise on your elotes
The best way to evenly distribute mayonnaise on the corn is to use a squeeze-bottle. This way, you can squeeze as much (or as little) mayo as you like on the corn to begin. By doing this over foil and then turning the corn cobs against each other, you'll get mayo in the crevices so the chile and cotija cheese stick but you'll also avoid making a big mess.
If you're making elotes for someone who doesn't like spicy food, here's what to substitute
You can substitute ground chile ancho or chile California for the chile piquin. You'll still get the chile flavor but very mild heat.
For reference, here's how all three chiles rate on the Scoville scale, which measures how spicy a pepper is in Scoville Heat Units. The more capsaicin, the hotter the chile and the higher the Scoville score!
Ancho: 1,000-1,500 SHU
California: 500-2,500 SHU
Piquin: 30,000-60,000 SHU
A note for regular oven users (if you don't have a convection toaster oven)
If you don't have a convection toaster oven and are using a regular oven, you can cook the corn at 450ºF and add about 5-10 minutes to the cook time. Then remove from the oven, open up the foil carefully, and place back under the broiler, turning periodically per the directions below, until sufficiently browned.
YOU MIGHT ALSO LIKE: Mexican Snacks for Game Day
Print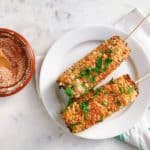 Elotes
Author:

Prep Time:

10

Cook Time:

45

Total Time:

55

Yield:

2

servings

1

x

Cuisine:

Mexican
---
Description
A modern cooking method spin on a traditional Mexican street food. Elotes, also known as Mexican street corn, is a popular snack all over Mexico City and Central Mexico.
---
2

corn cobs

1 tablespoon

butter, divided

1/2 cup

grated or crumbled cotija cheese

1 teaspoon

chile powder (piquin is traditional), or more to taste

1/4 cup

mayonnaise, or more to taste

1 teaspoon

lime juice (optional)

2 tablespoons

cilantro, finely chopped for garnishing
---
Instructions
Remove husk and corn silk; wash thoroughly and pat dry. Place each corn cob on top of a piece of aluminum foil large enough to wrap the corn.
Preheat your convection toaster oven to broil at 500ºF.
Divide 1 tablespoon of butter in 4 pieces and place 2 on top of each corn cob. Tightly wrap and close the ends of the foil so no steam can escape.
Place foil packets on the middle rack of the convection toaster oven and broil at 500ºF for 30 minutes.
Carefully remove foil packets from oven. With oven mitts or a kitchen towel, gently open one end of the foil packet, facing away from you, until you can let enough steam escape to open the foil all the way to expose the corn. Repeat with second corn cob foil packet.
Place the open foil packets back under the broiler for another 10 minutes, turning the corn cobs periodically to brown the corn (similar to the grill marks you would get from grilling corn).
Remove from oven, and while still hot, use tongs to pick up each ear of corn and turn it on its side, with the cob end facing up. Use a sharp knife to pierce the end of the cob with an X, about 1 inch deep. Insert a popsicle stick into the X slit and push in a bit to secure it.
In a small dish, combine 1/2 cup cotija cheese and 1 teaspoon of chile powder. Set aside.
Flatten one piece of the aluminum foil and place both corn cobs on top. Slather the corn with the mayonnaise (or squeeze mayo on top, for easy cleanup!) and rotate the cobs against each other to spread the mayonnaise until evenly distributed. If using lime juice, either mix into the mayonnaise or squeeze over corn cobs once mayonnaise has been added.
Finely chop two tablespoons cilantro and set aside.
Sprinkle corn cobs with cotija cheese and chile powder mixture, and garnish with chopped cilantro.
---
Notes
If you don't like to eat corn straight off the cob, you can also prepare the corn first and then cut from the cob to enjoy.
TRY THIS RECIPE NEXT: Calabacitas con elote
8