These spicy mango gummies are an easy recipe to rival any Mexican street vendor, mercado or candy shop with a sweet, sour and spicy treat made in your own kitchen!
Mexicans LOVE candy that's a combo of sweet, sour and spicy. If you need evidence, look no further than candies such as Pica fresas or ositos enchilados (spicy gummy bears). While living in LA, I came across a lot of vendors and Mexican treat shops that sold their own spicy gummies, so I quickly figured out how to make my own at home.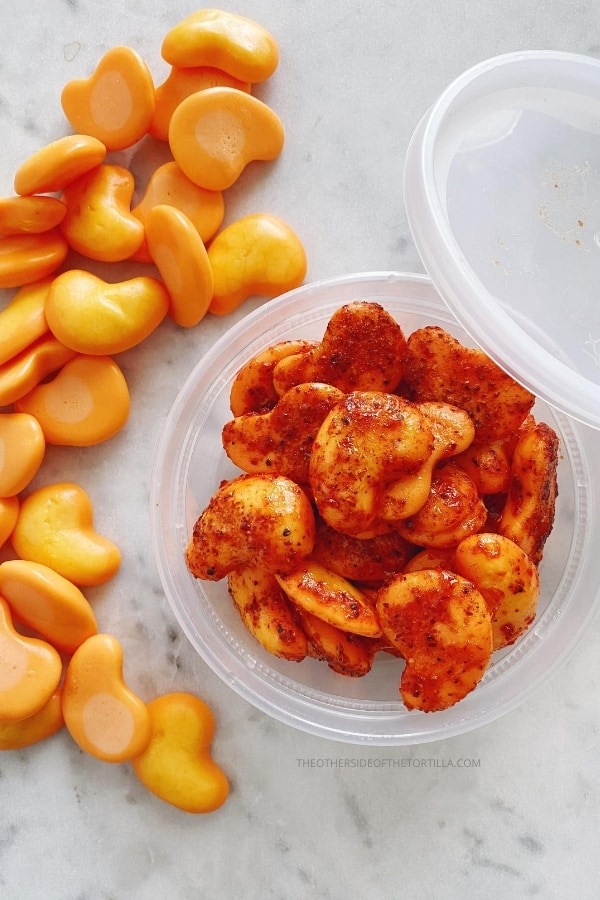 The mango gummies used in this recipe are already slightly spicy. If you like, you can substitute a different type of gummy candy to try this recipe out, but you might need to tinker a bit with the liquid proportion depending on what type of gummy you choose.
Ingredients to make spicy mango gummies
This recipe has only three ingredients, and you can generally buy all of them at a Mexican market or find them online.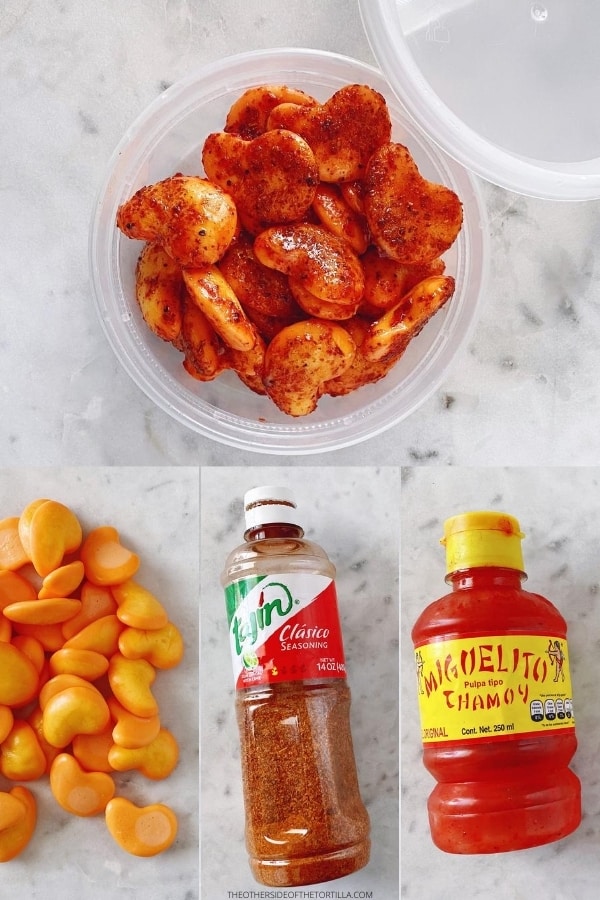 Vidal spicy mangos – These mango-shaped gummies are made by Vidal Candies, a company based in Southeast Spain. The company has existed since 1963 and makes all types of gummy candies. It's fairly easy to find this brand online, and I usually purchase them from Amazon.
Tajín – This is a seasoning made of chile peppers, lime and salt. If you're Mexican, you basically put it on everything. If you're a Tajín-lover, then you'll definitely enjoy it on recipes like Mexico City-style pico de gallo, mangonada popsicles, nieve de piña con chamoy (pineapple ice dressed with chamoy and Tajín), roasted chickpeas, putting it on any kind of fruit (watermelon and oranges with Tajín are my favorite!), Mexican-flavored popcorn, and even to rim your margarita glass.
Liquid Chamoy – Chamoy is a savory Mexican condiment made from pickled fruit. It's salty, sweet, sour and sometimes a little bit spicy. You can use whatever brand you like. I've used Miguelito brand chamoy here (not to be confused with their powdered chamoy version you've seen me use to rim margarita glasses in other recipes), but you can also use Tajín brand chamoy linked above, Chamoy Mega, Bokados, Amor Chamoy, or whatever other brand your Mexican grocery store carries. They're all pretty similar, and many come in a 1-liter bottle.
Some brands are slightly thinner liquid than others (Bokados, Amor Chamoy and Chamoy Mega); if you notice that your spicy mango gummies aren't drying after two hours, you can sprinkle a little extra Tajín on top.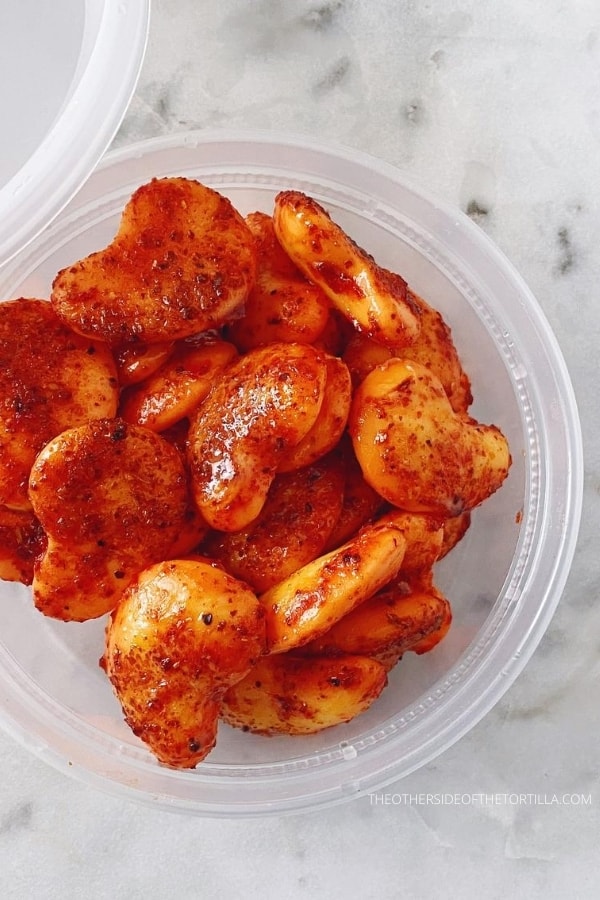 How to make spicy mango gummies
These spicy mango gummies are super simple to make. The hardest part is waiting for the chamoy to soak in and dry enough so they're not too sticky when you want to eat them!
Add the ingredients to a bowl and mix by hand. It's really that simple! I use a glass bowl for mixing because chamoy can sometimes stain plastic.
To dry the gummies, line a quarter sheet pan or a baking sheet with aluminum foil and turn them out onto the foiled surface. You'll sprinkle additional Tajín on top of the spicy mango gummies once you have them on the pan to dry.
Note: the gummies will be VERY wet when you first spread them on the pan, and they'll remain wet for at least a few hours before they dry enough. You'll know they're drying when the wetness starts to look glassy.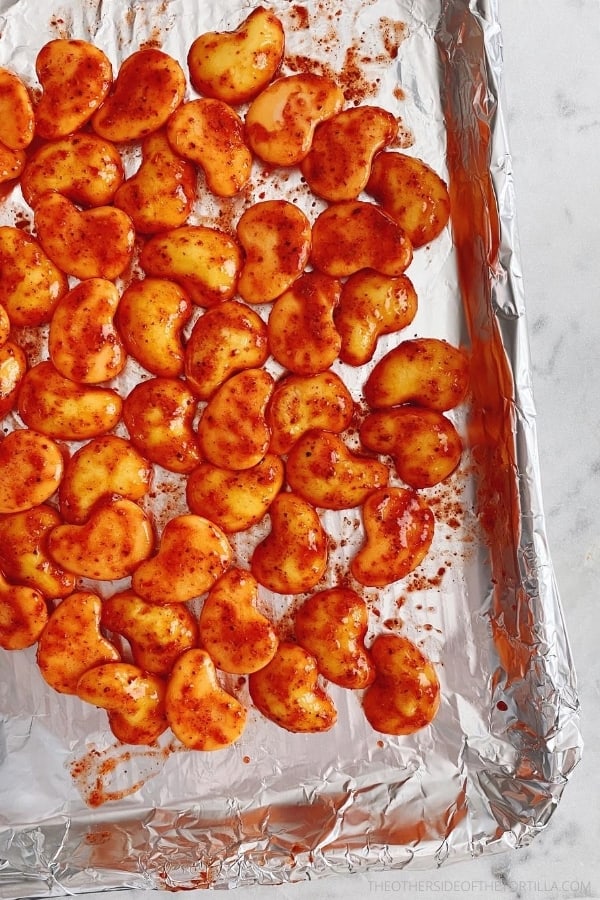 The aluminum foil lends to very easy cleanup once you're ready to put the dried gummies into a container for storage.
PRO TIP: If you can manage to wait a full 24 hours for the gummies to dry out, the chamoy flavor is really able to seep into the gummy without being super sticky.
Once you store them in an air-tight container after they've dried, they will start to get moist again, which is completely normal. Sometimes the candy will start to weep after a few days and a slightly sticky, milky liquid will appear on the top of the gummy. This is also normal. If you don't like it, you can leave them out, uncovered, so they're exposed to air and that should dry them out again.
Print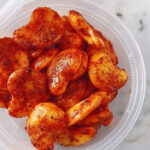 Spicy mango gummies
Author:

Prep Time:

10 minutes

Cook Time:

2-12 hours resting time

Total Time:

10 minutes + resting time

Yield:

1 1/2 cups

(about

6

servings)

1

x

Category:

Dessert

Cuisine:

Mexican
---
Description
Rival any street food vendor in Mexico with this easy recipe for spicy mango gummies!
---
---
Instructions
Measure and add 1 1/2 cups spicy mango gummies to a bowl, then pour 1 1/2 tablespoons of Tajín and 1/4 cup liquid chamoy over the gummies.
Wearing disposable gloves, gently mix and massage the gummies until they are fully coated in Tajín and chamoy.
Turn coated gummies out onto a lined baking sheet and sprinkle with 1 tablespoon of Tajín.
Allow to dry for at least 2 hours or overnight so the chamoy soaks into the gummies and isn't too sticky before eating.
---
Notes
Store leftovers in a cool, dry place and consume within 5 days for optimal freshness. It is normal for the gummies to weep liquid after a few days and feel a little sticky after being stored in an air-tight container.
Keywords: mango, Tajín, chamoy, spicy mango gummies
163