This taco de alambre recipe is a Mexico City-style taco made with thinly sliced pork, bacon, chile poblano, onion and cheese.
I haven't written much here about my favorite taquería in Chicago, La Lagartija, but have always widely recommended the place to anyone who asked me in person, on Facebook or Twitter about where to get an authentic Mexican meal in my hometown. I wasn't exactly trying to keep it a secret, but it's definitely a gem and I always appreciated the neighborhood charm and the way that the meseras and owners always remembered us and greeted us like family. I have so many photos of memorable meals we ate there, and it was the only place in Chicago where we'd regularly eat tacos al pastor.
RELATED RECIPE: Slow-cooker carnitas
But one of my favorite standby meals there, the alambre, is both succulent and super easy to recreate at home. This recipe is my own spin on one of their alambres. The owners are from Mexico City, and the dish on their menu is actually a version of a popular dish at one of our favorite taquerías in Mexico City, El Charco de las Ranas. This dish is also sometimes known as alambre de chuleta and is best served with warm tortillas, but you can skip the tortillas if you like and just eat it with a fork.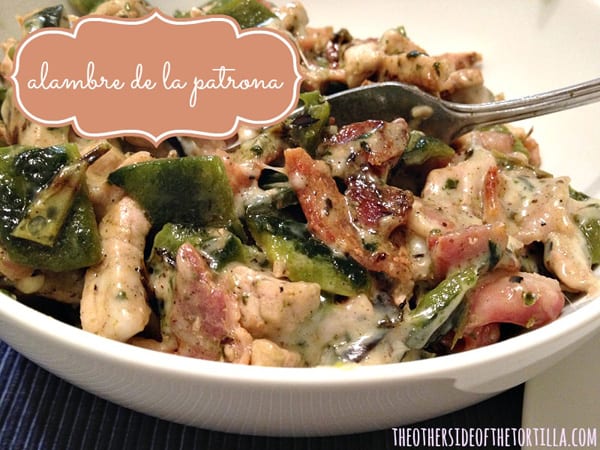 Note: If you want to make it just a little healthier, you can reduce the amount of cheese to your taste and eliminate the step of using the leftover bacon grease to cook the pork chops, but I promise it's worth the extra calories for the flavor the bacon grease gives this dish. With bacon grease, you shouldn't have to add much, if any, salt but if you feel you need it, a sprinkle of kosher salt will do.
I sometimes like to substitute pork loin for the pork chops in this dish. To use pork loin, sear the loin on all sides in a very hot, dry, preheated pan (I like to use a cast iron skillet). With this version, you can just cook the chopped chiles and onion in the bacon grease and add the pork later. The meat will initially stick to the pan, but when it's properly seared on each side, it should separate easily from the pan as you turn it to cook another side. Cut medallions from the loin; the inside will not be cooked all the way through. Then chop the medallions into smaller, bite-sized pieces and add to the pan as directed in the instructions below, making sure to cook them until they're no longer pink.
RELATED RECIPE: How to make homemade chorizo
A Mexico City-style taco made with thinly sliced pork chops, bacon, chile poblano, onion and cheese.
Ingredients
4 thick-cut slices of bacon
1 to 1 1/2 pounds of thinly sliced pork chops, puerco para milanesa or pork loin
3 poblano chiles, seeds removed and diced into bite size pieces
1/2 to 3/4 of a medium-sized white onion, diced into bite size pieces
1 1/2 cups of shredded Oaxaca, Chihuahua or Quesadilla cheese
Instructions
Prep the poblano chiles and white onion first, chopping into bite-sized pieces. Set aside.
Cook the bacon in a deep sauté pan. You'll want to cook it until it's about 3/4 of the way done, then remove from the pan and chop it up into bite-sized pieces.
Cook the pork chops in the bacon grease. Remove from the pan and chop into bite sized pieces.
Over medium heat, add the diced poblano chiles and onion to the remaining bacon grease and stir well to coat. Cook until the onion starts to turn transparent or turn brown around the edges.
Add the cooked and chopped pork, bacon and cheese to the pan and cover. Stir every few minutes until all the cheese is melted.
Serve with warm tortillas.
https://theothersideofthetortilla.com/2013/03/alambre-de-la-patrona/
©2009-2015 theothersideofthetortilla.com
RELATED RECIPE: Chicken chile tacos in the slow-cooker
Do you have a favorite Mexican restaurant meal that you recreate at home? Let me know what it is in the comments and where it's from!
17