If you love a traditional Mexican mangonada, then you'll love this spin on the classic recipe: mangonada popsicles!
The mangonada is a quintessential Mexican treat made with mango, orange juice, chamoy and Tajín and it's a popular snack or dessert with street vendors and neverías (ice cream shops) in Mexico. The sweetness of the mango and orange juice is contrasted by the sourness of the chamoy, and together they make a perfect marriage of what's known as an "agridulce" (sweet and sour) flavor. Agridulce candies and treats, such as tamarindo con chile, are common and beloved all over the country.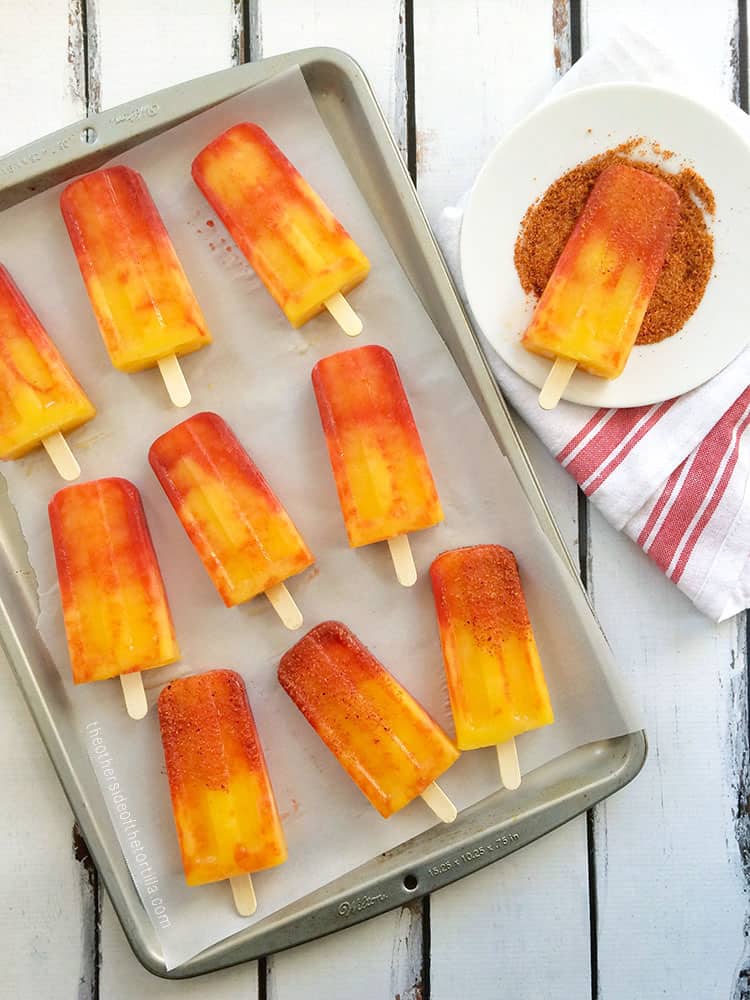 RELATED RECIPE: Mango cantaloupe popsicles with chile powder
I've used store-bought liquid chamoy in this recipe because it has a very fluid, runny consistency that perfectly drips down into the mold to give the popsicles the marbled look.
Liquid chamoy is available in most Mexican and Latin American markets in the U.S., usually found near the bottled salsas such as Valentina, Cholula and Tapatío. You can pour the chamoy around the rim of each mold to get it to drip down as directed in the recipe below, or you can put the chamoy in a small plastic chef's squeeze bottle if you want more control.
The real variable in this recipe, though, is how much Tajín you sprinkle on top! The more Tajín you use, the more sour and salty flavor you'll get. If you haven't had a mangonada before, I'd recommend that you start with just a pinch of Tajín sprinkled on top in case the salty-sour experience isn't really your thing.
RELATED RECIPE: Frozen orange slices with Tajín
If you prefer not to use store-bought chamoy, here's my recipe for homemade chamoy, which is thicker than the store-bought variety and needs to be slightly more liquidy for it to drip down the popsicle molds properly. You can achieve a similar effect by using a spoon to smear the inside of the popsicle mold if you want to make your own chamoy from scratch with my recipe.
I've used a Norpro Ice Pop Maker popsicle mold to make these paletas, which makes 10 three-ounce popsicles and holds the sticks perfectly in place while in the freezer. (That's an affiliate link to my Amazon store, El Mercadito.)
RELATED RECIPE: Street food-style mango cups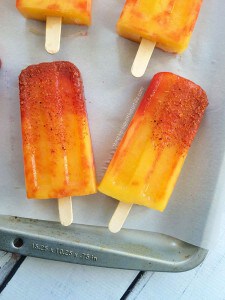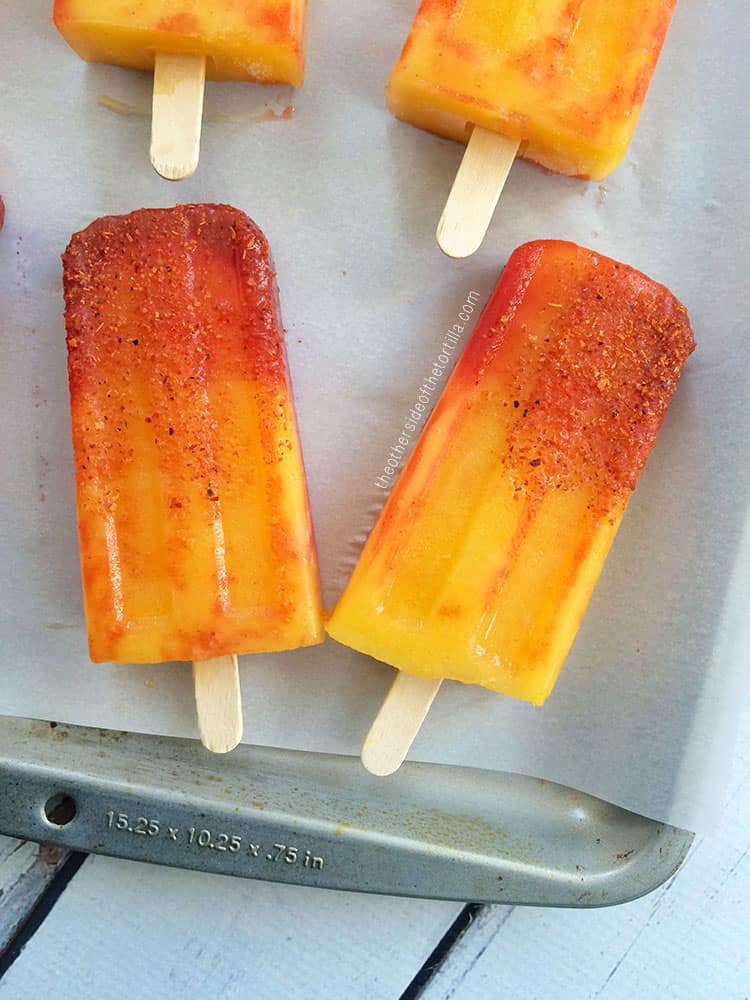 Print
Mangonada popsicles
Yield 10 3-ounce pops
Make this fun spin on a traditional Mexican mangonada by adapting the recipe for your favorite popsicle mold!
Ingredients
2 cups fresh-squeezed orange juice (about 4 large Valencia oranges)
juice of 1/2 a medium lime
2 1/2 cups frozen mango chunks
1/3 cup store-bought liquid chamoy
Tajín, to taste
Instructions
Juice the oranges and lime.
In a blender, add orange juice, lime juice and frozen mango chunks. Blend on high until completely smooth. Set aside.
Measure out 1/3 cup chamoy. Pour a little chamoy (a few teaspoons) around the edges of each popsicle mold, allowing chamoy to drip down the sides and pool a little bit in the bottom of the mold.
Pour the mango mixture down the center of each mold, being careful not to let it disturb the chamoy dripping down the inside of the mold.
Put the top on the mold, add popsicle sticks and freeze for at least 8 hours.
To remove from mold, gently run lukewarm water over the bottom of the mold (opposite the sticks) to loosen the popsicles.
Sprinkle with Tajín to taste, or pour Tajín on a small plate and dip the tips of each popsicle in a little Tajín and serve.
Notes
Inactive time listed is for time needed to freeze the popsicles.
Courses Dessert
Cuisine Mexican
RELATED RECIPE: Mango and chamoy popsicles for a Zoku Quick Pop Maker
152