If there's one drink I'm guaranteed to order by the pool when I'm on vacation, it's a classic piña colada. When I talked about this charred orange colada recipe with McCormick Spices Chef Kevan Vetter, it had me salivating for vacation and this interesting twist on the classic frozen cocktail.
It's a simple recipe to follow, and the charred orange and black rum give this colada a decadent depth that makes it a sophisticated version of the classic.
You can also substitute 2-3 ounces of piloncillo for the brown sugar if you want to give it even more of a Mexican flavor.
In Spanish, allspice is called pimienta dulce, and you should be able to find it in both mainstream and Latino markets.
Charred Orange Colada (Recipe from McCormick Spices)
This interesting twist on the classic piña colada cocktail has smoky charred oranges, rich black rum and warm allspice in every sip.
Ingredients
4 oranges
1/2 cup firmly packed brown sugar, divided
1 cup orange juice
1 teaspoon McCormick Whole Allspice
1 can (13.66 oz) Thai Kitchen Coconut Milk
12 cup black rum
1 teaspoon McCormick Pure Vanilla Extract
1-2 cups crushed ice
4 maraschino cherries (optional for garnish)
Instructions
Cut three of the oranges in half, crosswise. Cut ends off the remaining orange and then cut into 4 crosswise slices. Dip the cut sides of the orange halves in the brown sugar. Reserve the remaining brown sugar.
Grill oranges over medium heat for about 12 minutes or until charred. Turn slices occasionally. Reserve the slices for garnish.
Place orange halves, orange juice, allspice and reserved brown sugar in a saucepan and bring to a boil. Reduce heat to low and simmer for 10 minutes.
Remove from heat and cool completely. Remove orange halves from the pan and squeeze the juice from them back into the saucepan. Mix well and strain juice. Refrigerate until chilled.
Place juice mixture, coconut milk, rum, vanilla and 1 cup of ice in the blender and blend on high until smooth. Add more ice if desired.
Serve garnished with charred orange slices and maraschino cherries.
http://theothersideofthetortilla.com/2012/12/charred-orange-colada/
©2012 theothersideofthetortilla.com
Want to know more? You can read the full 2013 McCormick Flavor Forecast report on the future of global flavor trends and how they develop the forecast at flavorforecast.com.
Disclosure: This post is part of a sponsored series to promote McCormick Spices 2013 Flavor Forecast global flavor trend report. We received promotional materials and an exclusive interview with McCormick's executive chef to assist in writing this post, but all opinions in this series are our own.
We're always looking to share Mexican food and culture in new ways here at The Other Side of The Tortilla. I recently had the opportunity to talk to McCormick Spices executive chef, Kevan Vetter, about global trends and the McCormick Flavor Forecast for 2013. You can watch the video with some clips from our interview below. Some of the flavor pairings this year include combinations such as black rum, charred orange and allspice for an awesome twist on the classic piña colada cocktail, smoked tomato, rosemary, chiles and sweet onion for handcrafted sauces and salsas, hearty meat cuts with plantains and cinnamon sticks, and anise and something muy Mexicana—cajeta, a goat's milk caramel.
Today I'm sharing the five trends from this year's Flavor Forecast report and what I love about each of them.
Be sure to check back soon for another video with more from my chat with Kevan and for recipes and a holiday giveaway from McCormick just for you!

5 TRENDS OF GLOBAL FLAVOR FOR 2013
No apologies necessary.
This trend is all about diving headfirst into flavors to enjoy the gratification of a momentary escape.
What I love about it: Family dinner is especially a time I like to momentarily escape from the pressures of work and life and just enjoy a meal together, talk and relax. It's an important part of our culture to share meals as a family without having to be apologetic to others about flying under the radar for a bit. Savoring your food and your time with your family is a great habit to develop early with your kids so they come to expect it as they grow older.
Personally handcrafted.
This trend signifies the hands-on approach to showcasing the very best of ourselves.
What I love about it: There's no more personal gift than making something yourself to give to the people you love. And when I say gift, I don't mean only gifts that you give for holidays and special occasions. Making home-cooked meals for your family is also a gift to them, even if they don't always realize or appreciate it. The other day I made the extra effort to make José a special salsa to go with milanesas for dinner, and he said it was the best part of the meal. It makes me feel good to know that going the extra mile with personally handcrafted dishes makes such an impact on the happiness of those around me.
Empowered eating.
This trend includes creating harmony of health and wellness through a highly personalized, flexible approach to the way you eat.
What I love about it: When it comes to empowered eating, it bothers me that a lot of people think Mexican food can't be healthy and that everything we eat is swimming in cheese, which isn't true. Como mamá siempre nos dijo: ¡Todo en moderación! For the English speakers, that's "everything in moderation." There are so many Mexican ingredients that pack a lot of flavor without the addition of calories or fat. Chiles are a prime example in Mexican cooking because they can be used in so many ways—fresh, dried, powdered, and the list goes on. Finding the right balance is up to the individual.
Hidden potential.
This trend is all about the "waste-not" mentality and uncovering the fullest flavors from every last part of the ingredient.
What I love about it: This trend is actually also a way of life when it comes to Mexican cooking. If you think about Mexican dishes such as carnitas, you use just about every last bit of the pig so nothing is wasted. I may not like to eat riñones (kidneys), but my suegro does! Check it out, amigos Mexicanos… we were doing this way before it was trendy! Even with tortillas that are a little too old to eat, I hate to throw them away. So I bake them to make tostadas, or cut them up and fry them to make totopos (hearty tortilla chips).
Global my way.
This trend includes discovering the unlimited flavor possibilities of global ingredients and using them outside of their traditional roles in ethnic cuisines.
What I love about it: I'm always trying to incorporate my favorite Mexican ingredients into non-Mexican dishes, or to put a Mexican spin on a non-Mexican dish by infusing a traditionally Mexican flavor. Chef Vetter shared with me a tamal recipe that pairs with a Japanese katsu sauce, which I thought was pretty cool and that I'm looking forward to trying out soon.

Watch some of my conversation with McCormick Spices executive chef Kevan Vetter and then let me know which trend you like best in the comments below.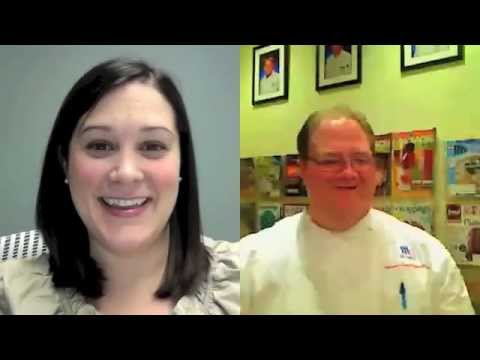 Want to know more? You can read the full 2013 McCormick Flavor Forecast report on the future of global flavor trends and how they develop the forecast at flavorforecast.com.
Disclosure: This post is part of a sponsored series to promote McCormick Spices 2013 Flavor Forecast global flavor trend report. We received promotional materials and an exclusive interview with McCormick's executive chef to assist in writing this post, but all opinions in this series are our own.
I was born with Christmas spirit, I think. And I'm a total sucker for organillo music. That's why, when my cuñada introduced me to this cortometraje (short film) last week called "Lalo y Santaclós," directed by Joseduardo Giordano and produced by Content, I immediately snapped into a holiday spirit mood.
We only have a few weeks before we head to Mexico for La Navidad and this short film got me so excited about the sights and sounds of Christmastime in Mexico. I hope you enjoy it as much as I did! I spoke with the director and he's agreed to chat with me this month, so keep an eye out for that interview here soon.
Do you have a favorite sight or sound in Mexico that makes you think of La Navidad? Share it with me in the comments.
Sometimes we get caught up in the madness that is work, regular life or the holiday season and we forget to be thankful for the small things. My cuñada was recently in Cancún and sent me this photo of the beautiful turquoise ocean. I've been looking at it often, whenever I need a slice of tranquility. And it won't be long before I see the ocean again, so looking at the photo is a nice reminder that my holiday vacation is not very far away.
Do you have a photo that you look at often to remind you of a place in Mexico or that takes you to your happy place? Tell me about it in the comments below.
Pumpkin flan made with cream cheese is a decadent alternative to pumpkin pie or other Thanksgiving treats if you're looking to add a little Mexican flair to your holiday table.
In fact, pumpkin flan is a dish I've added to our family's holiday traditions only in recent years but it's often gobbled up faster than the pumpkin pie and other available desserts. There may or may not even have been a fight two years ago over who got the last piece!
This recipe is for small, individual-sized portions, baked in ramekins. You can double the recipe if you have more guests. I like to use these souffle ramekins from Cost Plus World Market that are 3.5 inches across and about 2.5 inches deep. If you prefer to make one big flan, depending on the depth of the dish, you may need to adjust the baking time. It's also a little more substantial with a thicker consistency than most flan, so it's best to let it sit out for about 15 minutes before serving.