Día de los Muertos is the perfect time of year for Mexican hot chocolate. This recipe is a twist on the classic plain chocolate caliente; it's spiced with chile guajillo, which lends a mildly spicy flavor and an earthy and fruity bouquet to this traditional beverage.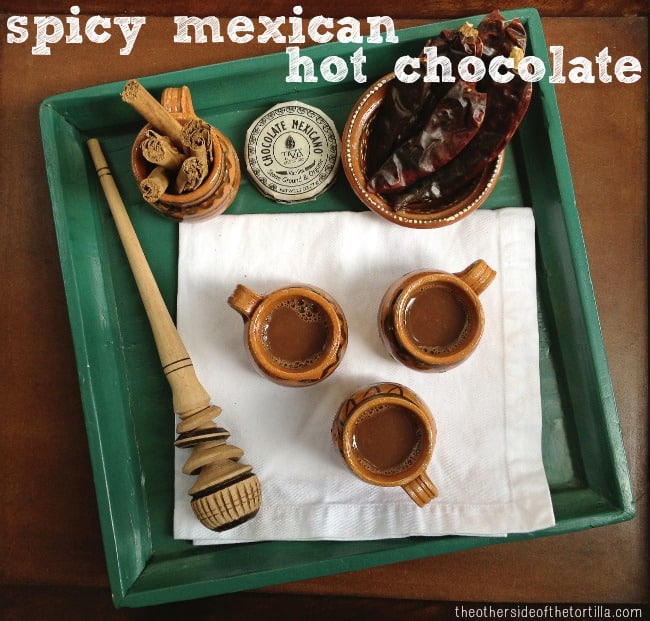 The difference between regular chocolate used for making hot chocolate and Mexican chocolate is that the Mexican chocolate discs have sugar granules inside the disc, giving it a rough texture before it melts. You can get a close up look at what the inside of a Mexican chocolate disc looks like in my recipe for champurrado, which is a chocolate atole. If you're not familiar with atoles, they differ from hot chocolate because they are thickened with corn masa, while hot chocolate is typically made with milk or water.
RELATED RECIPE: Atole de calabaza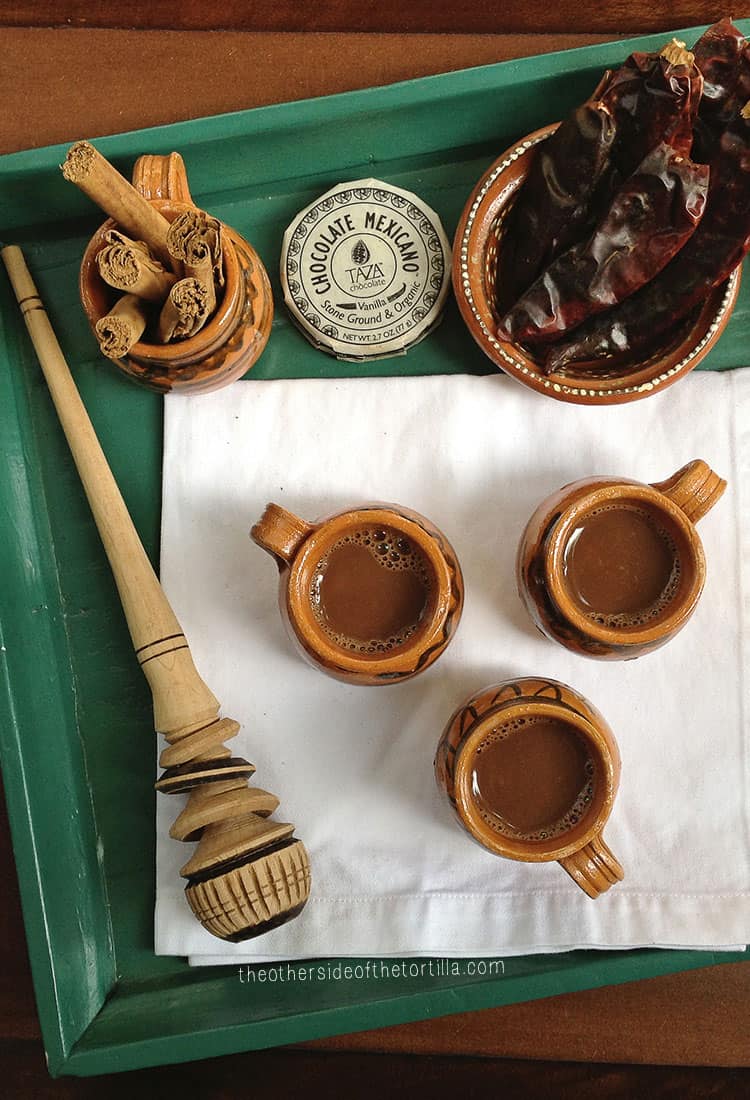 This version uses whole milk for a thick and rich chocolate caliente; you can substitute 2%, 1% or skim milk if you'd like a version that is a little less rich and to cut calories.
RELATED RECIPE: Atole de vainilla
Spicy Mexican Hot Chocolate
Guajillo chiles lend an earthy, fruity bouquet and a spicy twist on a classic Mexican hot chocolate recipe.
Ingredients
Instructions
In a saucepan, add 2 cups whole milk, 1 chile guajillo and 1 Mexican cinnamon stick. Stir to submerge the chile and the cinnamon stick. Warm over medium-low heat for about 10 minutes, stirring frequently.
Chop the chocolate disc into very small pieces. Add to the saucepan and stir with a whisk or molinillo to incorporate the chocolate.
Continue heating for another 5 minutes, stirring frequently.
Pour into a heat-safe pitcher and serve or ladle into small mugs.
Notes
This recipe includes affiliate links to my Amazon aStore, El Mercadito, for the brands of chocolate recommended.
https://theothersideofthetortilla.com/2013/11/spicy-mexican-hot-chocolate-recipe/
©2009-2015 theothersideofthetortilla.com
RELATED RECIPE: Atole de fresa
This original recipe from The Other Side of The Tortilla originally appeared in the ebook we co-authored for Day of the Dead, "Ofrendas: Celebrando el Día de Muertos."
What's your favorite twist on classic Mexican hot chocolate?
26