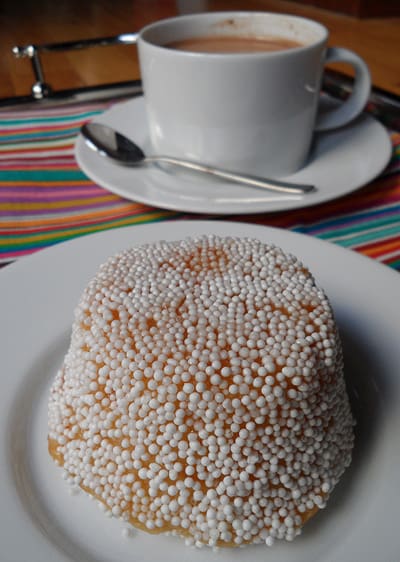 By now, you all know about my deeply rooted love for pan dulce, especially for a particular chochito-covered panque from El Globo called el garibaldi. In fact, El Globo is credited as the original maker of garibaldi, a little pound cake bathed in apricot jam and covered in white nonpareils. Many bakeries in Mexico try to emulate these little magical cakes, but nobody makes them quite like El Globo.
During our trips to Mexico City, we've always purchased them fresh to eat for breakfast. With a little café con leche, I can't imagine a better way to start a day. On one occasion, we carefully wrapped a few to bring home with us to Chicago, but sadly they got slightly smashed in our carry-on luggage and from then on, we decided they didn't travel well. And after eating garibaldi on countless visits to Mexico City, I returned from our most recent trip with a serious mission: to spend time in the test kitchen trying to recreate them so I wouldn't have to wait until my next trip to Mexico to eat them. Looking at my calendar, five months is a long time – too long, if you ask me – to deny myself one of my favorite sweet treats.
There were two challenges I recognized immediately when I sat down to start developing this recipe. First, the pound cake had to be dense and flavorful but not too heavy. To solve this dilemma, I called in the big guns: my mom. She searched through her recipe drawer for a family recipe we were confident would work. (Thanks, Mom, and Grandma Audrey; I only made a few changes to the recipe.) And second, I knew the nonpareils were not going to be identical to the ones I could buy in Mexico, let alone the ones used at El Globo. Little did I know, finding nonpareils at all would be a challenge. I visited three grocery stores – including my usual go-to place in Pilsen, the Mexican neighborhood where I shop most often – and still no nonpareils in sight.
In Spanish, they're called grageas, chochos or chochitos. But no matter what I asked for, I still wasn't having any luck finding what I wanted. Finally after a suggestion from a few friends, I tried a craft store that carried Wilton cake decorating supplies and lo and behold, they had them. I bought two 3-ounce bottles and crossed my fingers that they'd do.
Once I finished making them, I sent samples home with three friends who grew up in Mexico and were familiar with garibaldi. José says they're an amazing copy but that the chochitos were a little too crunchy (which we found lessened after 24 hours of softening when hydrated by the jam); of the other three, I only got one small suggestion but the overall verdict was that everybody loved them and wanted to know when I was making more.
I'm so excited I can finally have garibaldi at home and I hope you'll try making these, as they're a favorite of ours and there's nothing I love more than introducing someone to a new favorite.
RECETA:
GARIBALDI
*This recipe requires a stand mixer. A silicone cupcake pan will also make this recipe easier, but is optional.
For the panque (pound cake):
2 sticks butter, softened
4 ounces of whipped cream cheese
1 1/2 cups granulated cane sugar
3 large eggs
3/4 tsp vanilla extract
A pinch of salt
1 1/2 cups all-purpose unbleached flour
2 cups water (keep separate from the recipe)
Preheat the oven to 300ºF.
Beat the softened butter & cream cheese on low speed until creamy and fluffy. Gradually add the sugar, beating 5-7 minutes or until sugar is incorporated and soft peaks form. Add eggs one at a time and blend just until the yolk disappears. Add vanilla and mix well to incorporate. Combine flour and salt and gradually add to butter mixture, continually beating at low speed until blended after each addition. Once blended, beat batter on a low or medium-low speed for a few minutes until it looks fluffy with soft peaks.
Pour batter into greased silicone cupcake pan. (You can also use Pam to grease the pan if preferred – they make one that has flour in it and is specifically for baking). Do not fill each well more than half to three-quarters full or they'll spill over during the baking process and you'll have to trim them. Place the silicone cupcake pan on a baking sheet for stability. With an ovenproof 2-cup measuring cup (such as Pyrex glass), fill the measuring cup with 2 cups water and place in the oven with the cupcake pan. Bake at 300ºF at 45 minutes to one hour (the time will depend on your oven) or until a toothpick inserted in the center comes out clean.
Once the pound cakes are mostly cooled but still warm, remove from the silicone mold and place upside down on a baking sheet lined with parchment paper.
For the glaze and adornments:
1/2 cup apricot or seedless raspberry jam or preserves
1 tablespoon of warm water to dilute the jam
3-4 ounces of white nonpareils (grageas blancas)
Heat the jam in a small saucepan or butter warmer (or at 20-second intervals in the microwave) until it is warm and more of a liquid consistency. Dilute with a tablespoon of warm water and mix well.
Using a pastry brush or a spoon, coat the pound cakes with two applications of the jam and allow it to soak in to the cake for about five minutes for each application. It should soak about 1/8 of an inch into the cake. After the second application has soaked in, pour the nonpareils into a dish at least 2 inches deep or tupperware and roll each cake until they are completely covered in the nonpareils. They should just be sticky enough to allow the nonpareils to stick to the cake, but you shouldn't have any jam oozing. If they ooze, the cake needs to sit longer while the jam soaks in more.
These will keep for about 4 days and should be stored on a cake plate with a dome top or in an airtight container. Note: the apricot (chabacano) are the traditional flavor; they also sell the raspberry (frambuesa) but they have not been around as long. Feel free to use whichever flavor jam you prefer.
Yields 12 garibaldi. Goes great served with a little café, chocolate caliente, or an atole.

Have you had garibaldi? What's your favorite way to eat them? Let us know how they turn out if you make them at home!
40