Champurrado is a chocolate atole, a masa-based drink that is popular in Mexico.
Atole is made with a nixtamal (corn) base from dissolving masa in water, sometimes with piloncillo, and heating until it becomes thick. It's a stick-to-your-ribs type drink that's guaranteed to keep you warm. It can come in many flavors. Vanilla atole, strawberry atole, and champurrado are the most typical flavors, but other flavors, such as pumpkin atole, fruit and nut flavors, also exist.
While champurrado is similar to Mexican hot chocolate in that they're both in the hot, chocolate beverage category, the major difference is the taste and texture from the corn base.
You can usually find quickie versions of atole in a powdered packet in the grocery store, and they taste OK if you're in a bind and can't make the real deal. But the packets typically use powdered cornstarch as a thickening agent, so they lack the depth and flavor produced by using real masa as the drink's base. The chocolate version is called atole de chocolate or champurrado.
The basic steps of this recipe–minus the chocolate–can be used as a base to make plain vanilla atole or other flavors from scratch.
What is masa?
Masa literally means dough, and in this instance, masa is a corn dough made from nixtamalized corn. The process of nixtamalization includes soaking the corn in an alkaline solution (water mixed with cal, or limewater AKA calcium hydroxide diluted in water), washing it, and then hulling the corn.
It is used for making corn tortillas and many other dishes. The dried and powdered form is called masa harina and looks like flour.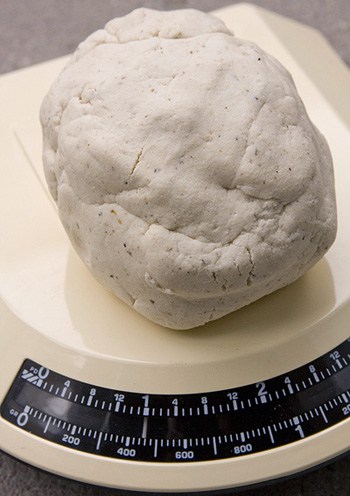 You can use pre-made masa purchased from a tortilleria or homemade will work just as well. if making at home using a masa harina product like Maseca, prepare to directions on packaging before proceeding.
If you buy masa harina for home use, be sure you buy the one for making tortillas–not the one for making tamales. I typically buy masa straight from the tortilleria or in the refrigerated section at the Mexican grocery store.
How to strain the masa with less mess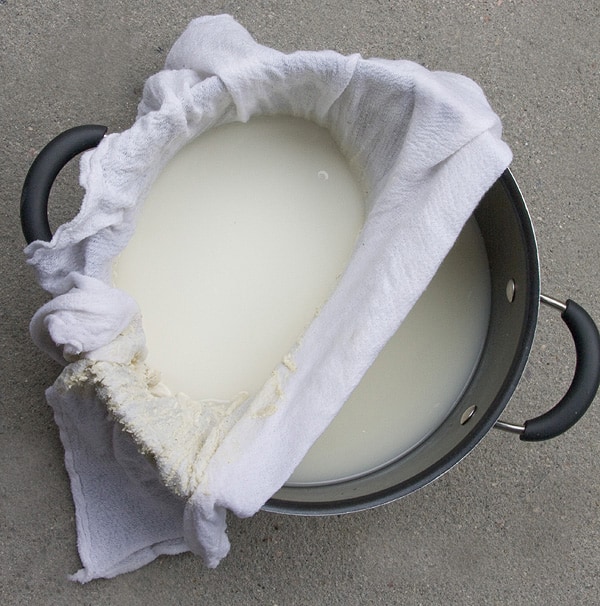 I like to use thin-ply Gerber cloth diapers rather than cheesecloth because they strain more effectively and with much less mess. In addition, you can wash and reuse them because they're much sturdier than cheesecloth.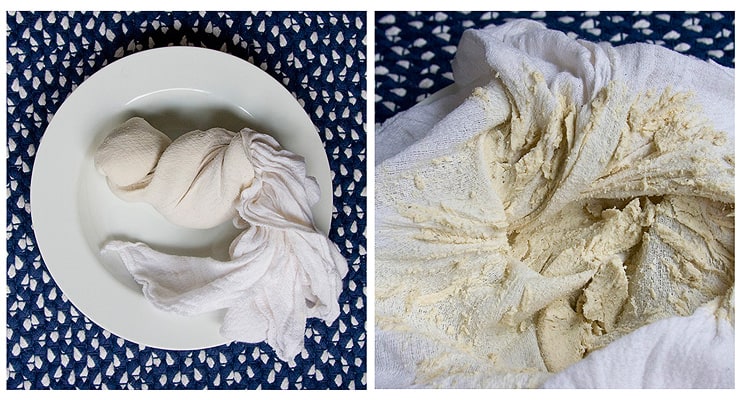 What kind of chocolate is used in champurrado?
The chocolate used in both champurrado and Mexican hot chocolate is usually in tablet form, sometimes known in English as "table chocolate" or in Spanish as "chocolate para mesa."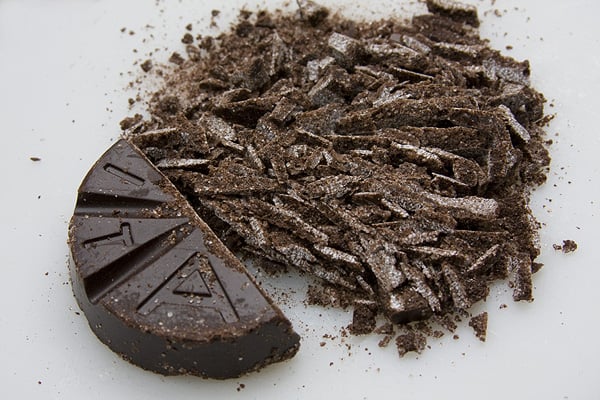 These chocolate tablets are not solid chocolate; they typically contain cocoa, sugar, cinnamon or cinnamon flavoring, vegetable oil and soy lecithin. Nestlé Abuelita and Ibarra are the two most common brands available in grocery stores. Taza Chocolate, a brand that makes organic stone ground chocolate discs makes a good option as well.
My favorite place for champurrado in Mexico City
There's a little family-owned restaurant in Mexico City called Merendero Las Lupitas that our family loves, situated on a corner in Coyoacán facing the Plaza Santa Caterina. In a two-story white building with beautiful, dramatic thick cobalt blue accents around the windows, they have a heavy, rustic wooden door, and inside there's colorful papel picado strung across the ceiling. Lots of local art adorns the walls.
Among the many traditional items on the menu there, my suegro has almost always ordered a mug of atole at the end of his meal at Las Lupitas.
What I love about this place is that it's so unpretentious. The menu is pretty basic and the atmosphere is like eating in a friend's home. Even the placemats, dishes and furniture are modest. But don't be fooled by all the simplicity; each dish on the menu packs as much satisfaction as that of a fancy restaurant, minus the attitude and the cost.
This recipe reminds me of the down-to-earth style of Las Lupitas that our family has grown to love so much.
Print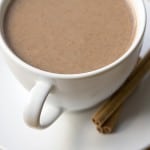 Champurrado
Author:

Prep Time:

45 minutes

Cook Time:

30 minutes

Total Time:

1 hour, 15 minutes

Yield:

6

servings

1

x

Category:

Beverages

Cuisine:

Mexican
---
Description
How to make the classic Mexican chocolate atole known as champurrado.
---
1

pound prepared masa* see note below

6 cups

water

1

to

1 1/2

cups whole or

2

% milk

1

disc Mexican chocolate, chopped (Abuelita, Ibarra, or other brand)

3

–

4

small cones of piloncillo (about 1 ounce each, or one large cone weighing

3

–

4

ounces and chopped into small pieces)

3

–

4

small cinnamon sticks

1

–

2

tablespoons granulated cane sugar (I use Zulka brand)
---
Instructions
Measure out 6 cups of warm water into a large bowl. Submerge the masa and using your hands, dissolve the masa in the water until the water is cloudy and the dough is completely incorporated.
Over another large bowl, preferably deeper rather than wider, lay the cheesecloth or diaper cloth across the top of the bowl. I know you must be thinking I'm kidding about a diaper cloth–a friend taught me about this trick & I've never used cheesecloth since. The diaper cloth is a much cleaner method and I personally prefer it because you can wash them out and reuse them; the cheesecloth doesn't strain as finely, makes more of a squirting mess and shouldn't be reused. The diaper cloths I like come in a 12-pack from Gerber. Again, I know it sounds weird and at first, I was skeptical when a friend shared this method with me, but trust me, it causes minimal mess compared to the cheesecloth.
While holding the cloth in place, pour about one-third of the dissolved masa water into the cloth. Bring the ends of the cloth together to close it at the top and gently massage the bottom of the cloth to strain the water through. Be careful not to squeeze too hard because the water will squirt. Repeat until you've poured all the masa water through the cloth.
Once you've massaged the cloth so there's no more water but still some clumps of masa, squeeze the cloth well to get any remaining water out. Discard the remaining masa from inside the cloth and pour the water into a deep pot.
Place the pot over a medium flame and add the piloncillo (you can chop or grate the piloncillo before adding if you like), stirring with the molinillo or wooden spoon until it dissolves.
Add the cinnamon once the piloncillo is incorporated.
Constantly stir the water; as it heats, it will start to thicken. If you don't stir enough, depending on the masa you used, it can start to get clumpy–which you don't want. You will know the atole is thick enough to add the chocolate when the liquid leaves a coating on the back of your wooden spoon.
Add the chopped chocolate and stir well with your spoon or molinillo until melted.
Add the milk and sugar, stirring constantly.
Remove from heat and let cool slightly; ladle into mugs.
---
Notes
You'll need: Either cheesecloth or a very thin-ply cloth diaper to strain the dissolved masa, and a molinillo or a wooden spoon.
*Use either pre-made masa purchased from a tortilleria or homemade from a mix will work. If making at home, use masa harina prepared according to package directions.
Keywords: atole, champurrado
268