Mandarin oranges make a very refreshing agua fresca.
This is an incredibly simple recipe, but one I've been asked for time and again by friends. It's perfect for serving with any meal, and any gathering—large or small.
I love mandarin oranges both because of the refreshing, sweet juice they produce and their portability as a vitamin-packed snack.
When I first met my cuñada, she used to take me out for aguas frescas and we almost always ended up with agua de mandarina, one of her favorites—and consequently, now, one of my favorites too.
Aside from agua fresca de mandarina, this citrus fruit is also great for making mandarin orange margaritas!
When are mandarin oranges in season?
There are a few different varieties of mandarin oranges, and each variety's peak seasons are also slightly staggered, but you can use any variety listed below. They may look and taste slightly different, but they are all types of mandarin oranges.
Clementines are almost always seedless, sweet, and less acidic. They're in season between November-January.
Murcott Mandarins are also known as honey tangerines. The're very sweet with no seeds, and in season between January-April.
Golden Nugget Mandarins are smaller than other varieties of mandarin oranges, but they're seedless, very juicy and very sweet. They're in season between March-June.
Tangerines are a cousin of the clementine, but are less sweet and have lots of seeds. They're in season between October-January.
You might be used to seeing these types of oranges called Cuties in the grocery store, thanks to some catchy marketing. Cuties actually has two varieties of mandarin, clementines and Murcotts, so you can find them in the grocery store for a longer period of time throughout the year.
How do I know how sweet the mandarin oranges should be?
Mandarin oranges harvested in the beginning of the season are usually less sweet or even a little bit sour, while mandarins harvested mid- to late-season will be naturally sweeter and better for making agua fresca de mandarina. For that reason, you may want to add a little bit of sugar to your juice if drinking at the beginning of the season and the fresh-squeezed juice tastes a bit too tart.
How much sugar should I add to my agua fresca de mandarina if the juice is too tart?
I like to use a liquid cane sugar such as Hey Shuga! Organic Pure Cane Liquid Sweetener because a little bit goes a long way and it's easier than dissolving granulated sugar. You can typically find this in any grocery store near where you'd find maple syrup or other liquid sweeteners for baking. If using liquid cane sugar, start with 1 tablespoon and taste test before adding more.
My husband likes his agua fresca de mandarina to be a little sweeter, but I prefer mine to be more natural and without sugar. My advice: try it without sugar first. If you feel like it's not sweet enough, you can mix about 2 tablespoons of sugar with 1/4 cup of warm water to get it to dissolve, and then mix it with the remaining 1-1/2 cups of cold water.
What is the easiest way to juice mandarin oranges for agua fresca de mandarina?
I use a Chefn Citrus Juicer or a handheld citrus press for juicing mandarin oranges because my electric juicer doesn't always extract all the juice if the mandarin oranges are small.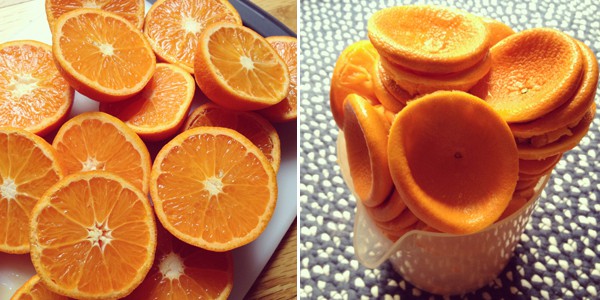 More agua fresca recipes to try:
Jamaica (Hibiscus flower agua fresca)
Agua fresca de piña
Agua fresca de melón (cantaloupe)
Agua fresca de mango

Print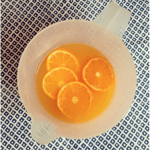 Agua fresca de mandarina
Author:

Prep Time:

15 minutes

Total Time:

15 minutes

Yield:

4 cups

1

x

Category:

Beverages

Cuisine:

Mexican
---
Description
Use mandarin oranges to make a classic agua fresca: agua de mandarina!
---
20

–

25

small mandarin oranges (should yield about 2 to

2

–

1/4

cups of juice)

1

mandarin orange, sliced thinly to float in the top of the pitcher for decoration

1

lime (optional)

1

–

3/4

cups of cold water (or dilute juice more to taste)
---
Instructions
Juice the mandarin oranges.
If you want to add the optional lime juice or any sugar, add it before you mix the mandarin orange juice with the cold water. Stir to mix well in a pitcher.
Add thin mandarin orange slices to float on the top of the pitcher.
---
Notes
If you don't serve it immediately, chill in the refrigerator and then stir before serving, as juice will naturally settle. Consume within 2-3 days.
Keywords: agua fresca, agua de mandarina
This post contains links to Amazon or other partners; your purchases via these links can benefit The Other Side of The Tortilla at no additional cost to you when you purchase items linked from this site. Read more about our affiliate linking policy.
81