Try these Mexican chocolate-glazed doughnuts as a decadent treat you can serve to any crowd for breakfast or brunch.
These biscuit doughnuts are incredibly easy to make, and the frosting is something you can whip up in a flash. Just keep a can of flaky biscuit dough in the refrigerator and you'll be set for any breakfast. In fact, these are so easy, you can even make them on a weekday. Any pan dulce-lover will definitely be impressed by the familiar flavors.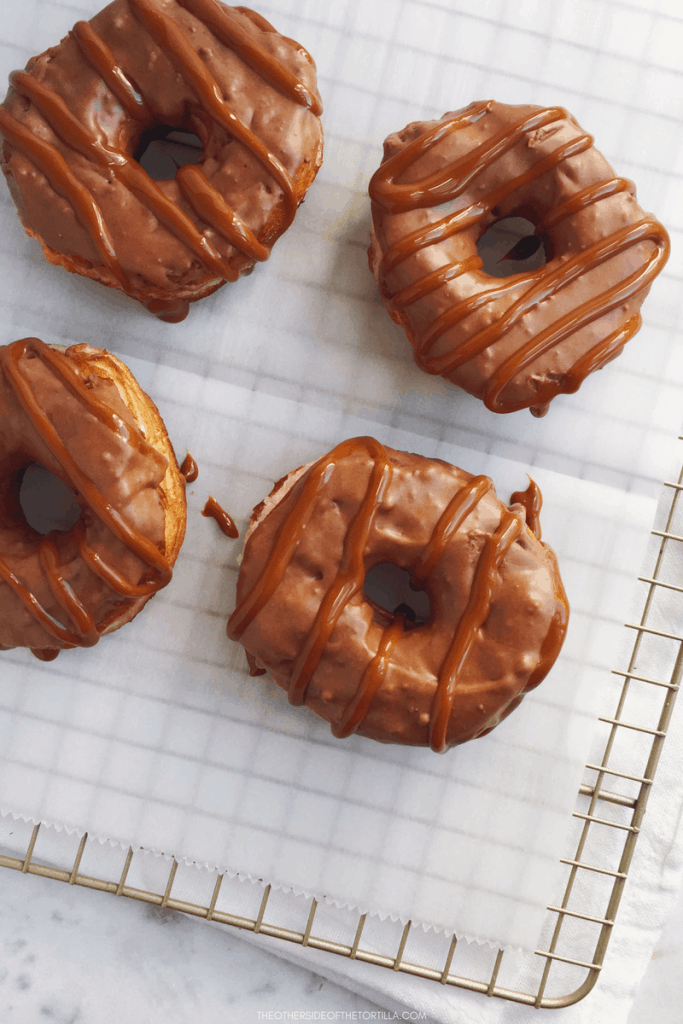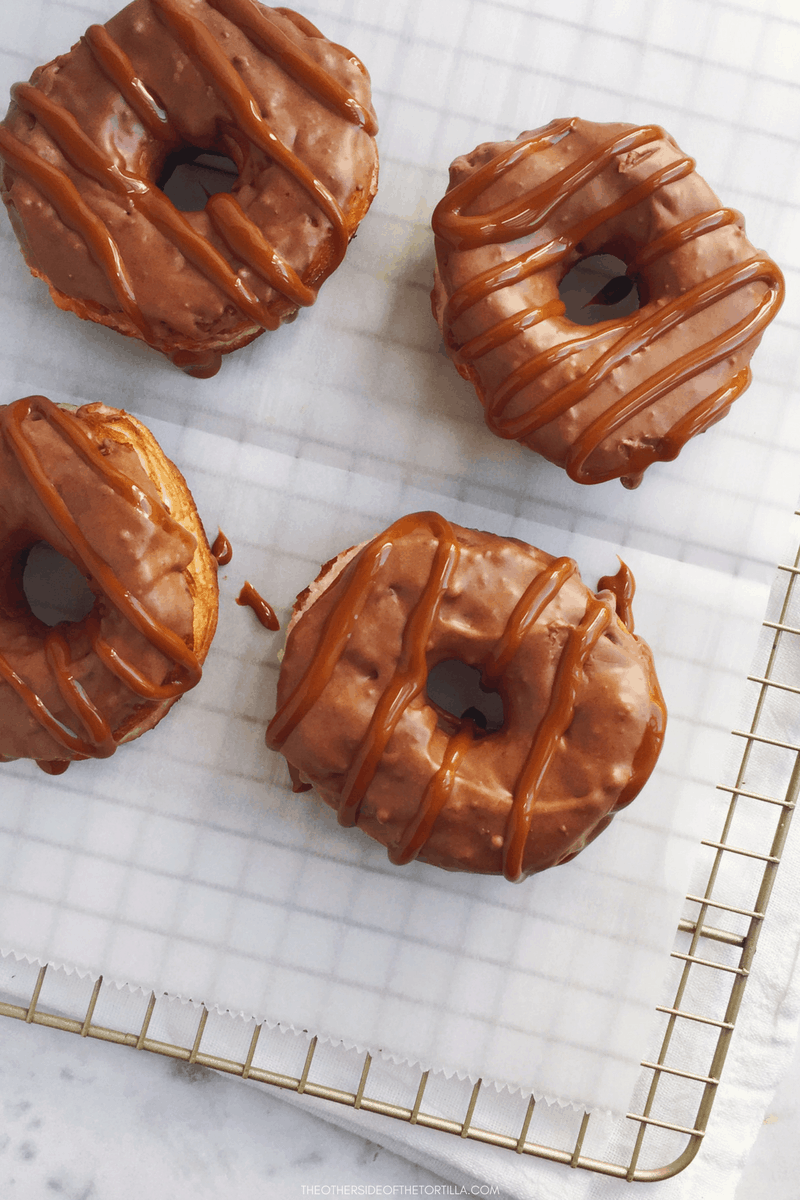 I've previously shared a recipe here for hibiscus-glazed doughnuts, and these follow the same method of using Pillsbury flaky biscuit dough for extreme ease. (Seriously, even people who don't consider themselves bakers can do it.)
RELATED RECIPE: How to make orejas
If you've never made biscuit doughnuts, you have no idea what you're missing! My husband was such a huge fan of these that he ended up eating two in one sitting.
For the frosting on these, I chose to garnish with a drizzle of dulce de leche, but feel free to leave it out or come up with another idea to make your doughnuts look pretty. (I like the squeeze bottles of Nestle dulce de leche to get an even drizzle.) You can also garnish with a little bit of chopped or crumbled Mexican chocolate sprinkled on top of the glaze before it's set.
It's OK if the glaze isn't completely smooth; sometimes the powdered Mexican chocolate gets tiny clumps, but that's part of the charm of being imperfect but still incredibly tasty. There are two brands of Mexican chocolate that come powdered: Abuelita and Ibarra. I like them both and think it's a matter of personal preference as to which one you like better. The Ibarra is what I happened to have in my cabinet recently, and I think it's a little more finely ground than the Abuelita.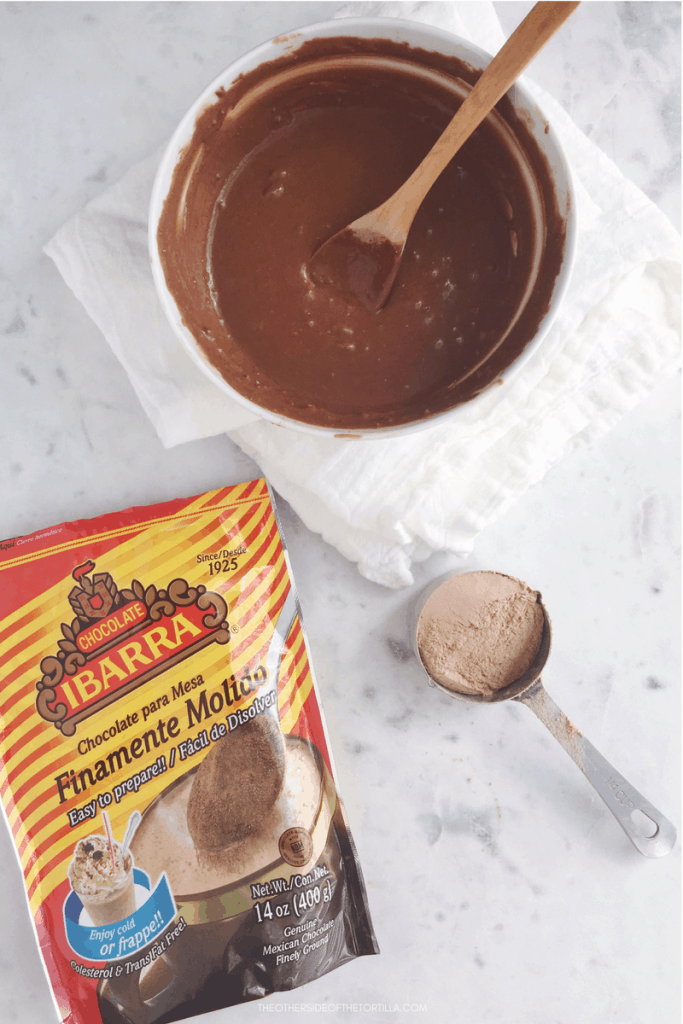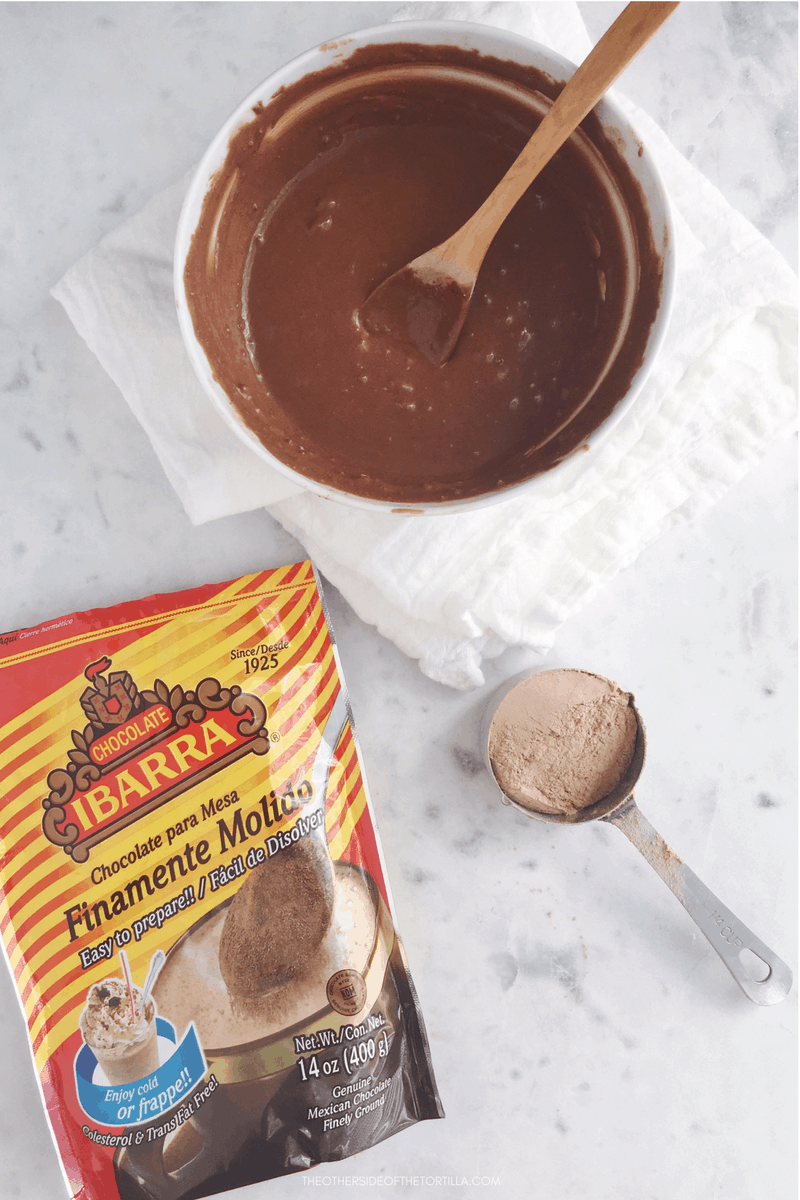 Can I reheat biscuit doughnuts?
They're great when they come straight out of the frying pan once the glaze is dried, but they don't taste the same reheated (plus the icing can run when reheated). If you won't make them all at once, separate the dough and refrigerate what you won't eat right away. It's easy to store leftover glaze, and that will taste fine the second day. Just cover with plastic wrap and put it in the refrigerator, too. Bring to room temperature when you're ready to glaze a fresh batch.
RELATED RECIPE: Churro French toast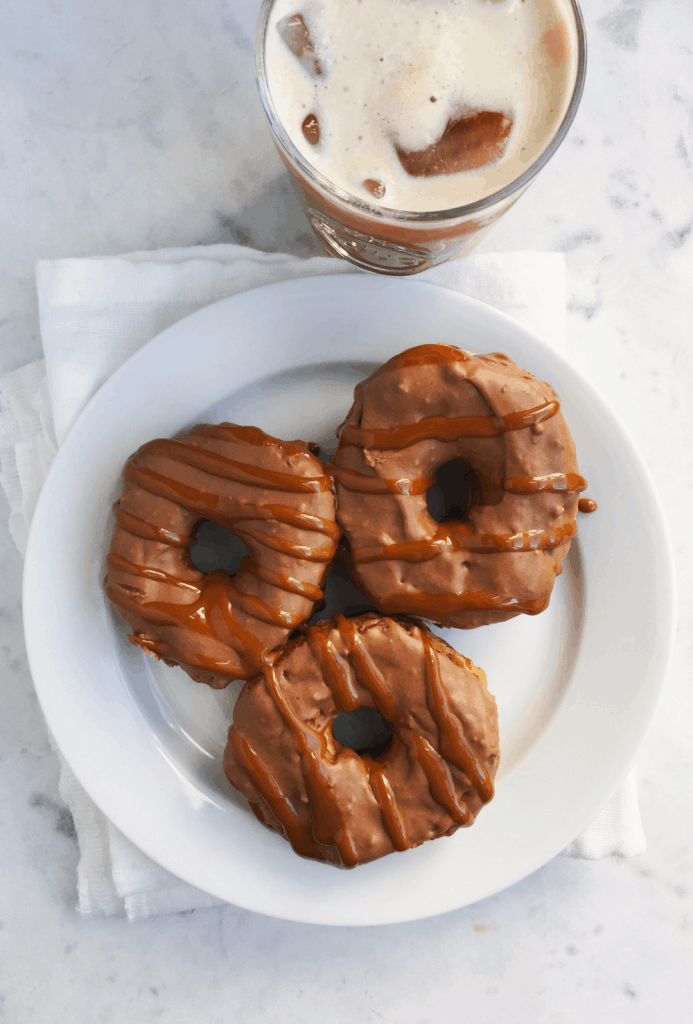 Print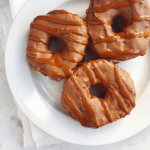 Mexican chocolate-glazed doughnuts
Author:

Prep Time:

15 minutes

Cook Time:

10 minutes

Total Time:

25 minutes

Yield:

10

servings

1

x

Category:

Breakfast

Method:

Frying

Cuisine:

Mexican
---
Description
Mexican chocolate-glazed doughnuts made with Pillsbury flaky biscuit dough are an easy and decadent treat you can serve to any crowd for breakfast or brunch.
---
Canola oil (pour enough so it's 1 inch deep in your pot)

1

can of Pillsbury Grands flaky layers original biscuits
For the frosting:
3/4 cup

Ibarra or Abuelita powdered Mexican chocolate (sold in most Mexican grocery stores and online at Amazon)

3/4 cup

confectioner's sugar (aka powdered sugar)

1/4 teaspoon

ground cinnamon

1/4 cup

whole milk
For garnish:
dulce de leche or roughly chopped Mexican chocolate
---
Instructions
Pour about 1 inch deep of canola oil into your pan. Heat over medium to bring the oil to temperature.
Remove the biscuits from the packaging and place them on a parchment paper-lined cookie sheet. Use a small circular cookie cutter or a small juice glass to cut circles out of the middle of the biscuits. You should have 8 doughnuts and 8 doughnut holes.
When the oil is ready, it should bubble or pop very slightly. You can test its readiness with one of the doughnut holes if you're not sure. The dough should start frying immediately after touching the oil. Add the doughnuts to the oil 3-4 at a time and fry for a minute or two, until the dough starts to turn golden. Flip them gently with a wooden spoon or tongs. When they're done frying, remove from the oil and place them on a paper towel-lined dish to drain any remaining oil. Repeat with the remaining doughnuts.
While the doughnuts are cooling off a bit and draining excess oil, add 3/4 cup confectioner's sugar, 3/4 cup powdered Mexican chocolate, and 1/4 teaspoon ground cinnamon to a bowl. Mix with a spoon, then add the 1/4 cup whole milk (skim and 1% are too thin; don't substitute!). Stir the mixture until it's a relatively smooth consistency. Some small lumps are OK and the glaze should be thick. (If the glaze is too thick, you can add another tablespoon of whole milk.)
Dip the tops of the doughnuts in the icing, twisting them slightly to ensure they're coated evenly all the way around the tops. Place them on the parchment paper-lined baking sheet to dry.
Garnish with a drizzle of dulce de leche (as pictured) or roughly chopped Mexican chocolate.
---
Keywords: biscuit doughnut, mexican chocolate
10