This shop has been compensated by Inmar Intelligence and its advertiser. All opinions are mine alone. #McCormickMayonesa #MayonesaAtKroger
Elotes locos are a variation on the traditional elotes sold by street vendors, but dressed with a spicy topping on the outside.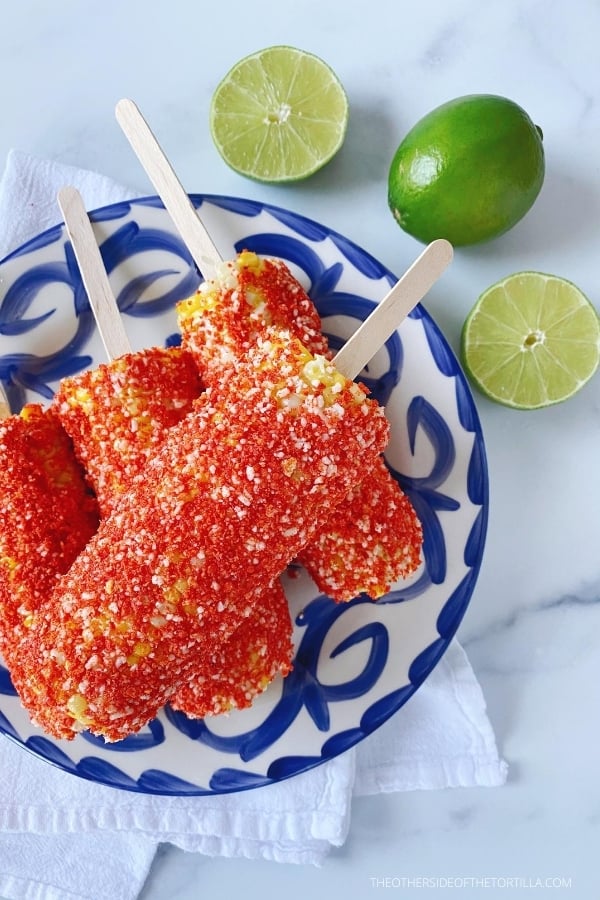 Traditional elotes, also known as Mexican street corn, are either grilled or boiled and then slathered with mayonnaise and sprinkled with chile powder and cotija cheese. Mexican street corn sold in a cup is called either elote en vaso or esquites.
What makes this version called elotes locos (literally: crazy corn) is actually the fuego-flavored hot corn chip crumbs they're rolled in. But in general, any topping that is not the traditional version can be called elotes locos. These are a very popular snack among Mexico City street food stalls and roaming vendors, especially with teenagers! When we lived in Los Angeles, they were also easy to find at small Mexican family-owned food businesses, street cart vendors, food trucks and even at some restaurants that cater to Mexican customers or mainstream customers who love Mexican food.
Since we moved back to Chicago from Los Angeles, I do a lot of my shopping at Mariano's because they have a great selection of my favorite Mexican products, and they even stock my McCormick® Mayonesa with Lime Juice, which I use for making these elotes locos. Flavored mayos are HUGE in Mexico, and McCormick® Mayonesa with Lime Juice is the O.G.!
What's also great about using a flavored mayonnaise in this recipe is that there's no added moisture from lime juice since it's already in there. This means the consistency of the mayonnaise suspends the chip crumb coating without making it soggy.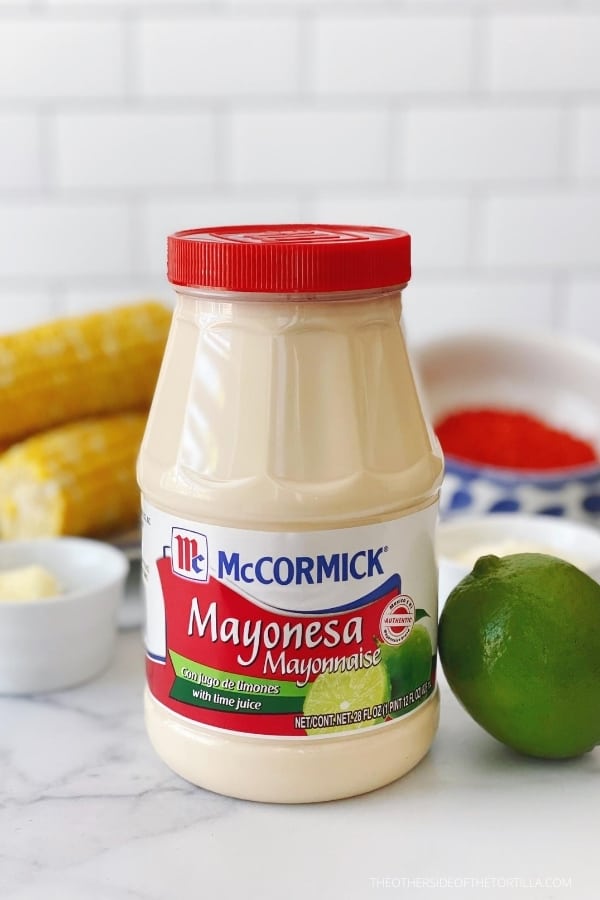 Ingredients you'll need for this recipe
This recipe is very simple and I purchased all my ingredients at Mariano's, which is part of the Kroger family of stores. You should be able to easily find all the ingredients at just about any grocery store.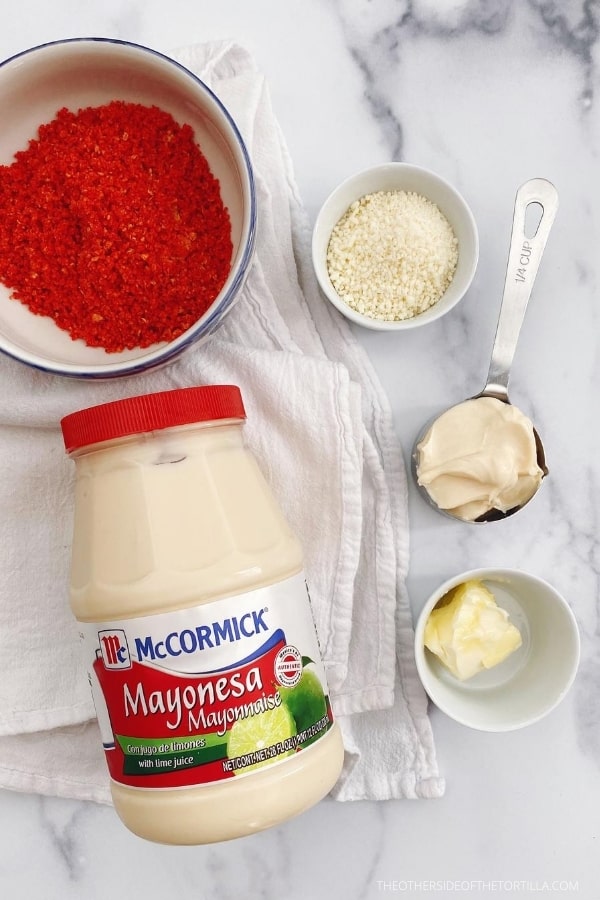 Butter – I prefer salted butter for this recipe, but you can swap for unsalted butter if you prefer. The way it melts and emulsifies with the mayonnaise is pure magic.
McCormick® Mayonesa with Lime Juice – This mayonnaise comes with the lime juice already built in for a tangy twist that brightens the flavor. If you've ever eaten this product in Mexico, you'll be happy to know that it's the same exact formula and is imported from Mexico.
Cotija cheese – This dry, aged salty cheese has a strong flavor and aroma, similar to parmesan cheese (but its consistency is different). Look for either a whole block of cotija you can crumble by hand or one that's already grated or crumbled into little pebbles. You don't want to use cotija that's grated so fine that it resembles sawdust.
Fuego-flavored spicy corn chips – You can choose whatever fuego-flavored hot and spicy corn chips you like best. The idea is to crush them down to a crumb so you can roll the corn in it after you've covered it in salted butter and McCormick® Mayonesa with Lime Juice.
How to make elotes locos
Start by preparing your corn. Make sure you remove as much of the corn silk as possible. A vegetable brush is a great tool to do this, but if you don't have one, you can rub the corn ear with your hands under running water.
You're going to also get all your ingredients out in advance and have them ready to go, as once you pull the corn out of the boiling water, you want to finish dressing them as quickly as possible so they're still warm while you eat it.
I recommend that you bring your butter to room temperature ahead of time, or microwave it in 15-second increments until soft, but not melted.
There are two ways to get your fuego-flavored hot corn chips down to a crumb state: you can either put them in a zip-top bag and crush them by hand, or pulse them in your food processor. Either way is fine depending on what tools you have in your kitchen! Mix your hot corn chip crumbs and cotija cheese while the corn is cooking to make application easy.
Once your corn comes out of the pot, you'll want to also have a pair of kitchen tongs handy. Turn the corn cob on one side and use a sharp knife to cut a half-inch X-shaped slit in the middle of the cob. This will allow you to easily insert the popsicle stick handles.
Aluminum foil is my secret weapon for assembling elotes locos without making a big mess! Put the foil down on your countertop, put the cooked corn on top of it, add the butter and McCormick® Mayonesa with Lime Juice and turn the corn cobs against each other to help evenly distribute the ingredients and make sure they're fully covered.
Then all that's left to do is roll each corn cob in the chip crumb and cotija cheese mixture and you're ready to eat!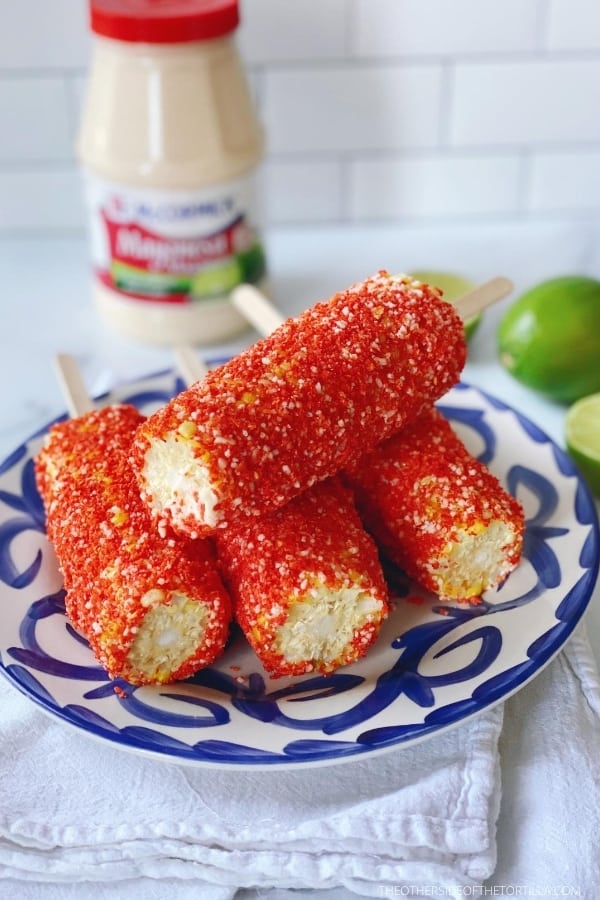 PRO TIP: If you don't like to eat the corn straight off the cob, you can also make this recipe following all the directions and then turn the corn upside down with the popsicle stick handle facing up, and cut the corn off the cob with a serrated knife onto a plate or into a bowl.
For more ideas on how to use McCormick® Mayonesa with Lime Juice to liven up your recipes and to find it at a store near you, visit mccormick.com.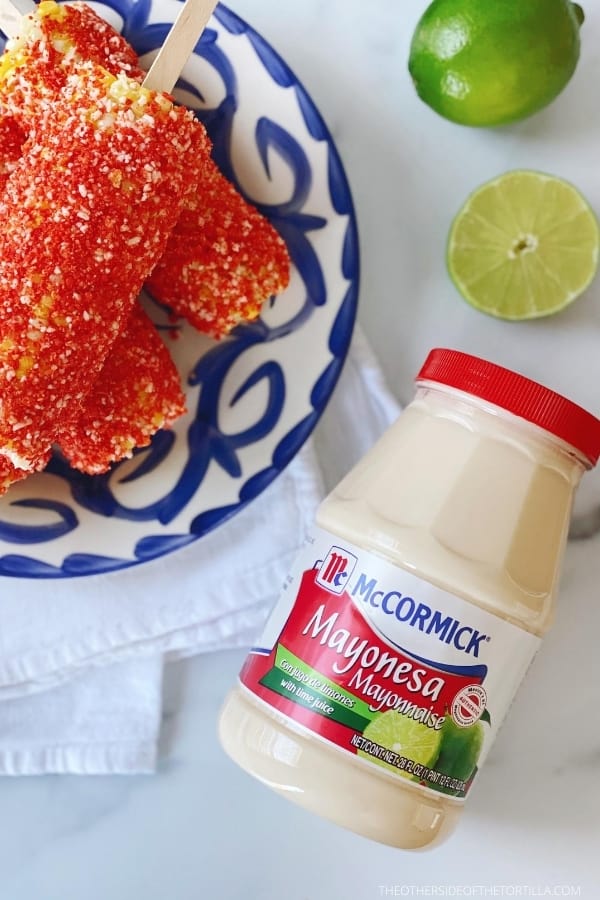 Print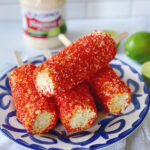 Authentic Elotes Locos
Author:

Prep Time:

20 minutes

Cook Time:

6-7 minutes

Total Time:

27 minutes

Yield:

4

servings

1

x

Category:

Snacks

Cuisine:

Mexican

Diet:

Vegetarian
---
Description
This easy version of Mexican street corn called elotes locos gets its name from the spicy corn chip crumb coating.
---
4

ears of corn

1 cup

spicy corn chips, such as fuego-flavored

2 tablespoons

grated or crumbled cotija cheese

2 tablespoons

salted butter, divided

4 tablespoons

McCormick® Mayonesa with Lime Juice, divided
You'll also need:
---
Instructions
Bring a large pot of water to a boil over high heat. While you're waiting for it to boil, clean your ears of corn so they're free of corn silk.
Once the water has come to a boil, add your 4 ears of corn and boil for 6-7 minutes. Do NOT salt the water – this will make the corn kernels tough rather than plump and juicy.
While the corn is boiling, crush corn chips in a bag or in a food processor until they're in a medium-fine crumb. Transfer to a dish and mix with 2 tablespoons grated or crumbled cotija cheese until well incorporated.
Once the corn is done, remove it from the water and transfer to a cutting board. Using a sharp knife, make an X-shaped cut on one end of each ear and insert a popsicle stick for the handle.
After all your popsicle sticks are inserted, transfer 2 ears of corn to a square of aluminum foil and add 1 tablespoon of butter in the middle of the 2 ears. Rotate the cobs against each other by the popsicle stick handles until they're fully coated in butter. Repeat with the remaining 2 ears of corn.
Add 2 tablespoons of Mayonesa between 2 ears of corn and rotate the cobs against each other to evenly distribute. Repeat with the remaining Mayonesa and corn.
In the dish with the corn chip mixture, roll each corn cob by the handle to fully coat each one.
Serve immediately while still warm.
---
Notes
These do not reheat well, as storing them in the refrigerator will make the chip crumb coating soggy. It's best to eat these immediately after preparing.
---
Nutrition
Serving Size:

1 ear of corn
Keywords: corn, elotes, elotes locos, McCormick® Mayonesa with Lime Juice
Enjoy this recipe? You might also like my recipe for homemade chipotle mayonnaise.