I've been absolutely obsessed with testing paleta flavors all summer, partially because of my access to such a wide variety of fresh fruits in Southern California for months on end, and partially just because I have an inner-kid who still remembers the excitement I felt from hearing the jingle of the bell on the paletero's cart. This mango-peach paleta recipe has been a mega-hit both in my household and with my office mates who got to taste them when I brought them to work for an afternoon snack to share last week.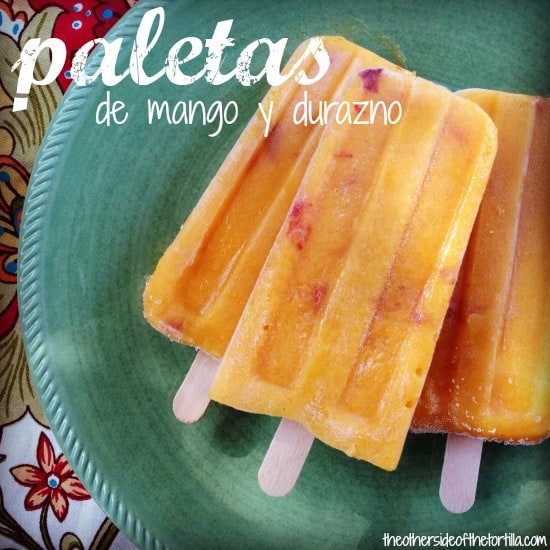 As a little girl growing up in Chicago, I remember neighborhood kids dropping everything and running outside every time the paletero would ring the little bells on his cart to let you know he was on his way. I'd crane my neck, almost pressing my face against the glass window in the living room to see how far down the block he was so I'd know how much time I had to rustle up enough money and run downstairs to buy a paleta. It was one of the things I looked forward to most when visiting my dad in the city during the summer months. Ice cream trucks weren't really my thing, but the paletero… he had my number! Unlike the other kids who just handed over their dollar with a flavor already in mind, I would keep my dollar in my pocket while I painstakingly selected which flavor I wanted, weighing my options before I made my final selection. In the end, I usually went with a simple flavor made with natural fruit puree over the wild rainbow-colored one that seemed to be so popular but melted way too fast, or others that had no fruit in them at all.
This mango and peach paleta is one of my favorites to make because it's a super simple recipe and I love the way the flecks of peach skin make each popsicle look unique. I hope you enjoy them as much as I do!
Make a simple, sweet summer treat with mangoes and peaches by turning them into popsicles.
Ingredients
3 Ataulfo mangoes (available from Melissa's Produce)
3 large yellow peaches
1/4 cup water
1 14-ounce can of sweetened condensed milk (also known as Lechera)
Instructions
Peel the mangoes and remove as much flesh from the seed as possible. Add to a blender or food processor.
Cut the peaches into sections, leaving the skin on and discarding the pit. Add the sectioned peaches to blender or food processor.
Pour the water and sweetened condensed milk into the blender and seal the top. Pulse until smooth and all the peach skins have been broken up into small pieces.
Pour mixture into popsicle molds and freeze for 8 hours.
Notes
I use a standard traditional popsicle mold such as this Progressive International Freezer Pop Maker and wooden freezer pop sticks (affiliate links to El Mercadito, The Other Side of The Tortilla's Amazon aStore).
Tip: If you like spicy and sweet popsicles, you can also add Tajín (chile-lime salt) sprinkled on the outside of the popsicle before serving.
https://theothersideofthetortilla.com/2013/08/mango-peach-paletas/
©2009-2015 theothersideofthetortilla.com
What was your favorite paleta flavor as a child?
10