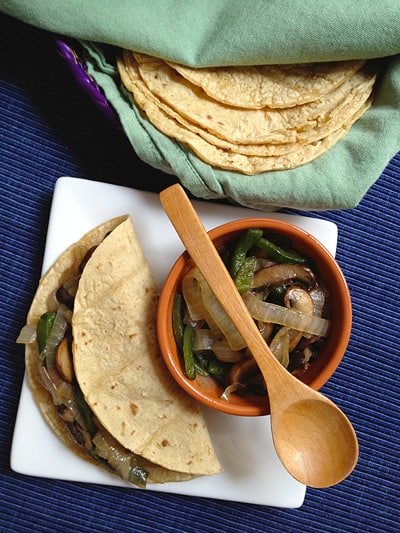 I've really been wanting to reduce the amount of meat we eat on a daily basis in order to be a bit healthier. I love veggies and don't mind vegetarian meals, but when you live with a serious carnivore, it's sometimes really difficult to convince them that a vegetarian meal is a) good and b) filling enough to be a meal and not just an appetizer.  Enter the idea of vegetarian tacos.
Enter the idea of vegetarian tacos.
Sometimes the mere mention of serving a vegetarian meal summons an apocalyptic response in my household. If you can't get your family to eat a full vegetarian meal, this dish makes a great appetizer to ease them into enjoying it; just double or triple the recipe depending on how many people you're feeding. They may soon see that an all-veggie meal isn't so bad after all.
And if you're truly desperate to get them to eat veggies, you can always add a little crumbled chorizo to this dish. It's not meatless, but hey, at least they're eating veggies, right? (You could also attempt to substitute soyrizo for chorizo if you're brave, but I can't be held responsible if they figure you out and throw their chanclas at you.)
Regardless, whether you're vegetarian, trying to get your family to eat less meat or just trying to observe meatless meals during Lent, this is a quick and easy recipe you're bound to enjoy.
I like to use baby portabellas for this recipe, but you can use  just about any kind of regular medium-sized mushroom you like so long as you slice them somewhat thickly so that when they saute with the onions and butter, they don't shrink too much, or get too thin when they're fully cooked.
RELATED: How to roast poblano chiles
Vegetarian tacos de hongo, chile poblano y cebolla
Hearty vegetarian tacos with mushrooms, poblano chiles and onion.
Ingredients
2 cups of mushrooms, sliced with medium thickness
2 poblano chiles, sweated and skins removed, then sliced into strips
1/2 of a white onion, sliced and rings separated
1 tablespoon of unsalted butter
1/2 to 1 teaspoon of kosher salt (or to taste)
Instructions
In a saute pan, melt the butter over medium heat and add the onions.
Stir them to coat and cook until they start to turn transparent. Add the mushrooms and saute until they start to give off juice and change color, indicating they're getting tender and juicy.
Add the chile strips and stir to coat, then add the kosher salt.
Allow to saute for about 5 minutes over low heat and serve with warm tortillas (corn or flour, whichever you prefer).
Notes
Optional: Add a little shredded cheese, such as Chihuahua or Oaxaca, and cook on a comal to make a tasty veggie quesadilla.
https://theothersideofthetortilla.com/2012/03/vegetarian-tacos-hongo-chile-cebolla/
©2009-2015 theothersideofthetortilla.com
More vegetarian recipes:
Sopa de poro y papa (potato leek soup)

Sopa de frijol negro con chipotle (chipotle black bean soup)
What's your favorite kind of vegetarian taco?
12