This is a sponsored post in collaboration with Latina Bloggers Connect and the California Milk Advisory Board.  The recipe and opinions are my own.
Calabacitas con elote is a traditional Mexican side dish, typically baked in the oven in a casserole dish or olla de barro. But I'm giving it a summer makeover by cooking it in easy-to-make foil packets for the grill.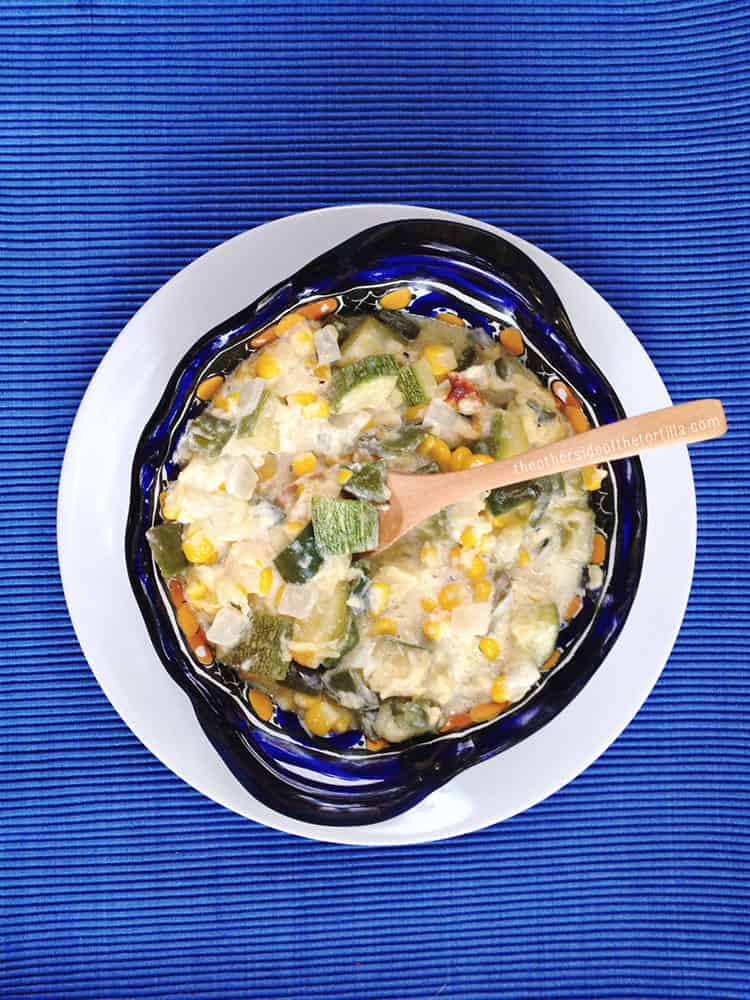 We're spending tons of time outside with family and friends now that summer grilling season is here and this is a great dish to take to any parillada! This vegetarian dish is one of my favorites for serving as a quick dinner side dish as well as for taking to parrilladas (barbeques) that are typically full of meats but lacking enough veggies. If I'm making it for just the two of us, I refrigerate half the recipe and grill it later in the week so that it's fresh off the grill at dinnertime.
Now that we live in California and have such a variety of fresh, local dairy, produce and meats available to us year-round thanks to the climate, I've been consciously trying to eat more locally (and by that, I mean seeking out locally grown produce at the farmers markets and other foods made in my new home state). California is the country's leading producer of Hispanic dairy products, which are sold nationally, and is the nation's second largest producer of cheese. In fact, California produces more than 25 kinds of Hispanic cheeses and many other dairy products. A Real California Milk seal means your dairy products are made from 100 percent California milk.
This is what the calabacitas should look like inside the foil packet when it's done or almost done cooking: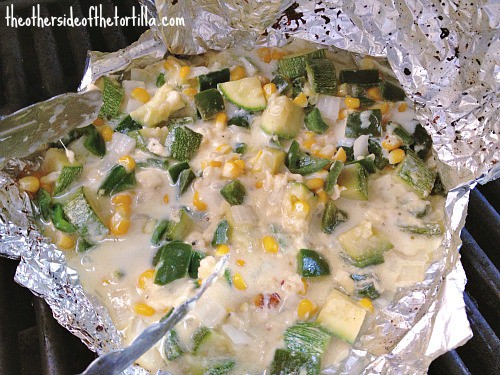 It's OK to open the packet to check if it's done cooking after 10 minutes; just be careful and use tongs or wear oven mitts, as the steam that will escape from the packet will be very hot. If you pierce the calabacitas with a fork and they don't seem tender enough, you can seal the packet back up and cook for a few more minutes.
This dish is not only a low-maintenance recipe, but it's also inexpensive to prepare at under $10 for 8-10 servings.
Turn this classic Mexican vegetarian side dish of squash, corn, poblano chile, onion, cheese and crema into a summer grilling favorite for your family. Also great for serving big parties!
Ingredients
2 poblano chiles, diced
2 ears of corn, kernels removed from the cob
2 small calabacitas, cut into bite-size pieces (calabacitas are a Mexican squash similar to zucchini with lighter green skin, as pictured here)
1/2 white onion, diced
10 oz queso quesadilla, shredded
1/2 tsp kosher salt, or more to taste
freshly ground pepper to taste (optional)
1/2 cup crema Mexicana
Instructions
Cut corn off of the cob, dice poblano chiles, onion and calabacitas and place in a large bowl.
Shred 10 ounces of queso quesadilla (Chihuahua, Mexican manchego or Monterey Jack are also good substitutes) and add to the bowl.
Sprinkle salt and pepper over the top.
Add 1/2 cup crema Mexicana and stir to mix all ingredients well.
Take four square sheets of aluminum foil (two will be for the bottom and two will be for the top to create grilling packets).
Divide the vegetable mix evenly between the two bottom foil squares. Place the remaining foil squares on the top of the two squares and fold over the edges twice and bend the corners inward to seal completely.
Grill the packets over medium-high heat for about 10-15 minutes (time will vary depending how hot your grill is), turning once during cooking to be sure the vegetables are cooked through on both sides.
Notes
Serve as a side or with tortillas to make veggie tacos.
It's important not to overcook the grill packets, otherwise the calabacitas and poblano chile will get mushy.
https://theothersideofthetortilla.com/2013/05/calabacitas-con-elote-summer-grilling/
©2009-2015 theothersideofthetortilla.com
Check out the #VivaCADairy hashtag on Twitter and check out this Pinterest board full of California Dairy recipes.
9