Last summer, I traveled to Aguascalientes to visit José's abuelita for her 90th birthday. And of the many things I discovered while visiting this centrally-located city (and state), I learned that antojitos are king! Antojitos are like the Mexican cousin to Spanish tapas.
This past week, the Mexico Tourism Board in Chicago began a campaign called "Share Mexico/Comparte México" to educate the public about each of Mexico's 31 states and the Distrito Federal. Each week will promote a new state and I'll be blogging about all the states that I've visited to share my experiences. The first week is all about Aguascalientes, and I'm so happy to have the chance to share some photos from my trip.
There are several typical antojitos that you'll see on just about every menu in Aguascalientes. In any lonchería or cenaduría, you'll find some version of each of these dishes: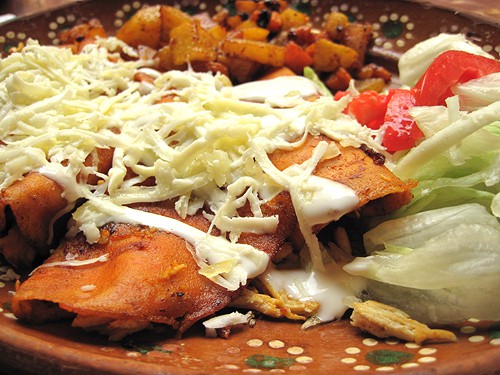 Enchiladas estilo Aguascalientes'n – These enchiladas are filled with chicken and cheese, and the tortilla is bathed in a chile mixture and lightly fried (just enough to make it pliable) before they're stuffed. Usually, they're topped with lettuce, diced tomato, cheese and crema Mexicana, and served with a generous side of potatoes and carrots, sort of cooked hash brown-style….