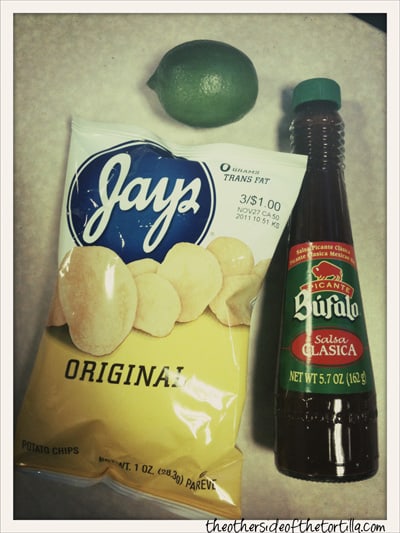 In many places in Mexico, you can find street vendors with little carts, selling antojitos, or snacks.
Usually, the standard offerings include chicharrones (pork rinds), chicharrones de harina (a fried, puffed wheat snack that looks orange) or papitas (potato chips).
Served in a little plastic bag with a squeeze of lime juice and your choice of salsa, it's a great snack whether you're on the go or just want to take a leisurely stroll through the park.
I like to keep a little bag of potato chips in my desk at work so I can make a quick afternoon snack—the only thing I need to remember to bring is a lime and a small bottle of salsa.
It's a very simple and typical Mexican snack. You can choose whatever kind of salsa you like; spicy, medium, mild or even a salsa like chamoy, which is a sweet and spicy mixture usually made with chile powder and a salted fruit brine. It's up to you!
I like to use the salsa pictured here, salsa clasica de Búfalo (but don't be fooled; it's not anything like buffalo sauce you're used to seeing in the U.S.). It's a slightly spicy and vinegary red salsa.
All you have to do to make your own is open the bag (be careful not to tear it), squeeze half a lime (or more if you like) inside the bag and then pour as much salsa in the bag as you like. Close the bag up and shake it so the salsa and lime juice distribute somewhat evenly and then just open the bag up and enjoy. ¿Que rico, no?
What's your favorite kind of antojo de la calle?
5