This vegan banana chocolate smoothie recipe is a creation I've been drinking over and over again for the last few weeks. I love experimenting with Mexican ingredients that aren't necessarily always in traditional Mexican dishes. Cacao has been harvested and consumed in its raw state by ancient cultures such as the Aztecs and Mayans in Mexico as well as some other Latin American countries for centuries. Today, it's easy to find a variety of raw cacao powders commercially available and made by different brands; it's often sold in health food stores and it's easy and inexpensive to buy online as well. Raw cacao powder has plenty of health benefits in addition to the rich flavor it provides to any dish. It's packed with antioxidants, and has high amounts of nutrients and minerals such as magnesium, copper and manganese.
This banana chocolate smoothie recipe is vegan, dairy-free, gluten-free and has no added sugar, but trust me when I say that you will feel like you're committing a sin while drinking it.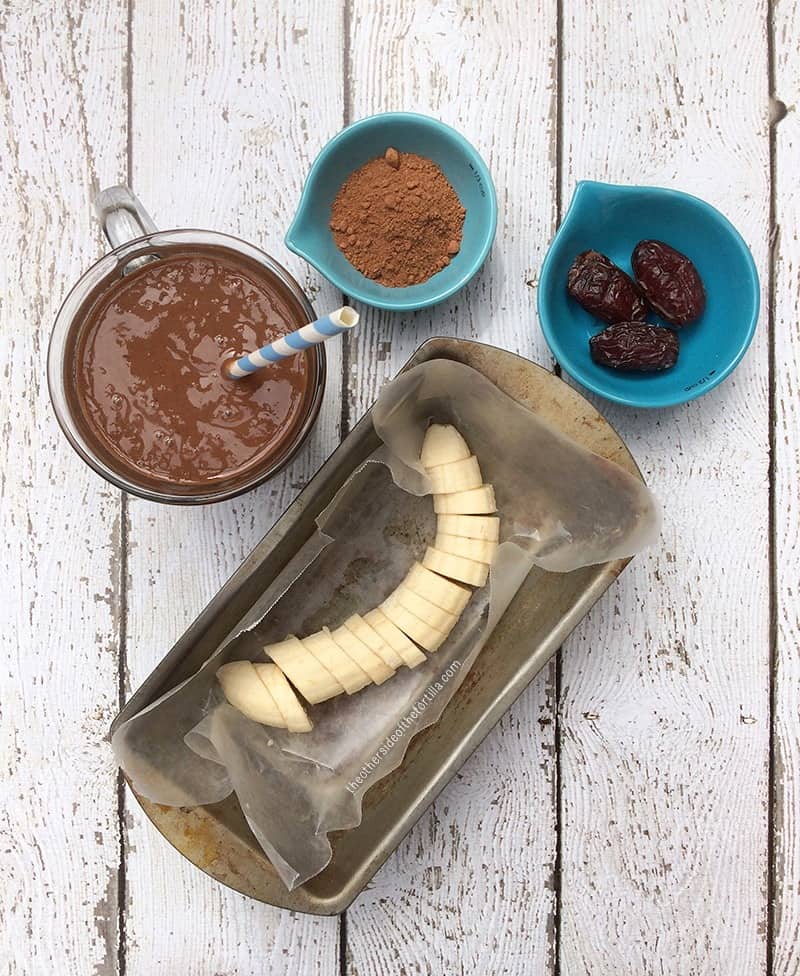 Whether you stick to any special kind of diet or lifestyle, such as being vegan, I guarantee you'll still love this recipe. I've been participating in the Fed Up Challenge with my coworkers to cut all added sugars from my diet for 10 days, and it's been an eye-opening experience for most of our group about how much sugar we're consuming—sometimes without even knowing it, in places we don't expect sugar to even be. It's been a good reminder that we need to check labels when we buy anything that comes in a box, bag or bottle, and that we need to be consuming more fresh fruits and vegetables in our diets and less processed foods.
The United States is the most obese country in the world, with 34 percent of the adult population classified as obese. Mexico has struggled with obesity rates for years, and in 2014 was listed as the second-most obese country in the world, with 30 percent of adults affected by obesity.
According to new data released by the Organization for Economic Cooperation and Development (an international organization that promotes policies that improve the economic and social well-being of people around the world), in 2014, more than 70 percent of adults are overweight in Mexico, a higher proportion than in any other country monitored by the organization. About 32 percent of Mexico's adult population is classified as obese. In the United States, about 70 percent of adults are considered overweight. Both Mexican-American men and women are more likely to be obese than their non-Hispanic white and African-American counterparts, according to OECD data on obesity rates by ethnicity. In both countries, about one in three children are classified as overweight. We have to do better than this, folks!
Eating healthy doesn't have to mean eating boring, tasteless meals or treats. I challenge YOU to take the Fed Up Challenge and cut added sugar from your diet for 10 days to get an idea of how much sugar you're consuming. Beyond sugar, make sure that you're eating a healthy, balanced diet with more fresh foods than packaged ones.
You can also read about worldwide malnutrition—including undernutrition, deficiencies, overweight and obesity issues—in "The State of Food and Agriculture 2013," a publication of the Food and Agriculture Organization of the United Nations. 
Vegan banana chocolate smoothie
A quick and easy vegan smoothie with only four ingredients: unsweetened almond milk, bananas, medjool dates and raw cacao powder. Gluten-free, dairy-free and no added sugar!
Ingredients
1 cup unsweetened almond milk
2 frozen bananas (slice before you freeze)
3 medjool dates, pitted and soaked in the almond milk for 20-30 minutes
2 tablespoons raw cacao powder
Instructions
Remove pits from dates and soak in the almond milk for 20-30 minutes to soften.
Add ingredients to blender in this order: almond milk, frozen banana slices, dates, raw cacao powder.
Blend on high until completely smooth.
Notes
Look for a raw cacao powder with very little or no added sugar.
https://theothersideofthetortilla.com/2014/05/vegan-banana-chocolate-smoothie-recipe/
©2009-2015 theothersideofthetortilla.com
Ingredients used in this recipe available for purchase in my Amazon aStore (affiliate link): Sunfood Organic Raw Cacao Powder
Looking for more healthy Mexican recipes? Here are a few of my favorites:
3